LA's Life Sciences Sector Sees Growth in NIH Funding, Nears 100,000 Jobs
Monday, October 11, 2021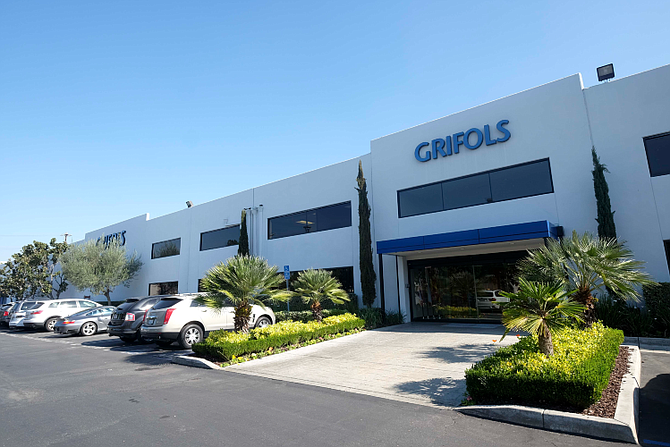 L.A.'s bioscience sector directly employs nearly 100,000 people and saw a 65% jump in National Institutes of Health research funding last year.
Those are two of the most significant findings in this year's Biocom California report on the life sciences industry in the state, as well as in L.A. County and the city of Los Angeles.

Biocom California, based in San Diego, is the statewide trade association and advocacy group for the life sciences industry, including pharmaceutical, biotech, medical device and food/agriculture biotech companies.
This year's report shows L.A.'s life sciences sector has maintained a significant presence, likely in part because of the Covid pandemic. The sector generated nearly $61 billion in total business sales, $19 billion in labor income and supported 96,844 jobs in 2020, according to data in the report.

What's more, the report said the jobs are relatively high-paying, with an average income of $98,000, nearly three times the countywide average income per capita of $34,000, according to Census Bureau data.
"This report shows we have a substantial life sciences workforce in terms of numbers, diversity of talent and family-sustaining wages," said Stephanie Hsieh, executive director of Biocom's Los Angeles chapter.

With one exception — NIH funding — this year's Biocom report uses different data sets than in previous years, making growth comparisons difficult. This change is due in part to Biocom choosing a new economic consultant to craft the report: Lynn Reaser, chief economist with the Fermanian Business & Economic Institute at Point Loma Nazarene University in San Diego.

Reaser said there were also changes in federal North American Industry Classification System codes that limited the ability to compare data with previous years. That meant instead of the five life science subsectors Biocom used in previous years, there are now six: biotechnology, biopharmaceuticals, medical devices and equipment, research and manufacturing, laboratory instruments and measuring tools, and food/agricultural biotech.

According to the report, the largest subsector by employment in Los Angeles County was research and manufacturing, with 46,758 direct jobs, or nearly half the total 96,844 direct jobs. Next was biopharmaceuticals with 18,330 jobs, followed by medical devices/equipment with 16,407 jobs.

The report also tracked the number of life sciences companies in Los Angeles County. Of the 3,876 total firms, the two largest concentrations — around 1,100 each — were in the medical devices/equipment and research/manufacturing subsectors.
For the city of Los Angeles, the report said there were 46,779 people directly employed by life sciences companies. For the county, the largest subsector by employment was research and manufacturing with 24,510 jobs, followed by biopharmaceuticals with 9,224 jobs.

As for NIH funding, the report indicated a huge surge in 2020 to $1.9 billion for L.A. County, up 65% from $1.15 billion in 2019. That puts the region almost on a par with the Bay Area's $2.3 billion in NIH funding for 2020 and well ahead of San Diego County's $1.2 billion, Reaser noted.

NIH funding goes primarily to major research institutions, including Westwood-based UCLA, University Park-based USC, Pasadena-based Caltech and Duarte-based City of Hope. Major research hospitals, including Cedars-Sinai Medical Center in Beverly Grove, also pull in NIH dollars.

Reaser said much of the increase in NIH funding was due to the Covid pandemic.
"The race to find a vaccine and ways to mitigate the consequences of Covid-19 appears to have driven the surge in NIH funding during 2020," Reaser said. "This was clearly the nation's most important priority."

As for whether this level of funding will continue, Hsieh said that in the short term, with the delta variant of the SARS-CoV-2 virus still spreading, more NIH funds will continue to flow. Once the virus spread subsides, though, Hsieh said, the level of NIH funding will grow more uncertain.

But she said the increased activity surrounding Covid vaccines, testing and research has attracted more private-sector venture capital funding over the past year, which she said she expects will continue even beyond the pandemic.

"The VC folks are now recognizing us on the map," Hsieh said. "This is not due as much to Covid but to seeing previous investments paying off. There have also been collaborative efforts by industry players to bring more venture capital funding to the region."
For reprint and licensing requests for this article, CLICK HERE.