Emanate Health Breaks Ground on New $125 Million Expansion
Monday, October 11, 2021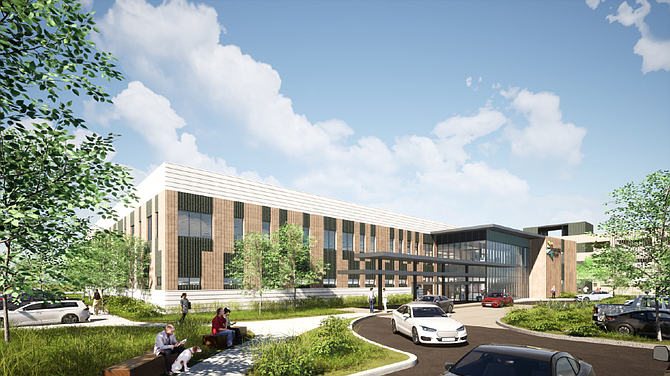 Covina-based hospital network Emanate Health has officially embarked on an ambitious $125 million facilities expansion program for its hospitals in the eastern San Gabriel Valley.

On Aug. 27, Emanate Health broke ground on the first of two new 60,000-square-foot, two-story buildings slated for its flagship Queen of the Valley Hospital campus in West Covina.
 
This first building is expected to cost about $45 million to construct; completion is set for late next year. Its main feature will be a cancer center with radiation oncology services and an infusion center with chemotherapy services. The infusion center will have up to 20 patient bays.

According to Emanate Health, in the first year of operation, the facility will be able to accommodate up to 1,700 outpatient treatment programs; 20,000 clinic visits; 9,500 infusion starts; and 14,000 radiology oncology treatments.

It will also include space for classroom instruction and presentation programs.
"Emanate Health will soon partner with a leading teaching hospital in Southern California to bring world-class cancer care to this part of the San Gabriel Valley," Roger Sharma, Emanate Health's president and chief financial officer, said in an announcement marking the groundbreaking.

When complete, Emanate's Queen of the Valley Hospital campus will be the San Gabriel Valley's second major cancer treatment center; the other is City of Hope in Duarte.

The new facility will also feature an outpatient ambulatory surgery center with four operating rooms, as well as hospital-based clinics. Next to the facility will be a 400-space parking structure to serve patients, visitors and staff.

San Diego-based health care facilities developer PMB is managing the project, Irvine-based Snyder Langston is the construction contractor, and New York City-based CannonDesign is the main architect.

"The new medical building will house a comprehensive cancer care center, an ambulatory surgery center and clinical space, satisfying an important need for more of those services in the San Gabriel Valley," Mark Toothacre, PMB's president, said in the announcement. "We're very pleased to join forces with … Emanate Health system to bring this project to fruition."

The other 60,000-square-foot building, slated to break ground early next year, will cost about $63 million. It will house a 60-bed emergency department and a 24-bed intensive care unit.
 
Queen of the Valley's current emergency department serves about 80,000 patients a year; the new facility will treat more than 120,000 patients a year.
Emanate Health is also planning to expand its Inter-Community Hospital in Covina. Two projects are slated: a catheterization laboratory and remodeling the front lobby. 
For reprint and licensing requests for this article, CLICK HERE.