CarbonBuilt Raises $10 Million in Series A Funding for Its Eco-Friendly Concrete
Wednesday, October 6, 2021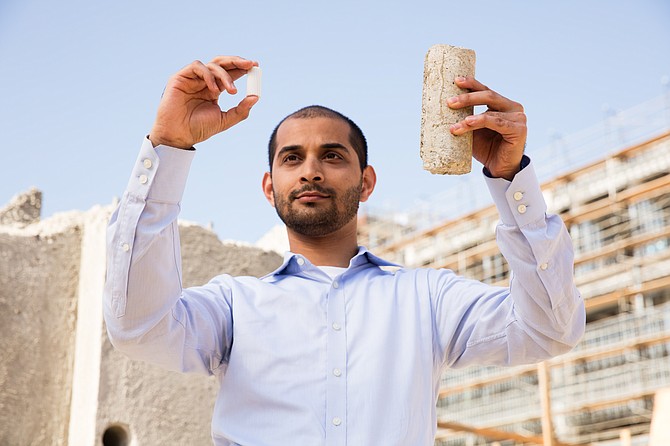 Westwood-based startup CarbonBuilt Inc. announced Oct. 6 that it has raised $10 million in Series A financing to further develop and begin to market its technology that reduces carbon dioxide emissions by injecting the gas into concrete.

The funding round was led by the Neglected Climate Opportunities practice at Boston-based Grantham Environmental Trust. Also participating were billionaire Los Angeles investor Tony Pritzker; Plymouth, Mass.-based Lime Street Ventures; San Francisco-based Climate Capital; Berlin, Germany-based Foundamental; and others.

"We are honored to have such stellar investors standing behind the company," Rahul Shendure, CarbonBuilt's chief executive, said in the announcement. "They share our conviction that carbon dioxide utilization has a critical near-term role to play in humanity's path towards a zero-carbon future. Enabled by CarbonBuilt's technology, the concrete products industry is uniquely positioned to deliver on this promise."

CarbonBuilt, which was spun off in late 2019 from a UCLA research team led by civil engineering professor Gaurav Sant, has developed a process for injecting concrete with carbon dioxide emissions from power plants or other industrial facilities. The idea is to sequester the carbon dioxide emissions into concrete that can then be sold to builders and other construction contractors. This process reduces the cost for cement, concrete, power generation and other industrial plant operators to comply with mandates to reduce carbon emissions.

Over the past year, CarbonBuilt has run two successful test pilot projects demonstrating the technology.

The company is currently housed at the California Nanosystems Institute's Magnify incubator on the UCLA campus.

In April, CarbonBuilt won a $20 million competition from the Culver City-based XPrize Foundation. This specific XPrize, sponsored by Houston-based NRG Energy Inc. and Calgary, Alberta-based Oil Sands Innovation Alliance, was for the best technology to convert carbon dioxide emissions into usable products.

According to the announcement, this latest $10 million capital infusion will be used to expand the company's team, further enhance its CO2 injection technology and develop its first commercial projects.

Lead investor Grantham Environmental Trust pointed to the need to reduce carbon dioxide emissions as one of the chief reasons for its decision to invest.

"Reducing greenhouse gas emissions and removing carbon dioxide are the two greatest challenges we face," Kevin Tidwell, managing director at Grantham Environmental Trust, said in the announcement. "We see CarbonBuilt taking on both challenges, simultaneously, by helping to move a concrete industry that currently contributes about 8% of global emissions to become an industry that can pay for carbon dioxide utilization while saving producers money,"
For reprint and licensing requests for this article, CLICK HERE.