Rob Antrobius on Prologis' Expansion in LA's Industrial Market
2021 Who's Who in Real Estate
Monday, October 4, 2021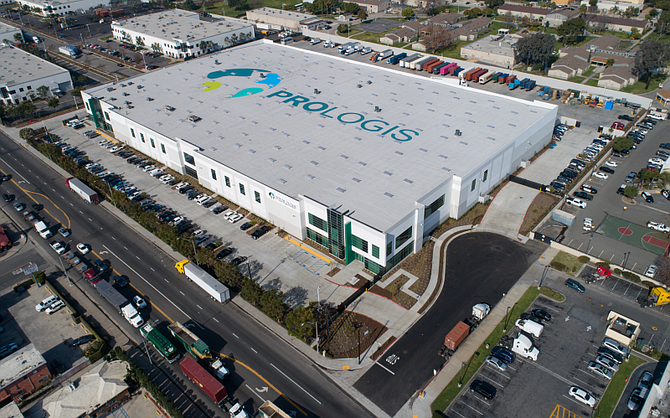 Rob Antrobius
Senior vice president, market officer
Prologis Inc.
Portfolio: 295 buildings in L.A. and Orange counties
Big build: The 336,000-square-foot Prologis Vernon Business Center was built in 2020.
Rob Antrobius has been involved in industrial real estate in a couple of different ways: first as a broker and now on the ownership side.
Today, Antrobius is the senior vice president and market officer for Prologis Inc.

In L.A. and Orange counties, which he oversees, the company owns and operates more than 35 million square feet of real estate across 295 buildings and has more than 500 customers.

How did you get involved with Prologis?
I started my career back around 1990, and I was a broker with Colliers International, and then in 2000 I went to Trammell Crow Co. as a senior vice president, and then a company called AMB Property (which merged with Prologis in 2011) became my biggest client. In 2005, AMB offered me a job to join them and help open their Los Angeles office.

What type of properties is Prologis interested in now? 
We've been laser-focused on quality distribution facilities. Over the last few years, we've been having to get creative because it got more difficult to acquire properties, especially already existing, quality industrial properties. There tend to be many bidders on those. We've been purchasing a lot of what we call "covered land" plays — basically, sites that have older buildings on them, and the older buildings might be leased up for a number of years. And what we do is at the end of those leases, we evaluate. If we still have the customer in place, we continue on, but if the customer decides to vacate the facility, we look at developing those into new, modern distribution facilities.
 
What makes a site one you are interested in acquiring?
Obviously location. ... In terms of the properties we're drawn to, if they're in the markets we operate in, quality distribution facilities — quality meaning (high clearances), good yard areas for container storage and container maneuvering, lots of dock-high loading positions. Good-quality distribution facilities are what we want to have in our portfolio.

How much value-add versus ground-up properties are you working on in Southern California?
Of the 35 (million) or 36 million (square feet), we definitely have a few (properties) that, as they turn over, we do look at value-add. The ground-up development, we just finished one, our Vernon development. We owned a site with older facilities. When it became vacant, we went ahead and did a ground-up development there. We are now in various stages of pursuing and entitling a few sites in L.A. for new industrial developments.

What do customers want now?
Like a lot of large landlords, we try to listen to our customer base and what their demands are. And one thing that's tough to find, there's a lot of industrial buildings, but the ones that were built 20 years ago or more, there wasn't a lot of excess land. With all the port traffic and containers coming to Los Angeles, our customers have spoken and told us how cross-docking facilities with ample yard area for containers is really what they are looking for.

What do the next few years look like for Prologis?
We're excited about what we're doing beyond the real estate. We launched just a couple of years ago what we call our "essentials program," and that's to help our customers with the other needs they might have. We've created partnerships with racking companies and forklift companies and lighting companies. All these things are items that the majority of our customers need.

Industrial real estate is continuing to perform really well, and we're excited to go beyond just real estate as a company.
— Hannah Madans
Keep reading the 
2021 Who's Who in Real Estate
 special report.
For reprint and licensing requests for this article, CLICK HERE.