Gores Group SPAC Agrees to IPO With EV-Maker Polestar
Monday, October 4, 2021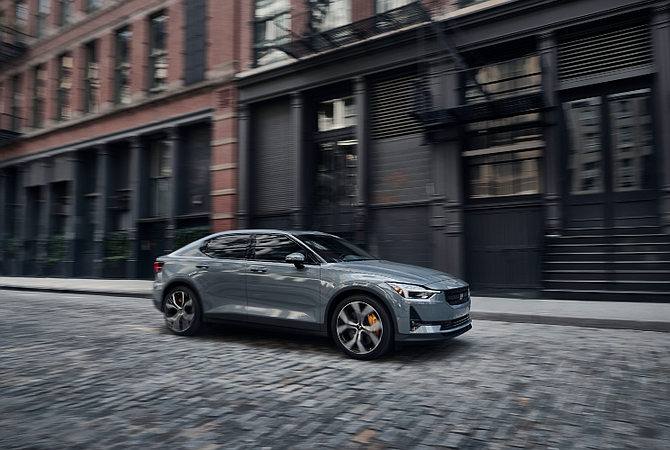 A blank check firm backed by Beverly Hills billionaire Alec Gores has agreed to go public with Swedish electric carmaker Polestar, which also counts Hollywood actor Leonardo DiCaprio among its investors.
 
The blank check firm, or special purpose acquisition company, will have an enterprise value of $20 billion after the combination is completed, which is expected in the first half of 2022. The combined company will be named Polestar Automotive Holding UK Ltd. and will trade under the symbol "PSNY" on the Nasdaq.

The Polestar deal will be supported by cash proceeds of $800 million from Gores Guggenheim Inc., and a PIPE, or private investment in public equity, of $250 million from institutional investors.

Polestar also has backing from Volvo Car Group and affiliates of Zhejiang Geely Holding Group, a global automotive group run by Geely Chairman Eric Li.
 
Polestar offers two models: a hybrid car known as Polestar 1 and the fully electric Polestar 2.
 
After nearly two years of unprecedented activity, driven in part by some of the top private equity firms in Los Angeles, the volume of initial public offerings through blank check companies slowed dramatically in late spring.
 
The Polestar deal is the first for The Gores Group to announce since May when Gores and investment partner Dean Metropoulos agreed to take short-term lodging startup Sonder Holdings Inc. public with their Gores Metropoulos II Inc. blank check firm.
 
Although several reasons have been floated for the cool down, most industry experts point to an accounting change by federal securities regulators as the primary factor. The move allowed the agency a chance to catch up with the wave of deals washing over the Securities and Exchange Commission. It also gave regulators time to figure out if and how to tinker with the structure of blank check firms, or SPACs.

The Gores Group has announced or closed nine SPAC deals since 2015, totaling $58 billion in transaction value.

Gores, chairman and chief executive of The Gores Group, did his first SPAC in 2015. He has created 13 SPACs to date — more than anyone else on Wall Street.

At last count, The Gores Group had six SPACs currently open after raising proceeds from IPOs.
 
After a down year in 2020, Gores' net worth rebounded this year thanks to his investments in SPACs. His personal net worth grew more than 6% year over year to $3.4 billion in 2021.

Prior to Polestar, Gores closed the largest SPAC transaction to date with a combination of Pontiac, Mich.-based United Wholesale Mortgage and Gores Holdings IV Inc. The January merger had a valuation of about $16 billion.
For reprint and licensing requests for this article, CLICK HERE.