Ace Hotel Developer Jon Blanchard Turns His Attention to the Beach
2021 Who's Who in Real Estate
Monday, October 4, 2021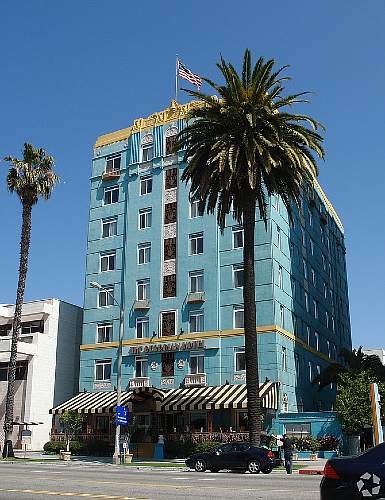 Jon Blanchard
Founder
BLVD Cos.
Recent opening: CitizenM hotel in downtown.
Developer: BLVD Hospitality, the hospitality arm of BLVD Cos., has developed more than 1.2 million square feet in Los Angeles County. 
Jon Blanchard founded Century City-based BLVD Cos. in 2009, seeing opportunity in historic buildings. Perhaps his best-known project is Ace Hotel in downtown.

Most recently, he opened the CitizenM hotel, also in downtown. Outside of hotels, Chicas Tacos also falls under the BLVD Cos. banner, and the eatery has been rapidly growing, opening three locations during the Covid-19 pandemic.

Why launch BLVD?
I have always had a passion and love for hotels and historic buildings. I really saw an opportunity to be involved in that in Los Angeles, especially starting in downtown Los Angeles where there is a lot of really wonderful historic buildings. There was really an open canvas there of opportunities.

Despite the pandemic, BLVD Hospitality has made some big purchases. What makes you still interested in hotels?
I have a belief that people like to enjoy other spaces outside of their homes. They like to enjoy getting on the road, whether it's driving or flying, and experiencing hotels. We think that that's not going to go away, pandemic or not. And we've seen that. We've seen hotels at beaches perform well during the pandemic. … More urban areas like your downtown L.A. and your Manhattan and places like that didn't.
 
We bought the Georgian Hotel in Santa Monica in the early days and at the peak of Covid-19. I used to live in Santa Monica and have had my eye on that building for 11 years. … We took the opportunity and acquired it in 2020, and it turned out to be a really great success ... and we have a great restoration plan and plan to renovate it.

Are there any specific areas of L.A. you are or are not interested in doing projects in moving forward?
What I'm hearing a lot of are investors are not that interested in investing in California right now. A lot of that has to do with homelessness, taxes and perhaps the way that Covid-19 was handled. We have to listen to that because we're developers, and we have partners in things that we do. It's a concern right now.
 
I wouldn't say there's an area that we're not focused on. We are big believers in California, born and raised here, and we are big believers in Los Angeles, and we are going to continue to build and develop great things in Los Angeles.

Where I'm concerned? I'm concerned about downtown Los Angeles. I'm concerned because of the way the streets look and the homeless and the fact that people don't want to go there because of those issues. It was a problem pre-pandemic, and it's a problem now.

The CitizenM hotel in downtown is one of your more recent projects. Can you tell me about that?
That just opened a couple of weeks ago. It is a project we are very, very excited (about) and proud of. It is the first high-rise modular construction ever approved in the city of Los Angeles. It really brought me back to the days of doing the Ace, which was a big thing for Broadway and a big thing for downtown. This kind of reminded me of that because it's another monumental moment for the city being involved in the first ground-up, high-rise modular construction.

Are you still looking to buy more hotels?
We're very active. We are looking at things constantly. We just closed escrow on some land next to Disneyland that we are going to build a hotel at and are constantly looking. We're believers that California and Los Angeles are going to be great again, and we're hanging on to that. I will say it is tough to find good deals right now, but where there are, we're active.

What is your approach to other lines of business under the BLVD umbrella such as Chicas Tacos?
The stores have performed well. ...We're gearing up to roll another dozen stores out in the next couple of years, and are we're also very excited that we're going to be launching our retail in grocery stores ... early next year.

What's next for BLVD? 
We are excited to renovate the Georgian and are excited to get our hotel built in Anaheim next to Disneyland. We're excited to continue to invest and to grow and build more great boutique hotels, and that's where our focus is. We are looking at more opportunities on the West Coast.

We're rolling out a (general partner) fund. We're going to be doing a lot more investments and co-investments as well in the hotel world.
— Hannah Madans
Keep reading the 
2021 Who's Who in Real Estate
 special report.
For reprint and licensing requests for this article, CLICK HERE.