LA Office Lease Demand Recovers From Pandemic-Driven Slump
Monday, November 29, 2021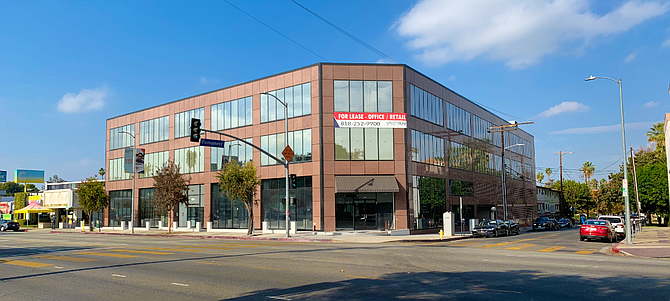 The office leasing market has rebounded since the start of the Covid-19 pandemic.
In the first quarter of 2020, prior to the majority of pandemic-related shutdowns, 748 leases for office space, representing 3.3 million square feet, were signed in L.A. County, according to Jones Lang LaSalle Inc. By the next quarter, however, that number had fallen to 1.7 million square feet and 344 leases.

The number of leases signed has been on an upward trajectory this year, though, even as companies have been trying out hybrid and remote work setups.
 
"Generally speaking, things have gotten better," said James Malone, an executive vice president at JLL. "When Covid hit, leasing volume and activity screeched to not a true halt, but a lot of things went away, and volume went down. That lasted through the end of last year, and things started to pick up this year."

The number of leased square feet rebounded past first quarter 2020 levels in the second quarter of this year to 3.5 million square feet before dipping in the third quarter to 2.9 million square feet, JLL found.
 
"Pre-delta variant, we were seeing the traditional users reenter the market, more optimistically and, on a whole, with larger requirements," said John Eichler, a principal at Avison Young Inc. "Delta had a two-pronged impact: Prong No. 1 was to delay any long-term decision-making. Prong No. 2 was to come up with a higher work-from-home or hybrid element."

Many companies, he said, are looking at smaller spaces than anticipated pre-delta.
Mike Condon Jr., a vice chairman at Cushman & Wakefield Inc., said the office market has had "starts and stops over and over," such as with the delta variant, but he's seeing companies "preparing to come back to the office in a major way after the holidays" and is seeing more demand ahead of that. 

Entertainment tenants
Experts agree that content producers as well as other tech and media companies are driving the leasing market now.
 
"Media and production have been growing at an amazing rate here in Los Angeles," Condon said. "Content creation is keeping the market afloat."

"You're still seeing a lot of activity among the content and entertainment sectors," CBRE Group Inc. Vice Chairman Jeff Pion added. "Content, media, entertainment feels like that's what's driving it … people trying to figure out what they want to be long-term. We're also seeing some pretty good activity from some of the gaming companies."

Eichler added that companies that support content creation companies are leasing space now.

"Within that world, which is mostly on the Westside and Burbank, that have concentrations of people within that industry, leasing demand has been strong, leasing activity has been strong, relatively speaking," he said. "We aren't back to where we were in 2019, but within that world, things have bounced back significantly."
Markets like Culver City and Burbank, experts agree, have seen a lot of leases, largely due to being home to so many entertainment companies. Pion said Playa Vista and the South Bay have also seen interest.

"El Segundo has emerged as an up-and-comer," Condon said.
Meanwhile, more traditional office buildings in central business districts have had a harder time. 

Open campuses
Some landlords are getting creative to entice tenants to sign leases by updating their properties and offering concessions.

"We've all seen, especially in downtown L.A., that most of the major landlords have redone their lobbies, their common areas, making the buildings into vertical campuses, and finding a way to have tenants engage outside of their offices," Malone said. "That will continue. With newer developments, I think you'll see more greenery and balconies and operable windows."
 
Eichler said landlords were "being as responsibly aggressive as they can in terms of concessions." Landlords, he said, were trying to keep rental rates high by adding more tenant improvement allowances and free rent.

Malone said one of the most common concessions offered now is a tenant improvement allowance.
"Landlords are doing what they can to make their building and their economic package attractive," he said.

Condon added that some properties, such as Rising Realty Partners' Trust Building in downtown, were offering broker bonuses. That particular property, he said, is offering a $1 million bonus for a tenant of more than 100,000 square feet.
But some experts said that not as many concessions are being offered now.
"We're starting to see landlords actually push back on a lot of that additional free rent or beneficial occupancy," Condon said. "This is the first indicator I've seen that the market is starting to turn."

Condon said flexible lease terms were not being offered on deals that involve tenant improvement allowances because "you can't make money on deals less than five years. There was a period of time when people may have forgotten that during Covid."
Experts now are showing optimism about the future.
"You're going to see an uptick in activity," Pion said.
For reprint and licensing requests for this article, CLICK HERE.