Kitchens of the Future
Monday, November 29, 2021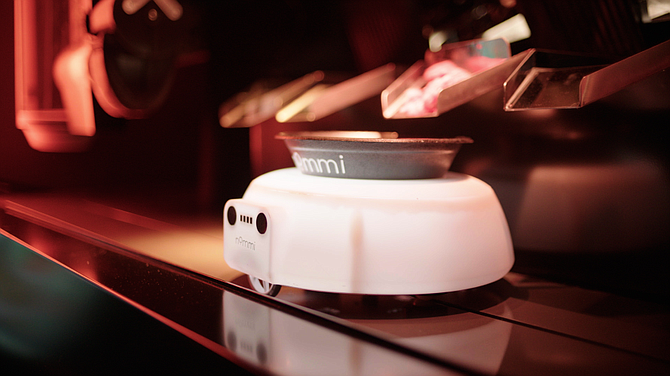 Santa Monica-based robotics incubator Wavemaker Labs is laser-focused on the future of the food industry.

"Our mission is to automate the entire supply chain of food from seed to fork," said founder and Chief Executive Buck Jordan.
 
It's an ambitious goal, but the incubator has launched a multitude of companies in recent years, including back-of-house automation dev
eloper Miso Robotics Inc. and robotic crop harvesting startup Future Acres Inc.

The latest company to emerge from Wavemaker is Nommi Inc., which is developing kiosk-sized robotic shops capable of churning out bowl-based salad, noodle and rice dishes around the clock.

The concept is similar to those previously unveiled by Piestro Inc. and Future Pearl Labs Inc. (doing business as Bobacino), two other Wavemaker companies that are creating robotic devices that make pizza and boba tea, respectively.

Jordan, who is a co-founder of Nommi, said the robotic technology developed by startups incubated at Wavemaker is particularly well-suited for these types of manufacturing devices, which he compared to high-tech vending machines.
"Vending machine is kind of a bad word," 
said Jordan. "It means, like, prepackaged, factory-made food that you can put in the microwave. It's like the food of last resort."
Jordan said modern robotic technology could change these assumptions, allowing machines to prepare fresh food on the spot, rather than merely dispensing prepackaged snacks.

"All of a sudden, we're able to make super fresh pizza or bowl-based dishes right in front of your eyes," he said.

The machines are equipped with transparent windows, so customers can watch their food being prepared. Their small size makes them well-suited for placement in shopping centers, malls and even small storefronts, Jordan added.
 
To that end, Nommi has already announced a partnership with Beverly Hills-based Creating Culinary Communities (doing business as C3), a restaurant and digital kitchen enterprise backed by SBE Entertainment Group. C3 tentatively plans to order up to 1,000 Nommi devices to be deployed in food halls and similar settings.

In the interest of proving that the robotic kiosks can create high-quality meals, Nommi's pilot menus will be created by C3's Sa'Moto brand, which is led by celebrity chef Masaharu Morimoto.

"At the end of the day, it doesn't matter that we're making this food with robots," said Jordan. "What matters is what it tastes like. That's all consumers are going to care about."

Eventually, according to Jordan, the robotic technology behind these kiosk devices could be incorporated into the kitchens of larger restaurants — a possibility that could gain traction as restaurants nationwide face continued back-of-house staffing shortages and greater demand for delivery and takeout.

"As we continue to advance the state of the art, we're able to create almost a whole restaurant in a kiosk," he said. "We think there's a future where brands will be designing their menus to be automated because the benefits of full automation are pretty staggering. All of a sudden, the margins start to look more like ecommerce than food."
For reprint and licensing requests for this article, CLICK HERE.