Dating Apps Introduce Digital Currency, More Ways to Engage Online
Monday, November 22, 2021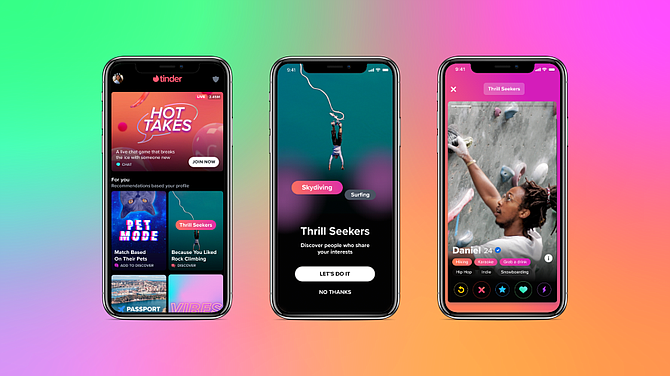 The world is changing quickly for singles looking for love online.

Undeterred by lockdowns and business closures that made date nights difficult, millions of new users signed up for dating apps during the pandemic, and companies operating online matchmaking services responded by ing new features that have made it easier for people to interact with one another online before meeting up in person.

West Hollywood-based Tinder Development led the way, adding a new video chat feature to its wildly popular Tinder app last year and widening access to a feature that allows users to connect with people all over the world rather than just in their immediate area.

These changes were unveiled at a time when in-person dating was difficult and risky, but Tinder has continued to roll out features supporting user interaction in virtual settings, even as in-person date nights become commonplace again.

In September, the company launched Tinder Explore, a hub for users to access virtual, interactive experiences, including group viewings of original web series developed by the company.
 
Tinder is also testing a new virtual currency system in which users can accrue coins by spending more time in-app.

Meanwhile, a host of promising startups — including several in Los Angeles — have sprung onto the online dating scene, offering an array of features allowing users to connect in new ways. 

First impressions
Heather Hopkins, founder and chief executive of Hollywood-based Goatdate, said the company's soon-to-be-released dating app, Hulah, was born out of her own experiences — and frustrations — with online dating.

"I started (Hulah) as a user of 
other apps, and I built it from my pain points very intentionally," said Hopkins.

The app gives users the chance to connect with potential matches through video calls and chats before meeting up in person. It also allows users to record video testimonials about friends that can be incorporated into that friend's profile, giving other users some insight into what they are like and who they spend time with.

Hopkins said features like these are crucial for younger users already familiar with negotiating online relationships, as well as those more hesitant about meeting up with someone they don't know very well.

"We do so much of the vetting for you," Hopkins said.
 
Joe Sassi, head of growth at Venice-based Skippit Inc., said the company's buzzy new app, Lolly, merges the aesthetic of TikTok with matchmaking features of apps like Tinder to create an experience that feels familiar to Gen Z users.

"We really feel there's a big change in consumer appetite toward more nuanced relationships online," Sassi said. "People are looking to have more meaningful interaction beyond just a few messages and responses, and it's certainly the younger generation driving that."

Users of Lolly, which launched in a testing mode earlier this year, can interact extensively with others via short-form videos. Sassi said this gives users the opportunity to express different sides of themselves and to get a sense of what potential matches are like and what they might be interested in.

"In the context of dating, when we meet someone, we often make subconscious decisions about that person, and it's quite difficult to pick up on those things online in traditional dating apps," Sassi said.

Budding relationships
Historically, dating apps haven't been a major draw for venture capital funding, but both Lolly and Hulah have recently completed seed funding rounds and have each raised more than $2 million, according to Pitchbook Data Inc.

Local startups Heart to Heart Tech Inc. and Matter Group Inc. have also completed seed funding rounds in the last year to fund development of new dating apps.

New startups are entering the scene as more established online dating platforms like Tinder and its chief rival, Austin, Texas-based Bumble Inc., are attracting users in record numbers.

Tinder's parent company, Match Group Inc., reported in October that the dating app had attracted 10.4 million paying users in the third quarter of 2021, up from 8.8 million in the corresponding quarter a year earlier.

The app's subscriber numbers have grown in each of the last five quarters, at the same time it has introduced new features like the video chat function and Tinder Explore.

The Explore hub is now home to an original web series called "Swipe Night," which is designed to facilitate interaction between app users. These conversations can happen whether users have been "matched" with one another, bringing the user experience closer in line with that of a conventional social media platform.

A focus on more opportunities for users to spend time socializing in-app also opens up potential revenue sources.

Tinder is testing a new virtual currency that users can either purchase directly or earn by updating their profile or logging in regularly. These virtual coins can then be spent on features like the app's Boost function, which temporarily upgrades a user's profile in Tinder's matchmaking algorithm.

Such a feature rewards users for spending more time with the app and creates new ways to turn nonsubscribers into paying customers, particularly if the experience of using the app proves to be an engaging one.
For reprint and licensing requests for this article, CLICK HERE.