Self-storage Company Stuf Expands to LA With Two Area Locations
Monday, November 15, 2021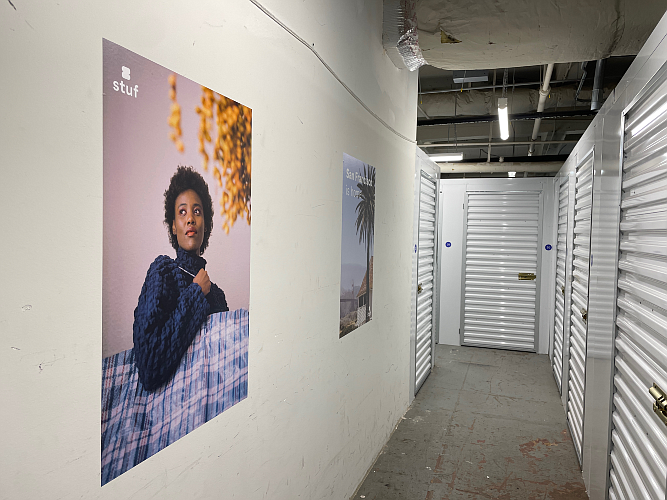 New York-based self-storage company Stuuf Inc., better known as Stuf, has made its L.A. debut with plans to expand in the region.
 
The company partners with commercial real estate owners, turning vacant spaces on their properties into storage units.
 
"Stuf is a next-generation self-storage startup," said Katharine Lau, Stuf's founder and chief executive. "We are reimagining the self-storage experience for consumers around the country."
 
She said what sets the company apart from other self-storage operators is that Stuf locations are inside of commercial properties in well-trafficked areas, not out-of-the-way massive facilities.
 
"We have a really different take. We recognize that about 45% of self-storage consumers are millennials. We noticed a lot of the traditional operators weren't designing their approach toward that demographic," Lau said. "We take a really different approach in that we offer clean, safe storage in a convenient space."

The company does not sign traditional leases for its spaces but instead enters into revenue-sharing agreements with landlords while it manages the storage site.

Lau said landlords like partnering with Stuf because the company is able to "monetize their underutilized real estate."

Stuf's first two locations in L.A. County are at 6300 Wilshire Blvd. in Carthay and 655 N. Central Ave. in Glendale.
 
The Wilshire Boulevard location is in a building owned by Swig Co. and Intercontinental Real Estate Corp. Stuf has 3,500 square feet at the property, which was previously used as overflow building storage by the property manager.

"We are excited to welcome Stuf to 6300 Wilshire Blvd. to provide its tech-enabled self-storage as an amenity to our office tenants and the broader community," Cory Kristoff, senior vice president of Swig Co., said in a statement. "Stuf's revenue-sharing model also provides us with a solution to monetize underutilized commercial real estate in a way we haven't seen before."

The Glendale property is owned and managed by DivcoWest. Stuf is converting 5,700 square feet of unused parking into self-storage space.

"We saw from the outset that partnering with Stuf to create a storage solution at 655 North Central made complete sense," Gregg Walker, senior managing director and head of business development at DivcoWest, said in a statement. "The facility develops an income stream from space we weren't using while creating a valuable amenity with convenient freeway access for our tenants as well as nearby businesses and residents of the many residential communities throughout downtown Glendale."

Stuf is looking at more opportunities locally with a goal to add two more locations in L.A. this year and to have 10 to 15 locations in L.A. next year.

"We're excited to continue growing in L.A. The demand thus far has been really strong," Lau said.

She added that the company is looking to continue to grow across the country, but locally, she feels West L.A. is most in need of its offerings.

"We've seen from the demand that people need storage in West L.A. the most," Lau said. "I think it has something to do with smaller homes and also the business users, maybe they work in entertainment … and they have a ton of props and equipment."

In its L.A. locations, Lau said the company is looking at options with parking and easy loading capabilities for customers.

"Aside from monetizing underutilized sources for landlords … we've noticed tenants in the building really look at Stuf as an amenity," Lau said. "For the first time, this is an amenity that can take care of tenants but also produce new revenue."
For reprint and licensing requests for this article, CLICK HERE.