Coco Delivers Big Results With Small Robots
Monday, November 15, 2021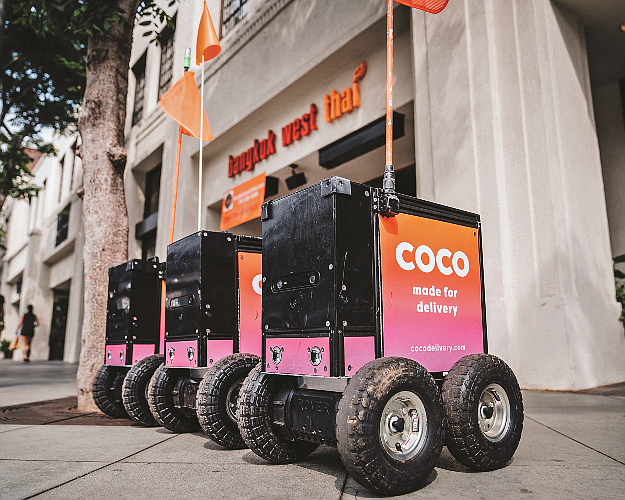 Last summer, Cyan Robotics Inc., better known as Coco, was just Brad Squicciarini, Zach Rash and a robot on the streets of Santa Monica.
 
A year and a half later, the company now has hundreds of delivery robots in 15 neighborhoods around Los Angeles and nearly $42 million in funding.
 
"It seemed like it was going to be an obvious part of the future — having electric lightweight devices doing the deliveries rather than idling, gas-powered cars just made sense," Rash said.
 
Founded in early 2020, Santa Monica-based Coco uses small, remotely piloted robots to deliver food short distances. The company was founded less than a year after the duo graduated from UCLA.
 
Though the co-founders saw companies researching and developing robotic delivery concepts while working in a research lab in college, none was scaling and making them available to the public.
 
"We didn't see a future where something like (Coco) didn't exist looking at the way delivery trends were going and some of the problems that merchants and consumers were having with delivery," Rash said.
 
For merchants, Coco's robots remain outside of their restaurants until a delivery needs to be made, which Rash said cuts down on the lunch and dinner rush chaos of delivery couriers coming in and out. Coco also cuts costs for restaurants by reducing commissions charged by traditional delivery services by up to 50%, the company said.
 
Piloted remotely by drivers, the robots drive at a maximum of 5 miles per hour on the sidewalk and only deliver within a 2-mile radius of partner restaurants.
 
Rash said 60% of all food deliveries are made within 2 miles of restaurants, and 30% are within 1 mile.
 
"People like the convenience of delivery even when it's a mile away," said Rash. "So, it's very sad that cars are doing that all day, every day."
 
Coco claims its robots deliver 30% faster than driver-based services. Because the robots only serve small areas, they always make deliveries within 30 minutes of orders being placed and have never canceled an order on a customer, Rash said.
 
Coco has partnerships with local restaurants such as Jinya Ramen Bar, Samosa House and Alfalfa. On Oct. 28, the company inked a deal with Beverly Hills-based digital kitchen company Creating Culinary Communities, better known as C3, to make deliveries for the company's brands, such as Umami Burger, Krispy Rice and Sam's Crispy Chicken.
 
Financial details of the deal were not released.
 
"As an industry leader with a rapidly growing food empire, we are responsible for making sure our growth is sustainable for the environment and the consumer," Sam Nazarian, founder and chief executive of C3, said in a statement. "We are proud to support a fellow disrupter that has created a tech-advanced delivery solution, and we hope other restaurateurs follow our lead."
 
The partnership comes on the heels of a $36 million Series A funding round Coco closed in September.
 
The round was led by Santa Clara-based Silicon Valley Bank; San Francisco-based Founders Fund; and Sam Altman, chief executive of OpenAI and the former president of Y Combinator. Nazarian also contributed to the investment.

Rash said the investment round supported the expansion of its restaurant partnerships and preparation for its launch in "most of the major U.S. cities" by the end of the year.
 
The company also plans to eventually unveil a larger robot capable of delivering groceries and other goods.
 
"We want to become a logistics layer in cities," Rash said. "I think this is a more optimistic version of the future of delivery." 
For reprint and licensing requests for this article, CLICK HERE.