ABL Adds $200 Million to Series B Raise
Monday, November 1, 2021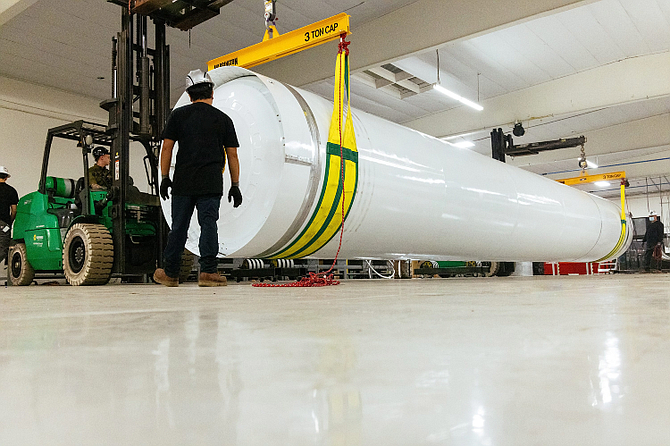 El Segundo-based ABL Space Systems Co. added $200 million to its Series B funding round, bringing its valuation to $2.4 billion, the company announced Oct. 25.
 
The funding round was led by investors from its existing Series B round of $170 million, which closed in March. Investors in the original round included Baltimore-based T. Rowe Price Associates Inc., Boston-based Fidelity Management & Research Co. and a third investment management firm the company hasn't named.
 
The round brings the company's total funding to $420 million and nearly doubles its valuation, which was $1.3 billion in March.
 
"We're excited about our partnership with ABL Space Systems. We think the global space economy has significant long-term growth potential," Jason Adams, portfolio manager of T. Rowe Price's Global Industrials Fund, said in a statement about the round. "We think ABL has a management team, technology set and product strategy that should enable long-term competitive advantages."
 
ABL Space Systems plans to use the funding to scale the production of the RS1 launch vehicle, the company's flagship rocket, and to conduct research and development of future systems. The company is preparing for its first launch before the end of the year from Kodiak Island, Alaska, with its launch period ending Dec. 15.
 
"Our team is working tirelessly to ready RS1 for launch, and it's because of their hard work that we've been able to grow ABL so quickly," Harry O'Hanley, founder and chief executive of the company, said in a post about the raise on LinkedIn. "Right now, we're laser-focused on achieving orbit with RS1."  

ABL Space Systems was founded in 2017 with the goal of developing low-cost launch vehicles for the small-satellite industry. Its RS1 rocket is designed to carry 1,350 kilograms, or 2,976 pounds, into low-Earth orbit. A dedicated launch using the RS1 costs $12 million.
 
Along with its rocket, the company has developed a launch system, called GS0, which allows it to transport the RS1 around the world using conventional shipping containers.

Despite having never launched a rocket, ABL Space Systems is popular among customers.
The company said it has a manifest of more than 75 active contracts with 14 separate customers in the commercial, defense, intelligence and science sectors. Some of its customers include Bethesda, Md.-based Lockheed Martin Corp. and Melbourne, Fla.-based L2 Aerospace.
 
Most recently, ABL Space Systems was selected for its first contract with NASA. The company will be the launch provider for the NASA Cryogenic Demonstration Mission, it announced Sept. 16. The mission is scheduled to launch in 2023 and will demonstrate in-space transfer of cryogenic liquid hydrogen, a high-performing propellant used in space exploration.

Financial terms of the contract were not released.
"We do a lot of work at ABL focused on serving our customers' needs in the immediate future," Dan Piemont, president, chief financial officer and founder of ABL Space Systems, said in a statement about the contract. "Science missions like this let our team look further out onto the horizon."
For reprint and licensing requests for this article, CLICK HERE.