Cathay CEO Liu Helps Businesses, Community
Monday, May 31, 2021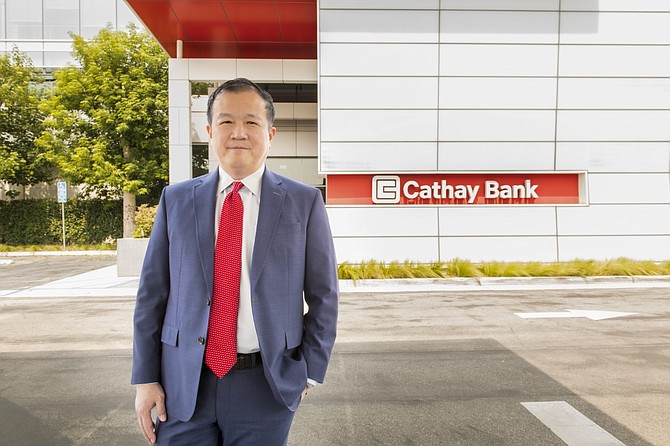 When Chang Liu was named president and chief executive of Cathay General Bancorp in October, he wasn't just facing challenges caused by Covid-19.

Liu took the reins at Chinatown-based Cathay, the parent of $19 billion-in-asset Cathay Bank, as anti-Asian hate crimes were rising across the United States.

Under Liu, Cathay stood up a $1 million donation to help
combat racism against the Asian American community
and launched a dialogue with local Reps. Ted Lieu and Judy Chu about how to fight discrimination.
 
Supporting the Asian American community is nothing new for Cathay or for Taiwan-born Liu, who joined the fifth-largest independent bank in Los Angeles in 2014.
 
During his time at Cathay, Liu has climbed the corporate ladder, rising from assistant chief lending officer to deputy chief lending officer, chief lending officer, chief operating officer and president before succeeding Pin Tai last year as CEO.

To help customers during the pandemic, Cathay offered three- to six-month loan deferments. At one point in 2020, more than $2 billion of Cathay's $15 billion loan portfolio was on some type of deferment program.  

Cathay also launched a "smart relief loan program" that gave small, zero to low interest rate loans to help business customers bridge gaps in their cash flow.

Things have turned out well for Cathay. The bank reported profits of $73.4 million in the first quarter, a 57% gain from $46.9 million in the same quarter last year. Assets grew 5.6% to $19 billion during the same period.
 
Liu talked with the Business Journal about discrimination in lending, the economic climate, small business lending, the Paycheck Protection Program and guiding Cathay through the pandemic.

What thoughts do you have about lending discrimination against Asian Americans?
Maybe we can just kind of talk about Asian hate, you know, which is prevalent in society today. I believe action speaks louder than words. The bank has donated over $1 million to the Cathay Bank Foundation, a nonprofit that will direct those funds to a specific nonprofit, or nongovernmental organization, that is focused on things like tracking hate crimes and reporting or having legal resources that will help with the victims.

Who will be involved?
My understanding is that the foundation has already reached out to multiple NGOs, as well as had conversations with local congressmen like Judy Chu and Ted Lieu, and is seeking their input on where they think the best use of these funds should be placed. Quite frankly, I think part of the Cathay Bank Foundation's effort was, can we use this million as seed money to build a bigger organization that is grounded, more impactful and long lasting, and get other corporations to step up as well. This obviously takes a lot of time and effort and dedicated energy and resources.

How else can you get people involved?
It's about conversations every day that all of us need to have, right? It's not just the leaders from the top. It's not just leaders making a statement, or leaders issuing a press release or anything like that. While we may get the attention of the media for the next 24 to 48 hours, the issue is about how to sustain that. The issue is about how do we change the mindset of people so that they don't think that having Asian or Asian American Pacific Islanders around you is a crime or unacceptable.

Is enough being done?
Just the other day, I heard an NPR radio piece that was discussing civic lessons and how our civic materials and lessons these days are not really updated to reflect the current times. I would even argue the same thing, which is, if your civic lesson is going to update talk about Black Lives Matter and all the things that have happened around George Floyd and Breonna Taylor and all of those kinds of things, then guess what? Part of the history should be, what has happened to (AAPI communities) and their suffering with hate crimes. There should be more conversations around that, so the next generation of kids growing up would be better informed and would be more aware.

Were there any reports of hate crimes at any of your branches?
To the best of my knowledge, there were none, and we hope it stays that way.

You're closing two branches. Where are those located?
One is the Monterey Park Cadiz branch that came out of our Far East National Bank acquisition (in 2017). The branch is literally less than (two-tenths) of a mile away from our Monterey Park main branch on the same street. The other one was a Chicago Broadway branch, and we just had some redundancies. We have other Chicago branches in the area to cover for that location. We have 58 branches in nine states.

I noticed some charge-offs out of your Hong Kong office. What's your take on the U.S.-China trade dispute? 
We are tracking the China trade tariffs and how it impacts our customers. We have a branch in Hong Kong, but it is kind of separate though included in our consolidated financial statements. Hong Kong has its own deposits and loans, although they are on a much smaller scale. The other nine states we operate in have a much bigger footprint in terms of our loan portfolio and deposit base. We estimate that about 1.5% of our U.S. loan portfolio customers have been impacted by the tariffs, and we're monitoring those carefully. These are not bad accounts. They're not nonperforming accounts; they're all performing accounts. So far, the trade tariffs didn't seem to have any impact on a lot of our customers. They have already dealt with the tariffs. So, we feel pretty comfortable there. Now when it comes to the $7.8 million charge off that we attributed to Hong Kong, that does not have anything to do with trade tariffs.

Is that more related to the global slowdown caused by Covid-19?
Some companies certainly had some declining sales, but some of that might be more Covid-
related than they were trade-tension-related. You might see the cost of goods sold going up, but they're able to either pass some of that on or absorb some of that or share some of that with their distributors. Some of them moved manufacturing into other parts of Asia.

What's the latest on the first round of PPP loans handed out last year?
In the first round of PPP, we took in, approved and funded over 1,400 applications, and that was to the tune of about $265 million as of the end of March 31 of this year. Over 600 of those same borrowers have received funding from the Small Business Administration, of which $72 million qualified for loan forgiveness. My understanding is that the SBA is a little bit behind in processing the forgiveness, but we are targeting all forgiveness to be completed by the end of this year.

What about the second round of PPP loans that were handed out by this year's federal stimulus legislation?
We have received almost 1,500 applications (as of late April), to the tune of $153 million. So far, we have funded over 1,300 applications, or about $142 million.

What kind of businesses are taking the PPP money?
A lot of small businesses, you know. There are a lot of retail stores and really, at the end of the day, these loan sizes are averaging about $103,000. These are not going to big corporations as some of the first round loans did.
We're projecting that loan forgiveness will probably start sometime in the third or fourth quarter of this year. It's bound to be stretched into 2022. We don't put these loans into our budget. These loans are going to go away, between the last six months of 2021 and the first few months of next year.
 
We felt the second round went much smoother, and we were able to help a larger segment of the small business community — restaurants, nail salons, stores that sell nutritional supplements. Those kinds of businesses.

Are you worried by the economy?
I think it comes down to the consumer sentiment and the consumer confidence. As the vaccination continues to increase, I think it depends on how quickly people get out of their houses, right? Somewhere down the road, whether it's the second or third quarter or 2022, people will have to start spending money. It depends on consumers spending their savings and businesses starting to use it for capital expenditures to build the second line or buy the third warehouse, all of those kinds of things. We're seeing some of that happening. We're seeing some of the business regaining some of that confidence, and they're being more active about that.
For reprint and licensing requests for this article, CLICK HERE.