Air Lease Looks to Leave Pandemic's Turbulence Behind
Monday, May 24, 2021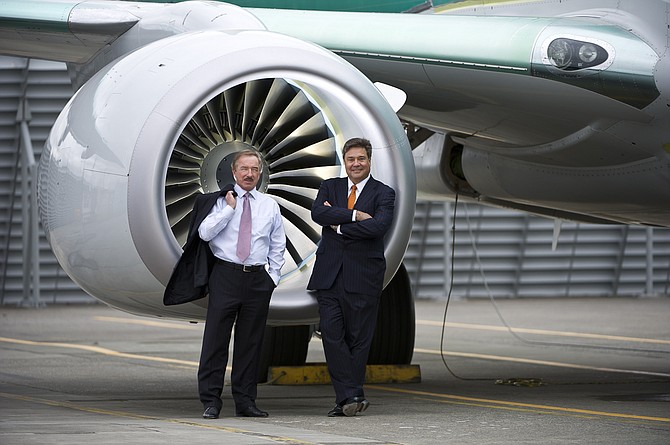 Is the worst finally over for Century City-based aircraft leasing firm Air Lease Corp.?
 
Maybe.

Airlines are taking more deliveries of aircraft from Air Lease — the company delivered 10 planes in the first quarter — than they have since the pandemic began.

And last month, New York-based credit ratings firm S&P Global Inc. upgraded its outlook for Air Lease to stable from negative.

But in an earnings report earlier this month, Air Lease revealed just how much pandemic-induced lease restructurings have affected the company.
 
It reported approximately $131 million in lease deferrals outstanding as of May 6, which helped account for a 7% drop in revenue for the first quarter to $475 million.
 
The lease restructurings could be even more of a drag on revenue in the quarters ahead than analysts had originally forecast.

"Air Lease reported first-quarter 2021 results below expectations as lease restructurings and decreased rent collection from select customers weighed on revenue," Helane Becker, an analyst with New York-based Cowen Inc., said in her most recent report on the company. "These issues will likely remain a slight revenue headwind through 2021."

But Becker said the impact of the lease restructurings should be temporary. As a result, she kept the company's rating at "overperform."
 
Nonetheless, Air Lease investors didn't take kindly to news of more lease restructurings than expected. On May 7, the first day of trading after the earnings release, Air Lease shares fell more than 10% to $44.15.

The company was launched in 2010 by aircraft leasing pioneer Steven Udvar-Házy, who had founded the world's first aircraft leasing firm, International Lease Finance Corp., in 1973. ILFC was sold to insurer AIG in 1990, and Udvar-Házy stayed on until leaving to found Air Lease.

As an aircraft leasing company, Air Lease provides airlines with a more affordable option to buying aircraft outright from the world's two major aircraft manufacturers, Chicago-based Boeing Co. and Airbus, which is based in the Netherlands.
 
The average sale price for a Boeing 737-800 aircraft with a maximum seat capacity of 189 was $106 million as of March, according to Statista. A Boeing 777-300ER aircraft, which is much larger and can hold up to 395 passengers, sold for an average price of $375 million in March.
 
Air Lease had 88 Boeing 737-800 aircraft and 24 Boeing 777-300 ER aircraft in its fleet of 342 aircraft as of March 31.

The company is one of several dozen aircraft leasing companies worldwide, including Dublin-based AerCap Holdings and General Electric Capital Aviation Services, a subsidiary of GE Capital.

Lease deferrals

During the Covid crisis, Air Lease has functioned somewhat like a financial lender to airlines. It has allowed many of its airline customers to negotiate deferments of up to a year on lease payments and has helped airlines reduce their overhead by leasing more fuel-efficient planes to them.

According to the earnings report, Air Lease had deferred a total of $243 million in lease payments through May 6. Of those deferrals, $112 million had been repaid, leaving an outstanding balance of $131 million in lease deferrals.
 
In most cases, Air Lease granted partial lease deferrals in which the lease payments were lowered but not eliminated for up to a year in exchange for higher payments after the deferral period ends.

Ultimately, Air Lease should come out even — or a little ahead when interest rates are factored in — according to analyst Becker.

But that assumes a relatively rapid recovery in air travel over the next 12 to 24 months.

Udvar-Házy said in the company's earnings call with analysts that the expectation is for continued comeback in air travel.

"Even though many countries are still trying to gain control of the pandemic, we are moving in the right direction in comparison to where we were a year ago," he told analysts.
 
"In the United States, last year at this time, (the Transportation Security Administration) was seeing below 200,000 passengers a day, and as of this last Sunday (May 2), the TSA had over 1.6 million passengers pass through their security checkpoints," he added.

Udvar-Házy noted that these gains were achieved despite continued restrictions on international and business travel.
 
"We believe that this will be further propelled as vaccinated Americans can travel to the EU this summer," he said.

Overall, the company noted in its quarterly earnings filing with the Securities and Exchange Commission, "We believe the long-term recovery of air travel worldwide will occur in phases and vary by region."

Aircraft deliveries

In sharp contrast to a year ago, Air Lease has seen a steady uptick in aircraft deliveries to its airline customers. A key factor is that airlines have been restructuring their fleets, changing the mix to newer, more fuel-efficient aircraft. Fuel is the single biggest cost factor for airlines, so having more airplanes that are relative fuel misers saves the cost-strapped airlines considerable sums.

The long-term outlook for the company's aircraft deliveries remains strong, said Becker.

"Air Lease has a large backlog of new aircraft on order with the OEMs," she said. "The company has done a great job leasing out their deliveries well in advance of their delivery dates."
For reprint and licensing requests for this article, CLICK HERE.