Pendry Hotel and Condo Complex Opens on Sunset Strip
Monday, May 17, 2021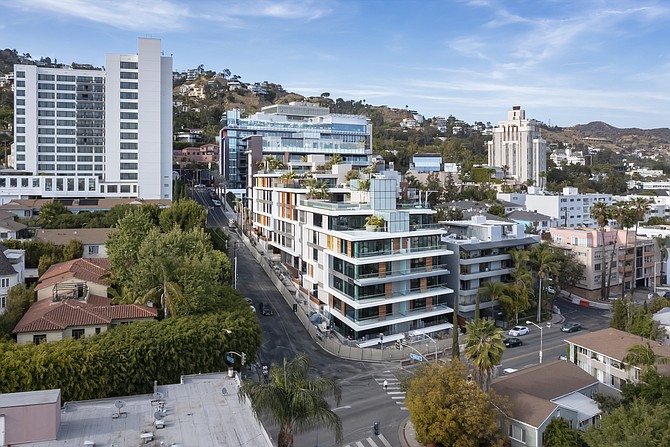 The long-awaited Pendry, a large hotel and condominium development positioned on the Sunset Strip at the site of the former House of Blues, has partially opened.
 
The property's 149 hotel rooms started taking reservations April 2 while its 40 condos are slated to open in June.

Clad in digital billboards, the eye-catching complex is located at 8430 Sunset Blvd. in West Hollywood and holds two restaurants from Wolfgang Puck, Ospero and Merois, which are also open.

Marcy Schulte, a principal with Cuningham, which executed the project, said Pendry is benefiting from rising vaccination rates. "There's a lot of pent-up demand and energy around getting back out," she said.
 
Schulte added that the property's residences are also seeing a lot of interest. "We're expecting that, with vaccines coming online, and the more and more we know about it, that it will start to look more familiar in terms of the way people are socializing," she said.

Even though the project was erected during the height of the pandemic, it didn't have to undergo many changes in terms of land-use and design. "There's some adjustments in terms of intensity and density of usage but really pretty minor," Schulte said.
 
The project has a long history, with early imagnings of the site dating back more than a decade. Famed architect Steven Kanner originally designed the project before his death in 2010.The project then fell to a new architecture firm, Ehrlich Yanai Rhee Chaney Architects. EYRC is the design architect for the project and 
worked with the city on entitlements.

Cuningham was brought in for a peer review before stepping into the role of executive architect and interior designer. The firm has been involved for around five years.

Because the big pieces of the project were already in place, Schulte said Cuningham worked on details and reducing project costs.

"It's a great project," Schulte said. "So interesting and compelling, and we are really standing on the shoulders of others that have come before us."
For reprint and licensing requests for this article, CLICK HERE.