Disney Revenue Falls, Streaming Growth Slows
Monday, May 17, 2021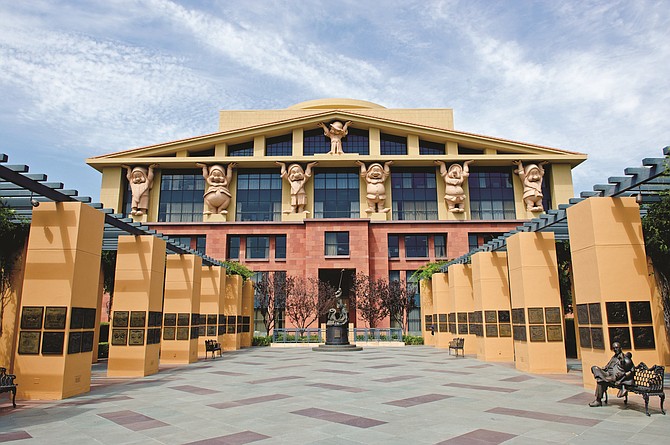 Burbank-based entertainment giant Walt Disney Co.'s revenue slipped 13% in its fiscal second quarter as growth slowed at Disney Plus and the company's theme parks struggled to recover from the pandemic.

Disney posted revenue of $15.6 billion for the quarter — a drop from $18 billion in the same period a year earlier — in its May 13 earnings call.
 
The company's diluted earnings per share for the quarter were 79 cents, up from the previous year's 60 cents a share.  

Wall Street analysts had anticipated that the company would post earnings of 35 cents a share, according to MarketBeat.
 
"Overall, we are pleased with the encouraging signs of recovery across our businesses, and we are confident we continue to move in the right direction for future growth," Disney Chief Executive Bob Chapek told analysts.
 
The company's Parks, Experiences and Products segment dragged during the quarter with revenue plummeting 44% year over year to $3.17 billion from $5.66 billion in 2020.
 
Disney attributed the drop to the pandemic's impact on its theme parks and travel experiences, some of which have only recently started to reopen. Disneyland in Anaheim welcomed visitors for the first time in more than a year on April 30.
 
Disney's sales were buoyed by its Media and Entertainment Distribution segment where revenue remained steady. The division brought in $12.44 billion for the quarter, up 1% from $12.35 billion the previous year.
 
Though Disney Plus has attracted more than 103 million subscribers since launching in November 2019, its growth has slowed with the streaming service tacking on 8.7 new million subscribers in the most recent quarter.
 
Chapek said the company is still on track to reach its goal of between 230 million and 260 million Disney Plus subscribers by 2024.

"We are uniquely positioned with the most compelling brands and franchises and entertainment, and we continue to deliver the high-quality, one-of-a-kind content that consumers want," Chapek said. "That's clearly reflected in the success of Disney Plus."
 
Disney shifted its strategy in October to focus on its direct-to-consumer businesses, which include Disney Plus, Hulu, ESPN Plus and Star. The move created three content groups: Studios Content, General Entertainment and Sports.
 
Disney has 159 million subscribers across all its direct-to-consumer brands.

To expand its global reach, the company launched international streaming platform Star as a part of Disney Plus in several countries in February. Since Hulu only operates domestically, Star brings content from Disney-owned assets such as FX Productions and Searchlight Pictures Inc., to international audiences.
For reprint and licensing requests for this article, CLICK HERE.