High-Speed Las Vegas Rail Project May Be Back on Track
Monday, May 10, 2021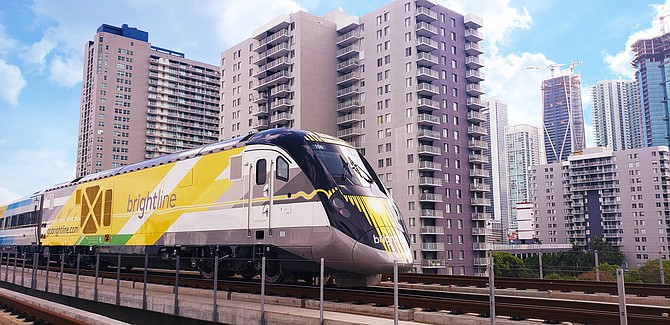 A planned high-speed rail project between Las Vegas and Southern California that stalled out last fall amid the pandemic now appears to be back on track.
 
But it may face some competition.

Miami-based Brightline Holdings has been planning for several years to build a 170-mile, $8 billion high-speed rail line between Las Vegas and Victorville with an eventual link to downtown's Union Station.
 
But last fall an initial $2.4 billion bond sale to support the project was postponed due to lack of buyer demand in the face of Covid-19.

In April, however, Brightline executives said the financing picture has improved and that construction could begin by the end of the second quarter.

Brightline Holdings Chief Executive Michael Reininger, in an interview with the Reno Gazette-Journal last month, gave an upbeat assessment of the financing situation.

"The tenor of the financial markets today is dramatically different," Reininger said. "The stock market is doing incredibly well, people are optimistic about a massive rebound in the economy, jobs are heading in the right direction. That gives us confidence about our ability to keep the project on track."

Reininger did not give a timetable for when construction could start. A Brightline spokesman last week said the company was now "repositioning ourselves toward the development of revised financing plans."

The company forwarded a written copy of testimony Reininger was slated to give to a congressional subcommittee late last week. In that statement, Reininger asked that Congress ease limits on tax-exempt bonds and make a federal loan program for railroad development easier to access.

Brightline, which operates an intercity rail network in Florida, has gotten most of its funding to date through New York-based Fortress Investment Group.
 
The company is proposing to build the high-speed rail line between Las Vegas and Victorville mostly within the median of Interstate 15, the main car and truck route between Southern California and Las Vegas. Trains would take roughly 85 minutes to traverse the route at speeds of up to 200 miles per hour.

Completion is tentatively set for 2023, contingent upon the rest of the funding being secured.

Brightline has also been in negotiations with Metrolink, the Southern California regional rail network, and the San Bernardino County Transportation Authority on possible spurs to the high-speed rail line to extend to Union Station.
 
According to a company spokesman, the leading candidate now is an extension to Rancho Cucamonga with a Metrolink connection into Union Station.

But Brightline faces a potential new challenge from the National Railroad Passenger Corp., the quasi-public nationwide passenger rail service more commonly known as Amtrak.
 
President Joe Biden's $2.2 trillion infrastructure and jobs plan calls for $80 billion in new funding for Amtrak to expand its route network. One possible expansion is the reestablishment of a route between Union Station and Las Vegas that Amtrak abandoned in 1997.

In a statement released March 31, Amtrak Chief Executive Bill Flynn said the rail network "has a bold vision to bring energy-efficient, world-class intercity rail service to up to 160 new communities across the nation, as we also invest in our fleet and stations across the U.S."

While Flynn did not specify the Los Angeles to Las Vegas route in his statement, a map released with the statement shows it as one of the new routes Amtrak plans to offer.
 
No timetable was given with the map, nor was there any indication of how many stops the route would have or how long the travel time would be.

The prospect of two rail routes traversing the Mojave Desert to Las Vegas raises questions about demand. Prior to the pandemic, eight airlines offered service between Los Angeles-area airports and Las Vegas, while passengers preferring ground transportation could choose from four bus lines.

In his interview with the Reno Gazette-Journal, Brightline Chief Executive Reininger said he welcomed the potential competition.
For reprint and licensing requests for this article, CLICK HERE.