These 4 Programs Fuel SpaceX's Ambitions
Monday, March 15, 2021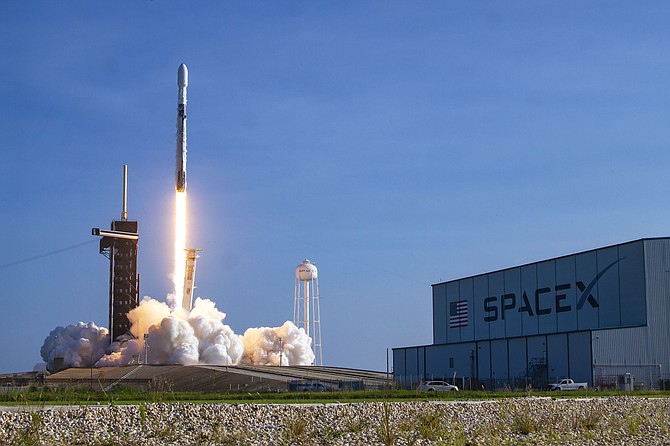 It has been nearly 20 years since Space Exploration Technologies Corp. was founded with the relatively humble goal of bringing down the cost of launching small satellites into orbit.

Since then, the Hawthorne-based company has grown into one of the most valuable privately held businesses in the world — and its goals today are anything but humble.

SpaceX last year became the first private company to transport astronauts to and from the International Space Station and is now gearing up to send an all-civilian crew into space.

At the same time, the company is developing a satellite-based global broadband network called Starlink. It's also booking customers for a new rideshare program that allows multiple clients to cheaply deploy small payloads from a single launch vehicle.

Finally, the rocket manufacturer is testing an enormous spacecraft called Starship, which the company eventually aims to use for lunar and interplanetary voyages.

"SpaceX has a history of taking on audacious ideas and transforming them into market success," said Carissa Christensen, chief executive of space engineering and analytics firm Bryce Space and Technology.

Still, Christensen said, it's far from a sure thing that SpaceX will be able to repeat that success with ambitious and costly new projects like Starlink.

"Without a doubt, there is risk associated with this venture," she said.

Since launching the Starlink program in 2019, SpaceX has deployed more than 1,100 company-designed satellites in service of a low-latency broadband network that it eventually plans to make available to users around the globe.

Chief Executive Elon Musk said last year that the Starlink program could eventually generate significantly more revenue than the company's core launch business, but Christensen said this will require the company to build up a sizable base of customers.

SpaceX has so far emphasized Starlink's appeal as an option for customers in remote areas where high-speed internet access is limited. Serving this market exclusively, however, is unlikely to generate enough revenue to offset the enormous cost of building and deploying tens of thousands of satellites, Christiansen said.

To reach a broader market, SpaceX will have to compete with established internet providers in areas where fast service is already available at relatively low prices or with existing satellite providers supplying internet access to ships and airplanes.

"The question will be what Starlink can offer compared to those other operators that have established systems and have been in that marketplace for a while," Christensen said.

As challenging as setting up a global broadband network might be, finding a market for an interplanetary rocket might be even more difficult, said George Ferguson, global head of aerospace/defense and airline research for Bloomberg Intelligence.

Musk regularly describes the 160-foot Starship spacecraft as the launch vehicle that will facilitate human space travel to Mars and said last year that the company could attempt a crewed mission to the red planet as early as 2024.

Ambitious exploratory missions like these are usually overseen by NASA, Ferguson said. However, government spending on space exploration is likely to drop as President Joe Biden's administration focuses on addressing the economic effects of the Covid-19 pandemic, Ferguson added.

That may leave Starship dependent on large satellite deployments and the emerging space tourism industry for revenue.

"They can get closer to making some money on space tourism, but I just think the cost involved in something like Starship makes it really difficult to turn a profit in the near term," Ferguson said.

Still, SpaceX is fortunate to have a commercial launch business that is now well established, along with existing contracts with NASA that will pay off for years to come.

Christensen said the company's track record thus far makes it foolish to count out any new venture as overly ambitious.

"SpaceX managed to change the narrative," Christensen said. "The vision they laid out of a more cost-effective launcher switched the thinking in the commercial launch industry from 'I'm concerned about risk' to 'I don't want to miss the boat of this new revolution.'"

Here's a look at each of the company's primary business units and where they go from here.
Commercial Crew Program

Announced: 2014

Status: Ongoing

Potential Revenue: $2.6 billion

What to Know: SpaceX made history in 2020, becoming the first private company approved by NASA for crewed missions to and from the International Space Station.

The company completed two crewed missions to the space station last year — a test flight in May and a crew rotation mission in November.

The missions were completed using the company's reusable Falcon 9 rocket boosters and Crew Dragon capsules. The latter were designed specifically for human spaceflight.

What's Next: SpaceX has a contract with NASA to complete another five missions to the space station, with the next crew rotation scheduled for April.

SpaceX also has a separate contract with NASA to carry cargo to and from the space station using a modified version of the Dragon capsule.
Starship

Announced: 2012

Status: Prototype testing

Potential revenue: NA

What to Know: SpaceX has billed Starship as a fully reusable spacecraft capable of lunar and interplanetary missions. Musk said in 2012 that it could facilitate development of a human colony on Mars, with seats aboard the vehicle costing around $500,000.

In recent months, the company has launched prototypes into the upper atmosphere in attempts to test the launch vehicle's reentry and landing capabilities. All three attempts so far have ended in fiery explosions though the spacecraft did successfully touch down on its most recent try before bursting into flames.
 
What's next: Musk said last year that SpaceX aims to attempt an unmanned Mars mission in 2022 with crewed flights taking place in 2024 or 2026 (Mars rotates closer to Earth in even-numbered years).
 
Key to meeting this timeline will be refining prototypes as well as developing the enormous Super Heavy rocket booster, which would give the spacecraft enough lift to escape Earth's atmosphere.

The Starship is also being considered by NASA as a landing vehicle for its Artemis program, which is aimed at landing the first woman on the moon by 2024.
SmallSat Rideshare Program

Announced: 2019

Status: Ongoing

Potential Revenue: Launch prices start at $1 million for a 200 kg payload

What to Know: SpaceX set a record in January, launching 143 satellites into orbit in a single mission.

It was the first launch in the company's new rideshare program, which it bills as an affordable alternative to services offered by other launch providers for customers looking to deploy small satellites that can be launched in large batches.

What's Next: The company reportedly has at least two more rideshare missions booked in 2021.
Starlink

Announced: 2015

Status: Beta testing

Potential revenue: Musk said last year that the service could generate as much as $30 billion annually though many analysts have questioned that figure.

What to Know: Starlink is a global broadband network provided through a constellation of small satellites manufactured by SpaceX.
 
Since 2019, SpaceX has deployed more than 1,100 of these satellites though the company plans to eventually put tens of thousands more into orbit.

SpaceX opened the fledgling network to users for testing last year with the price of service running $99 per month, plus $499 in up-front equipment costs.

The company has touted the service as an option for customers living in places where high-speed internet access is expensive or nonexistent. The Federal Communications Commission announced last year that SpaceX would receive nearly $900 million in subsidies to deploy the network in rural areas within the United States.

What's Next: The company is slowly expanding testing of the network to new areas, but it's not yet clear when the service will officially launch.
 
SpaceX has touted Starlink as a potential moneymaker for the company, and Musk said in February that the service could eventually be spun out into a separate, publicly traded company.
For reprint and licensing requests for this article, CLICK HERE.