EVgo Is Ready to Help Drive EV Revolution
Monday, March 1, 2021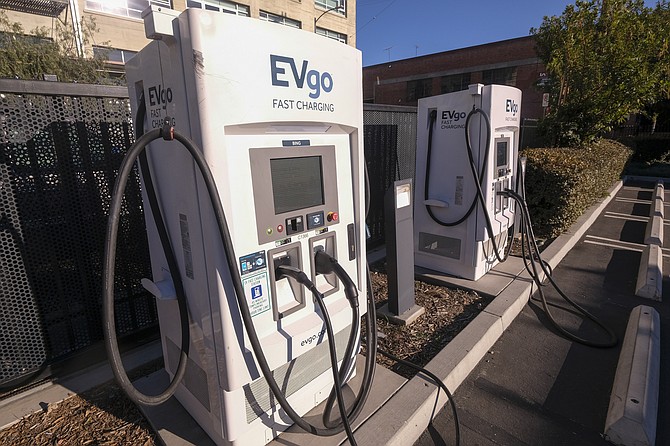 From the perspective of Jonathan Levy, chief commercial officer for electric vehicle charging company EVgo Services, it's only a matter of time before EVs phase out the gas-guzzling cars and trucks that now dominate the auto market.

The question "is no longer if EVs are going to be a thing," Levy said. "It's not even a matter of when because when is now."

At present, battery electric vehicles and plug-in hybrid electric vehicles account for only a fraction of vehicles sold annually — less than 4% globally in 2020, according to the International Energy Agency.

But EVgo has bet big on a future dominated by electric vehicles. The company launched in 2010 when most car buyers probably wouldn't have been able to find an EV even if they'd been looking for one. (Yearly EV sales didn't surpass the 1 million mark globally until 2017).

Slowly, however, the Sawtelle-based company has built out a network of more than 800 fast-charging locations in 34 states, including 134 sites in Los Angeles County. According to EVgo, more than 220,000 customers have used its chargers, which are available through both a pay-as-you go system and a monthly subscription plan.

EVgo was acquired last year by LS Power Development, and in January, the company announced it would go public in the second quarter via a reverse merger with special purpose acquisition company Climate Change Crisis Real Impact I Acquisition Corp.

The deal values the combined company at $2.6 billion and is expected to provide EVgo with $575 million to scale up its business and expand its network of charging stations. It will also give everyday investors a chance to join the company in its bet on electric vehicle adoption.

Targeting 2030
A 2020 report from Deloitte projects that EVs will account for just over a quarter of all U.S. vehicle sales by 2030. That's a dramatic shift from where they figure into the market today, but many in the electric vehicle business are aiming higher.

Last year, EVgo joined with 27 other companies as a founding member of the Zero Emission Transportation Association, a trade group advocating for adoption of electric vehicles. Its stated goal is that EVs account for 100% of U.S. vehicle sales by 2030.

Levy said "strong tailwinds" are behind electric vehicles due to policies like those in place in California, where all new cars sold must be zero-emission vehicles by 2035.

There's also a growing public understanding that EVs will be a key part of efforts to combat climate change, said Levy.

"Some people say (internal combustion engine) vehicles are the cigarettes of the future," he said. "Your kids just won't let you use them."

As the design of EVs and the batteries that power them improve, vehicle costs will come down and further drive future sales, said industry analyst Loren McDonald. Still, he said, it's difficult to say exactly when electric vehicles will become the norm, and companies like EVgo face a difficult balancing act in building out infrastructure for a market that is only beginning to take shape.

"The biggest challenge with EV charging networks today is utilization," McDonald said. "We're still so early on in terms of adoption and sales."

Charging companies can't afford to build a large number of stations or charging ports that won't be regularly used, he said. On the other hand, if stations aren't plentiful and conveniently located, drivers considering switching to an electric vehicle will be less likely to do so.

According to survey results included in the Deloitte report, lack of vehicle charging infrastructure was the top concern of American consumers thinking about purchasing an electric vehicle in 2020.

Another challenge is figuring out what kind of infrastructure drivers might be looking for in a given area, McDonald said.
 
Those who can charge vehicles overnight using their home power supply will rarely need to use charging stations so long as they have manageable commutes, he said. Apartment dwellers and those who frequently make long-distance drives will be much more likely to rely on charging stations.

Levy confirms that careful and strategic deployment of new charging infrastructure is a central point of focus for EVgo. The company has developed proprietary machine learning tools to identify the best places for new chargers, he said.

GM partnership
EVgo has also developed a series of partnerships with automakers and ride-hailing companies to offset the costs of installing and maintaining charging stations. In July, the company announced a partnership with General Motors Co. that EVgo said would enable it to triple the number of fast chargers in its network and expand into new markets.

Levy said partnershi
ps like this are an essential part of encouraging EV adoption in markets where the vehicles haven't yet caught on.

These partnerships also help EVgo build out its network while the company is still "on a path to profitability," as Levy puts it.

The company is generating revenue, Levy said. But it's also spending a lot on up-front costs that come with installation of new stations that need to be connected to local power grids.

According to data compiled by McDonald, EVgo ranks third in terms of total U.S. fast-charging locations among companies in the vehicle charging business. Tesla Inc. is No. 1 with 968, and ChargePoint Inc. is No. 2 with 825 charging stations.

That will give the company a valuable foothold in the industry as new companies inevitably enter the game.

Levy said the key to EVgo's success will be continuing to keep pace with EV adoption as the industry evolves.

"We're optimistic," he said. "We're a great business today that's positioned to continue to benefit from the expansion and adoption of electric vehicles."
For reprint and licensing requests for this article, CLICK HERE.