Rocket Lab Wins Design Contract for Mars Mission
Originally published June 15, 2021 at 6:02 p.m., updated June 18, 2021 at 11:46 a.m.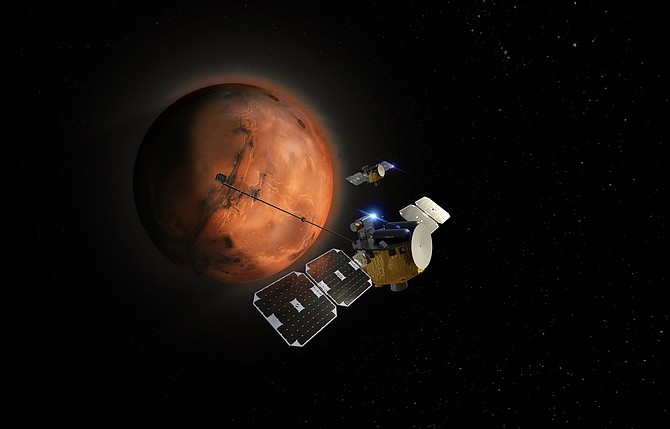 Two spacecraft designed by Long Beach-based space systems company Rocket Lab USA Inc. may end up orbiting Mars as part of a NASA mission slated for 2024.
The company announced June 15 that it was awarded a design subcontract by UC Berkeley's Space Sciences Laboratory for the Escape and Plasma Acceleration and Dynamics Explorers mission under NASA's Small Innovative Missions for Planetary Exploration program.
Terms of the deal were not disclosed, but a company spokesperson said the dollar value of the contract was in the "tens of millions."
Blue and Gold, the name of the two Photon spacecraft that will be developed by Rocket Lab, would rideshare aboard a commercial launch vehicle contracted by NASA. The goal of the mission is to study how Mars' climate has changed over time.
"This is a hugely promising mission that will deliver big science in a small package," Rocket Lab founder and Chief Executive Peter Beck said.
The company's plans will be subject to a preliminary design review in June, followed by a confirmation review in July, before the company actually builds the spacecraft.
Founded in 2006, Rocket Lab is on the verge of going public in a SPAC deal with technology investor Vector Capital-backed Vector Acquisition Corp. The deal, which values the company at $4.1 billion, is expected to close at the end of the second quarter.
Rocket Lab has sent more than 100 satellites to orbit for government and commercial use since its first launch in 2018 and has raised $290 million in funding to date.
Photons are about the size of a kitchen oven, which allows quicker manufacturing time, according to Rocket Lab.
For reprint and licensing requests for this article, CLICK HERE.