20 in Their 20s: Victoria Brodsky
Monday, June 14, 2021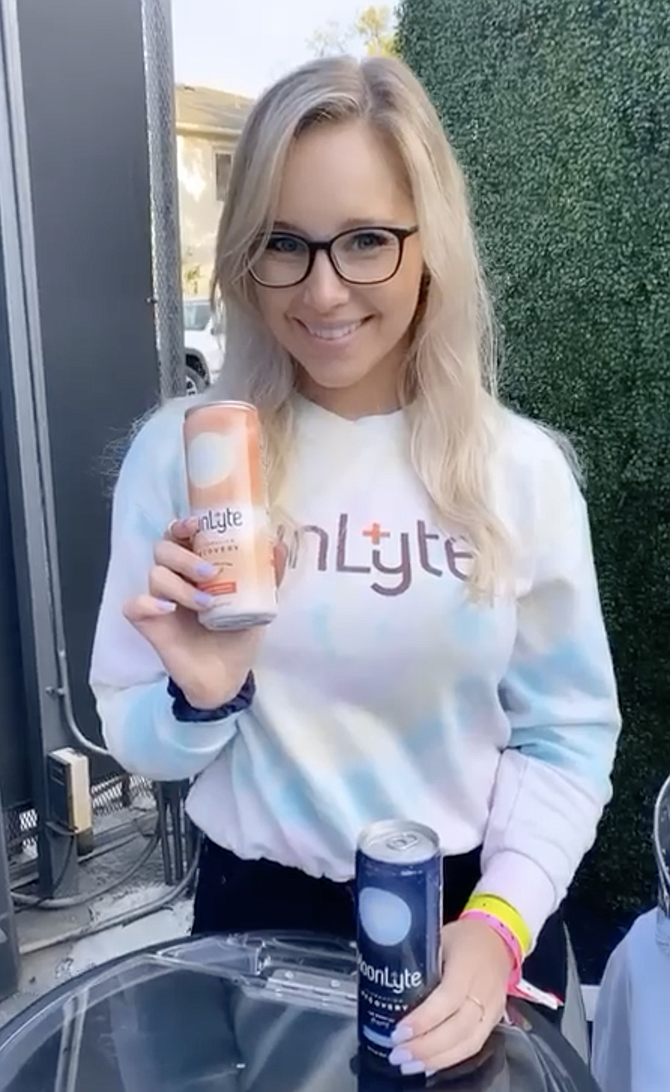 Victoria Brodsky, 28Company
: DrinkLyte Co.
Title
: Founder and Chief Executive
Location:
Westwood
Employees
: 3
Funding to Date
: About $50,000
What led you to start this business?
I'm very passionate about creating products that help people live happier, healthier lives. DrinkLyte started out of my own frustration for the lack of accessible rehydration solutions at places and events where my friends and I would enjoy a few alcoholic beverages. Dehydration is one of the worst things alcohol does to your body, and rehydrating properly with products like DrinkLyte helps mitigate that effect and makes social drinking more healthy and sustainable for our bodies.
How are you funding your business?
DrinkLyte was initially self-funded through my own personal savings that I accumulated from my early career as a project management consultant. Moving forward, DrinkLyte is being funded by internal revenue and soon by external investments.
What are the advantages and disadvantages to starting a business in your 20s?
The advantages are that in your 20s, you're more willing to take risks. You generally have less to lose, and you're more comfortable knowing you have time to rebound in the future if needed. You also don't know what you don't know, which can be an advantage in that you're less fearful of doing something other more experienced people may think is impossible or crazy.
The disadvantages are that closed-minded or jaded people look down upon young entrepreneurs trying to do something disruptive. I've found, especially as a young woman, some will use your age and gender to downplay your chances of success.
How has the pandemic affected your business?
The pandemic severely impacted our business. DrinkLyte started as a company reliant on events and nightlife hospitality with a concentration in L.A. However, the shift to shelter in place forced us to get creative with an ecommerce version of our product. This not only expanded our product offerings but also allowed us to serve customers outside of Los Angeles. This ecommerce channel will only help our brand awareness as we go back to serving in-person drinking experiences.
Where do you go for advice regarding your business?
Because this is my first-ever beverage company, I've surrounded myself with people who were in the business locally. I now have friends and advisers who have been in both the beverage and nightlife/hospitality space for years that I go to for advice. I also have sought out advice from leading women in the space.
Where do you go for professional services such as legal help, accounting, etc.?
As a fully employed MBA candidate at UCLA Anderson, I've been able to receive a number of resources from programs like the Accelerator, the Entrepreneurship Association and more. In addition, my classmates have used my business as an opportunity to flex their own strengths in a startup capacity.
Does social responsibility play a role in your business?
Yes. In an unofficial capacity, we're a company that values diversity, specifically gender diversity. Female leadership of the food and beverage industry is under-represented, and we're trying to change that by working together with other female or minority-owned brands through partnerships and advisory roles. We also value responsible drinking and, therefore, are looking for an anti-drinking-and-driving organization to provide support to where we can.
Do you feel that your business is particularly tailored to the Los Angeles market?
Yes, we do feel that our values — overall health and social lifestyle — align with L.A., and that's why we're focusing our marketing efforts here to begin with. Our company is small and scrappy, so not only is L.A. the best place for us to focus with our resources, but L.A. is full of tastemakers and entertainers. Our key demographic is in our own backyard.
What do you do for fun?
I've recently been enjoying getting to know my classmates at the Anderson School. We've been hiking, surfing, and enjoying restaurants and bars again.
Keep reading the 2021 20 in Their 20s Special Report.
For reprint and licensing requests for this article, CLICK HERE.