20 in Their 20s: Emily Smith
Monday, June 14, 2021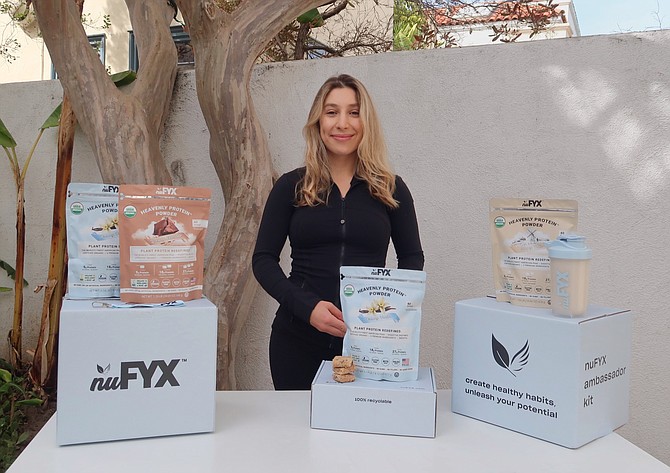 Emily Smith, 25Company:
Nufyx Inc.
Title
: Founder and Chief Executive
Location:
Century City
Employees
: 3
What led you to start this business?
I always had a passion for health and wellness. As I increased my efforts to adopt a primarily plant-based diet over the years, I couldn't find nutritious, tasty and lean vegan protein sources that came from organic American farms just like the chicken breast, egg whites or Greek yogurt I was consuming. When the pandemic hit, I thought about how I would want to spend the time, and (that's when I created) Nufyx, where "nu" stands for nutrition, and "fyx" is a new kind of fix, a satisfying healthy experience. Our first product is Heavenly Protein Powder, the world's first protein with organic American-grown peas as its exclusive protein source.
How do you fund the business?
To date, Nufyx is self-funded. At 12 years old, I started working for a small business where the founders, my grandmother and mom, were the only employees. Saving up and investing combined with knowing how to run the day-to-day has allowed Nufyx to be self-funded. We have strong angel and VC interest; however, our goal is to stay bootstrapped until 2022, which coincides with our next product launch. 
Are there advantages to starting a business in your 20s?
Naivete can be a blessing in disguise because it allows someone to see new opportunities and not be intimidated by the complexities of an industry. Being an entrepreneur is a lifestyle. A passionate person in their 20s can get connected to the right people because they exude confidence, fearlessness, unwavering optimism and the desire to make a positive impact.
How has the pandemic affected your business and how are you responding?

The pandemic was a great time to work on the idea and strategy of Nufyx, and it also led to an increase in health consciousness amongst consumers. However, it made ingredient sourcing and manufacturing more difficult.
Where do you go for advice regarding your business?
When it comes to marketing and retail strategy, I ask founders in the industry. When I need to make a quick decision, my mom is my go-to. She has 30 years of experience in business and always taught me that indecision steals opportunities. She recently joined Nufyx as a sales manager.
Where do you go for professional services such as legal help, accounting, etc.?

I am fortunate to work with a passionate team of attorneys at VL Business Law who have an extensive network of professionals. Their contacts have led to the engagement of our intellectual property attorney and insurance broker. For other professional services, I seek referrals from other founders. There is something very peaceful about engaging a professional through a referral versus through a Google search — I highly recommend the former. 
Does social responsibility play a role in your business?
Social responsibility is at the core of Nufyx's values. Our mission is to empower people to create healthy habits to unleash their potential. Our product, Heavenly Protein Powder, sources protein locally in America to benefit the body and the planet. Our products are all certified USDA Organic.
Do you feel that your business is particularly tailored to the Los Angeles market?
Launching Nufyx in L.A. has been a key success factor. The city is at the forefront of trends in the health food space, especially the plant-based, gluten-free and clean ingredient diets. We're able to learn from and develop relationships with high-end grocers such as Erewhon, meet local social media influencers, and network with angels and VC investors focused on better-for-you foods.
What do you do for fun?
I play tennis every week with my siblings and enjoy spending time with friends at the beach. My goal this year is to upgrade my foam surfboard to a hard surface — that would be awesome. I also read before bed every night.
Keep reading the 2021 20 in Their 20s Special Report.
For reprint and licensing requests for this article, CLICK HERE.