Barrack Out on Bail, Abandons SPAC Plans
Friday, July 23, 2021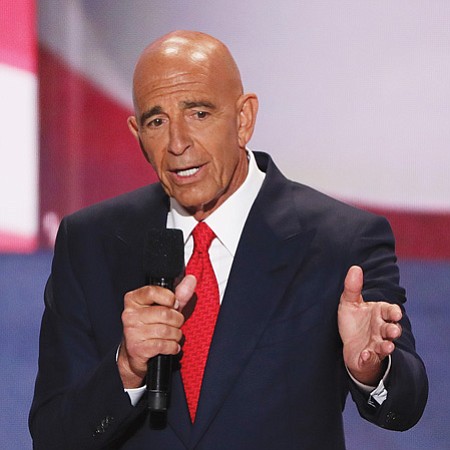 Thomas Barrack, the private equity investor who's facing federal lobbying charges, has withdrawn plans to raise $250 million for his special acquisition purpose company.
Falcon Acquisition Corp.
told the Securities and Exchange Commission on July 23 that it withdrew its registration statement with the agency because the company "elected to abandon" planned transactions.
The transactions had included an initial public offering of 25 million shares to raise $250 million, which was formed by Barrack's family office Falcon Peak and Brentwood-based TI Capital Management.
The move comes three days after Barrack, one of the largest private equity investors in Los Angeles, was indicted on charges that he lobbied his close friend and former President Donald Trump for the United Arab Emirates.
A federal judge in Los Angeles on July 23 ordered Barrack's release on a $250 million secured bond. 
Barrack and his co-defendant, Matthew Grimes, a business associate, had been in jail since July 20, when they were arrested in Los Angeles on an indictment issued in Brooklyn, N.Y., federal court.
Judge Patricia Donohue also ordered Grimes released on a $5 million bond.
Donohue's order for Barrack requires the release to be secured by $5 million cash, another $21.23 million in securities and Barrack's home in the Santa Ynez Valley in Santa Barbara County.
Barrack also must surrender his passport and be fitted with an electronic bracelet and adhere to a curfew of 10 p.m. to 6 a.m., according to a spokesman with the U.S. Attorney's Office in Los Angeles.

Last year, the 74-year-old Barrack stepped away as chief executive of Colony Capital, the investment firm he founded in Los Angeles nearly 30 years ago and turned into one of the biggest names in private equity.
 
After Barrack stepped down as chief executive, the firm moved its headquarters from downtown to Boca Raton, Fla.  
Barrack resigned from the board this week.

Grimes was an employee at Colony Capital, since renamed DigitalBridge Inc.

In March, a Barrack spokesman said that Barrack was shaping up other plans for some of his investments in Los Angeles, where he grew up, though not much had been disclosed publicly at the time.

Barrack also has a family office to manage his portfolio of investments, and had plans to form a nonprofit foundation to help with humanitarian issues in Lebanon and the region more broadly.
For reprint and licensing requests for this article, CLICK HERE.