Arrowhead Shares Plunge After Drug Trial Is Halted
Monday, July 19, 2021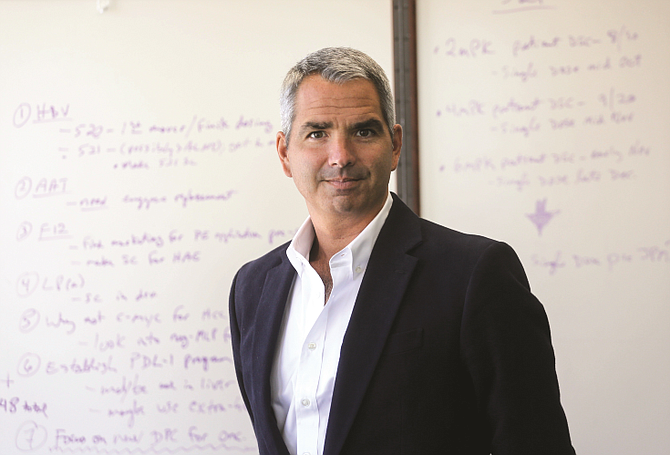 Shares of Pasadena-based Arrowhead Pharmaceuticals Inc. plunged 34% on July 2 to $63.07 after the company halted trials of a drug to treat cystic fibrosis following reports of toxicity issues in tests of the drug on rats.

Investors shied away from the stock even after the company announced positive interim results on July 6 from clinical trials of another of its drugs to treat a form of renal cell carcinoma.
 
Since July 2, shares of Arrowhead have fluctuated around this new lower level. On July 13, the stock closed at $63.41, roughly the same as the July 2 close.

Arrowhead has developed a drug technology platform that triggers RNA interference to silence genes that through their "expression" can cause a wide range of diseases.
The pharma company is using this technology to develop therapeutic drugs. It has nine drug candidates aiming to treat diseases, ranging from cancers to liver disease to gout to Covid-19.

It was during toxicology tests on rats of a cystic fibrosis drug candidate currently in Phase 1 testing on human subjects that researchers observed lung inflammation, triggering concerns over potential toxic side effects. The company immediately notified regulatory agencies and announced it was halting clinical trials.

"Even though the preliminary information we received from the chronic toxicology study in rats may not necessarily bear directly upon the safety of continuing the current Phase 1 study, we believe that we need to better understand the findings and how they may translate to humans before we treat additional patients," Chris Anzalone, Arrowhead's chief executive, said in the announcement.
 
"This is difficult news for cystic fibrosis patients who are in need of new therapeutic options, but we place above all else our obligation to ensure the safety of those enrolled in our clinical trials," he added.

Anzalone and Javier San Martin, Arrowhead's chief medical officer, both said the company is now awaiting the full data from the animal toxicity studies before deciding whether to resume the clinical trial on human subjects or end the clinical trial and further refine the drug.

On the next business day, after the July 4 holiday weekend, Arrowhead had much better news to report. It announced positive interim results from a phase 1b dose-finding clinical study of its investigational RNA interference drug to treat patients with clear cell renal cell carcinoma.

That highlighted why at least one analyst was not overly concerned about the setback with the cystic fibrosis drug.

In a July 3 research note, Patrick Trucchio, an equity analyst with New York-based H.C. Wainwright & Co., reiterated his "buy" rating on Arrowhead's stock. He said Arrowhead has other promising drugs in its pipeline and that the sharp drop in the share price on July 2 presents investors with a buying opportunity.
For reprint and licensing requests for this article, CLICK HERE.