Unemployment Rate Drops to 10.6% In June
Friday, July 16, 2021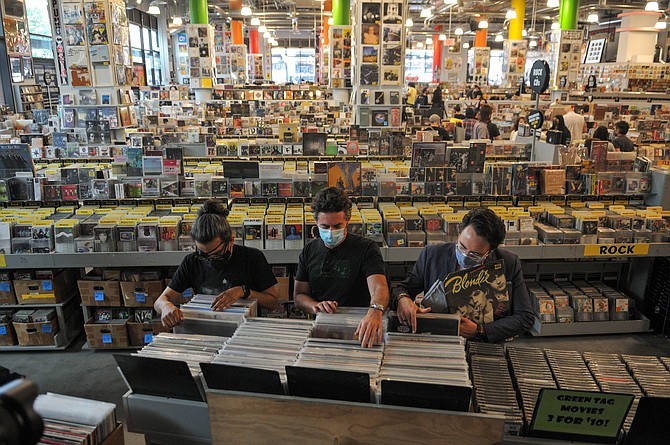 Los Angeles County's unemployment rate dropped to 10.6% in June from a revised 10.7% in May as employers added nearly 29,000 jobs during the month, according to data released July 16.

The state Employment Development Department said that 10,000 more county residents found jobs last month, bringing total employment to 4.57 million. 
The labor force grew by 5,000 to 5.11 million as some more residents entered the market searching for work.

A year ago, the unemployment rate was a stratospheric 17.9% as the first and most sweeping phase of the pandemic-induced lockdown was just ending. But the rate still has a long way to go before reaching June 2019's pre-pandemic level of 4.5%.

And L.A. County's unemployment rate for June is still substantially higher than the 7.7% recorded statewide and the 5.9% nationwide figure.

The EDD also released a breakdown of unemployment rates for cities within the county. The two largest cities, Los Angeles and Long Beach, posted rates of 10.5% and 10.8%, respectively. Among cities with at least 10,000 people in the labor force, Lancaster had the highest unemployment rate of 13.8% while Lomita had the lowest at 5.7%.

Meanwhile, employers in L.A. County added a net 28,700 jobs in June, bringing the total payroll jobs figure to 4.21 million. While that's a substantial number of jobs, it's the first month since January that fewer than 30,000 jobs were added to employer payrolls in the county.

The EDD also calculates a payroll figure that adjusts for seasonal factors, such as the end of the academic year or the beginning of the summer tourism season. For June, that adjusted figure showed an addition of 29,700 jobs in June from May, pretty much in line with the raw numbers.

The 4.21 million total payroll jobs for June reflected a gain of about 362,000 jobs since the worst of the pandemic lockdown in April 2020. But it's down about 410,000 jobs from February 2020, the peak month before the lockdown, and down 344,000 from June 2019, showing the county still has a long way to go to reach pre-pandemic payroll job levels.

The biggest payroll job gains for June compared to May came in the accommodation/food services sector, which added a net 7,500 jobs as the economy formally reopened. Arts/entertainment/recreation was next, adding a net 6,800 jobs, followed by health care/social assistance with a net 5,700 jobs added.

Not surprisingly given that June typically ends the academic year, the private education sector reported the biggest drop in payrolls, shedding 7,500 jobs as substitute teachers and other temporary education workers were laid off.

Since June of last year, the county gained a net 210,000 payroll jobs for an increase of 5.2%. That's a slower growth rate than the 7.6% reported between May 2020 and this past May, though it reflects in part the huge increase in jobs reported in June of last year.

The biggest year-over-year gains came in accommodation/food services (up 54,300 jobs), professional/business services (up 26,700) and retail trade (up 25,200).

State government payrolls within L.A. County saw the biggest job drop over the past 12 months, shedding 9,000 jobs. This should reverse in July as the new budget year kicks in and a record budget surplus begins to filter through the system.
For reprint and licensing requests for this article, CLICK HERE.