Heliogen to Go Public in $2 Billion SPAC Deal
Monday, July 12, 2021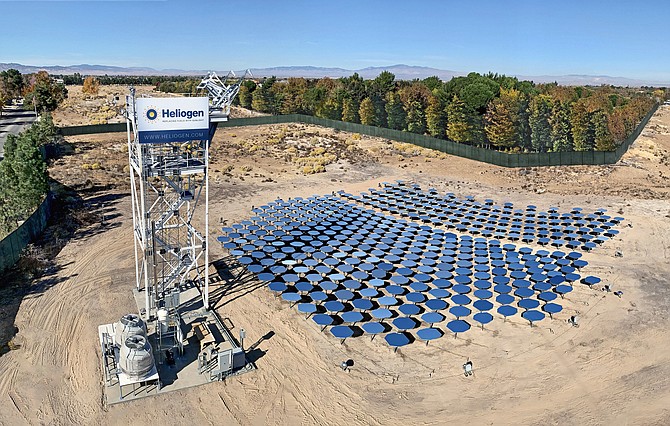 Pasadena-based energy technology company Heliogen Inc. will go public through a merger with a special purpose acquisition company, or SPAC, in a deal that values the combined company at $2 billion.
 
Heliogen will merge with Kennesaw, Ga.-based Athena Technology Acquisition Corp. The combined company will be named Heliogen Inc. and will be listed on the New York Stock Exchange under the ticker symbol HLGN, the companies said in an announcement on July 7.
 
The combined company is expected to bring in $415 million in cash through the deal, including $165 million from a private investment in public equity, or PIPE, which includes investors such as steel and mining company ArcelorMittal and investment fund Morgan Stanley Counterpoint Global. The deal is expected to close in the fourth quarter of 2021.
 
The company plans to use proceeds from the merger to scale manufacturing and support research and development of its offerings, Heliogen said in the announcement.
 
Heliogen founder and Chief Executive Bill Gross will continue in his position with the combined company, and its current executive team will remain intact. Phyllis Newhouse, Athena's chief executive, plans to join the combined company's board.
 
"We are excited to combine with Athena to leverage our collective expertise as we execute our strategy to accelerate Heliogen's growth and scale our groundbreaking concentrated solar technology for the global energy market," Gross said in a statement.
 
Heliogen was founded in 2013 through Idealab, a Pasadena-based startup accelerator run by Gross. The company specializes in using AI-enabled, concentrated solar power to create solutions for power, heat and fuel generation in industrial settings.
 
Its early investors include Microsoft founder Bill Gates and billionaire Patrick Soon-Shiong through his investment firm, Nant Capital.
 
Heliogen's concentrated solar energy system, Sunlight Refinery, makes carbon-free energy for high-temperature heat, electricity and green hydrogen.
 
The company has been able to exceed temperatures greater than 1,000 degrees Celsius through Sunlight Refinery, which uses an array of mirrors to reflect sunlight to a single target. The system creates thermal energy that can replace fossil fuels to produce cement, steel and petrochemicals.
 
Heliogen's first customer is London-based Rio Tinto Group, the second-largest mining company in the world.
 
The company announced two funding rounds in mid-June, one of $25 million and another of $83 million, bringing Heliogen's total to more than $128 million.
 
"I have been building companies nearly my entire life, and the opportunity that Heliogen's technology represents, to decarbonize power generation, replace other carbon-intensive sources of industrial heat, and contribute to the cost-efficient production of alternative fuels such as green hydrogen, is at the head of the pack in terms of its potential to make a positive impact on society," Gross said in a statement.
 
Athena is one of the few special purpose acquisition companies led entirely by women, the company said. Stacey Abrams, civil rights activist and former Georgia Democratic gubernatorial candidate, is one of the company's advisers.
 
 "Chairwoman Isabelle Freidheim and I co-founded Athena with a mission to work with disruptive technology companies with the potential to advance industry, and even society, through innovation," Newhouse said in a statement. "Heliogen absolutely meets that standard, not only in terms of solar-power generation, but in its ability to produce other sources of clean energy that may replace fossil fuels."
For reprint and licensing requests for this article, CLICK HERE.