Pandemic Brings Changes, Closures for LA Tour Companies
Monday, January 25, 2021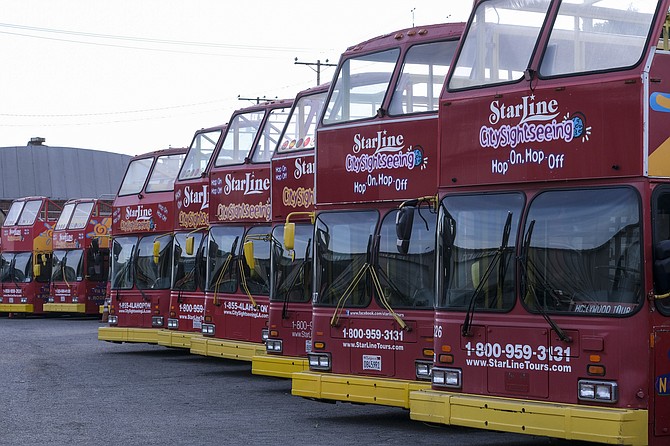 In a typical year, the Hollywood Walk of Fame would be flooded with visitors from around the world. Crews might be rolling out the red carpet in front of the Dolby Theatre while crowds of people snap photos from the top deck of a passing tour bus.

But these days, Hollywood Boulevard is eerily quiet, and there's scarcely a tour bus in sight.

Kami Farhadi, chairman of Starline Tours of Hollywood Inc., said the sightseeing company was operating more than 150 buses at the beginning of 2020, when it was on track to pull in more than $20 million in revenue. 

Now, to limit the spread of Covid-19, Starline only runs tours for private groups and has 10 or fewer buses in service on a given day. The company's revenue has dropped to about 5% of normal levels, Farhadi said. 

"Right now, we're basically in standby mode," he said. "We're waiting for a more clear situation as far as the pandemic is concerned."

Farhadi said he's heard of some smaller operators skirting public health regulations to keep tours running, but most tour companies are in a similar position — struggling to stay afloat.

California's larger tourism industry, a key piece of the state's economy, is also more or less on hold. 

According to Los Angeles Tourism and Convention Board Chief Executive Adam Burke, Los Angeles lost more than $14 billion in direct visitor spending in 2020 due to the pandemic. Jobs in the tourism industry have also fallen by roughly 25% over the last year.

Tour companies have been especially hard-hit because they typically cram a large group of strangers together aboard a bus or a van, a service that's difficult to adapt to public health guidelines.

During the summer, Starline offered ticketed tours aboard open-topped buses with customers spaced several seats apart. Buses were thoroughly disinfected after each use, and riders and drivers were required to wear masks.

Farhadi said the company eventually decided to cancel even these tours due to safety concerns.

"It was something that we felt that we shouldn't continue, so we stopped it shortly after the middle of the summer," Farhadi said.

A $1.76 million loan from the Small Business Administration's Paycheck Protection Program has helped Starline stay in business, Farhadi said. But the company is now operating with a skeleton crew as it awaits the opportunity to ramp up business again.

'A drop in the bucket'
"We're just winging it right now," said Scott Michaels, owner of Dearly Departed Tours, in a November interview. "We shut down our physical location, and it's down to me and a single bus."

Michaels has since permanently shut down the 16-year-old tour company, which offered visitors an offbeat, macabre alternative to the conventional Hollywood sightseeing experience.

Given the subject matter covered on Dearly Departed tours (spots highlighted included the sites of grisly murders and notorious celebrity deaths), Michaels said he normally depended on a bump in business around Halloween. This year, he was only able to offer tours to private parties during the fall season.

"It wasn't enough to cover expenses," he said. "It was enough to put a drop in the bucket."

Michaels expressed frustration at the lack of guidance he received from state regulators on how to operate safely during the pandemic.

"No one has any answers," he said. "They're basically saying, 'You're on your own.'"

Digital alternatives
Presented with little alternative, some tour companies have brought their business into the virtual sphere.

Esotouric, a small company operated by husband-and-wife duo Kim Cooper and Richard Schave, has adapted its tours focusing on Los Angeles history to a webinar format.

Recent offerings include a guide to the lost cafeterias of old Los Angeles and a history of downtown's Angels Flight Railway.

Cooper and Schave said they briefly entertained the idea of attempting socially distant tours — or even dinner parties — as an alternative to the bus tours they usually offer. Eventually, they decided they needed a totally different approach.

"We had to think of a new way of doing what we do," Cooper said. "This is a new kind of story-
telling, which draws on what we already do."

The ticketed webinars cost $10 to attend, and Cooper and Schave said they may become more than a temporary alternative to in-person tours.

"From the beginning, we've had more people than we could ever have on a bus," Cooper said. "It's kind of freeing for me to think we don't have to worry about capacity."

Schave said the webinars are also easier to set up and administer.

"We have, like, 20 bus tours we've developed over 15 years," he said. "They are very complicated. Webinars are 90 minutes, and we're going to try to do one every week for a year."

Podcasts and videos
Michaels said the online side of Dearly Departed's business also became crucial during the pandemic. Though the company's tours have officially been discontinued, Michaels continues to produce regular podcasts and videos delving into Los Angeles history and the dark side of celebrity culture.

Local museums and tourist attractions have also developed virtual content for remote visitors, from podcasts to livestreamed panel discussions and performances.

Cooper points out that museums and smaller, more specialized companies may have an edge over large businesses like Starline when it comes to online content because they appeal to a more well-defined audience.

"A lot of tour companies, you look at the website, and it won't tell you who's giving the tour — you're just taking a tour with a company," Cooper said. "With us, our audience knows us and knows we have a personality. That is what's driving people familiar with us to join these webinars."

Farhadi acknowledges that the more conventional sightseeing and celebrity-themed tours Starline offers make the business dependent on a steady flow of visitors for success.

The company has adjusted to the pandemic by offering its buses to film production companies and other corporate customers, but Farhadi said the company is mainly focused on waiting for L.A.'s tourist economy to pick back up.

"People will come and go, but the tour industry is there only because there's demand for it," Farhadi said. "If the demand comes back, we'll do our best to satisfy it — and I'm sure the other companies will do the same."
For reprint and licensing requests for this article, CLICK HERE.