There's No Slowing Silicon Beach, Even for Covid
The 2021 Money Issue
Monday, January 25, 2021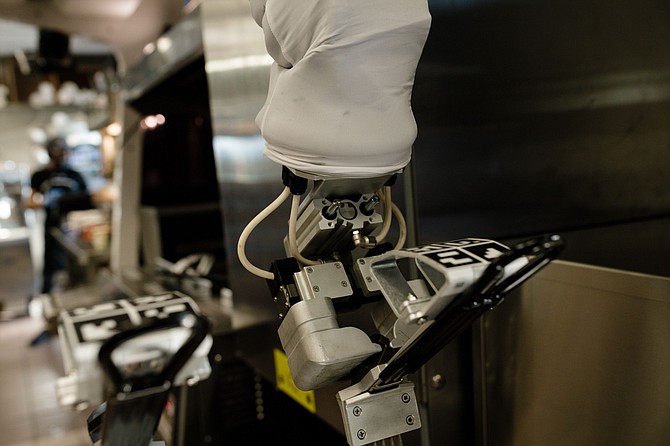 Even as a global pandemic wreaked havoc on wide swaths of the global economy, Los Angeles tech companies continued to draw huge sums from investors in 2020.

According to data compiled by PitchBook Data Inc., total venture capital investment in companies within the Los Angeles metropolitan area amounted to more than $12 billion last year, up nearly 30% from 2019.

Tech companies accounted for the lion's share of that investment, with industry heavyweight Space Exploration Technologies Corp. leading the way.

Meanwhile, up-and-coming tech companies like rocket manufacturer Relativity Space Inc., mobile games publisher Scopely Inc. and fitness app developer Zwift Inc. completed huge fundraising rounds, allowing them to scale up and add new employees even as local job losses mounted.

The industry's resilience to the challenges posed by the pandemic make it likely tech will play an expanded role in the local economy moving forward. In December, the UCLA Anderson Forecast projected that California's technology sector would be vital to the state's economic recovery from the pandemic.

Local investors say some segments of the tech sector — like ecommerce and telemedicine — grew quickly during the pandemic as companies capitalized on rapidly shifting consumer trends. 

At the same time, industries like space exploration, robotics and gaming remain poised for continued growth during the pandemic and beyond.

Adam Struck, founder of Santa Monica-based venture capital firm Struck Capital, said ecommerce companies were well-suited to adapt to the pandemic with physical businesses shuttered and customers spending more time at home.

"All of a sudden the pandemic happens, and it takes a macroeconomic trend that already had steam — the concept of ecommerce overtaking brick and mortar — and it just accelerated it," Struck said. 

One company Struck Capital invested in last year was Canadian startup BlackCart, the developer of a platform that allows users to order things online without paying anything upfront.

Struck said this is exactly the kind of business poised for success now that consumers are used to buying more products online.

"Now, you're in a situation where basically nothing is happening in brick and mortar. It's all ecommerce," he said. "Those types of trends we were really comfortable leaning into because they were not ephemeral trends. Even in a post-pandemic world they will continue."

Other investors evidently agree. Local ecommerce companies 1661 Inc. (doing business as GOAT) and Boosted Ecommerce Inc. raised nearly $190 million combined last year. Meanwhile, downtown-based internet services company J2 Global Inc. acquired deal-finder RetailMeNot Inc. in a deal worth $420 million.

Spa ce race
Los Angeles companies in the space exploration business also hauled in huge sums from investors last year in spite of the economic uncertainty created by the pandemic.

Industry juggernaut SpaceX raised nearly $2 billion in a securities offering disclosed in August, while aerospace upstart Relativity took in $500 million in a Series D funding round — without having launched a vehicle into space.

Buck Jordan, founder of Wavemaker Labs, which has invested in Relativity, said the success of SpaceX has attracted investors to an industry with major growth potential.

"I think people can start to taste the future of space," he said. "Elon (Musk) is out there with his Starship and a feasible plan to get to Mars at a relatively cheap cost. That's pretty inspirational, and it's a massive economic kick."

Jordan said Relativity is exciting because the company aims to automate the incredibly complex and expensive process of manufacturing spacecraft. Relativity's goal is to build rockets using 3D printers rather than traditional manufacturing techniques. 

Innovative automation schemes like this one are Wavemaker's bread and butter. The firm is a primary backer of robotic food preparation startups Miso Robotics Inc. and Future Pearl Labs Inc. (doing business as Bobacino), as well as Future Labs V Inc. (doing business as Graze).

Jordan, who co-founded Miso Robotics, said automation will be key to the recovery of the restaurant and service industries, which have been devastated by the pandemic.

"Before the pandemic, everyone was interested in this," he said. "Now it's become a real priority for them — how do we automate and streamline our business?"

Kevin Zhang, a partner at Santa Monica-based Upfront Ventures, said gaming and telemedicine companies have become more attractive to investors in the last year.

"Gaming really boomed last year," he said. "We've seen a dramatic increase in the number of new gaming companies being formed. There used to be very little venture dollars for them — now there's exponentially more."

Zhang attributes this to the fact that players spent more time gaming in 2020 and the ability of video game developers to draw in wide audiences beyond hardcore players.

"Now I think you can safely say the majority of people play games," he said. "The types of games and the audiences they're aimed at has broadened dramatically."

Going into 2021, Zhang said he's focused on companies developing cooperative games that casual players can enjoy with friends.

"Those kinds of games have a lot of appeal and are particularly suited to a wider population of gamer," he said.

Telemedicine companies have also benefited from the fact that many people are spending more time at home and may be reluctant to visit health care facilities for matters that aren't urgent. "Telemedicine boomed dramatically," Zhang said. "You see a lot of traditional providers getting themselves ready for virtual care."

Telemedicine boom
Zhang said there's still plenty of room for telemedicine businesses to expand into smaller clinics that provide more specialized forms of health care.

"I think you're going to see telemedicine spread into specialty areas that haven't really done telemedicine and haven't had to do things differently," he said.

Still, Zhang said investors should be wary of buying too much into short-term trends or industries that are oversaturated — including telemedicine.

"There's a lot of existing services out there already," he said. "If you're trying to build a (telemedicine) company, it's going to be really hard. I think you have to branch out and think about what are specialties where a combination of in-person and virtual visits can allow you to capture the life cycle of a patient."

Struck agrees that some investment trends from 2020 may not pay off in the long term. He said software developers providing tools for remote communication may be overvalued at this point.

"What happens is you see people start to over-index to certain macro trends, and these rounds get very frothy," he said. "We're seeing any company based on (Zoom Video Communications Inc.) all of a sudden have a pre-money valuation that doesn't make any sense."

While proceeding with caution in certain areas, investors say they are bullish overall on tech for the year ahead.

"I don't see us investing any less in L.A.," Zhang said. "We're more excited than ever about the possibilities and the ecosystem here."
Keep reading the 2021 Money Issue.
For reprint and licensing requests for this article, CLICK HERE.