LA Laundromats Clean Up Amid Covid
Monday, January 25, 2021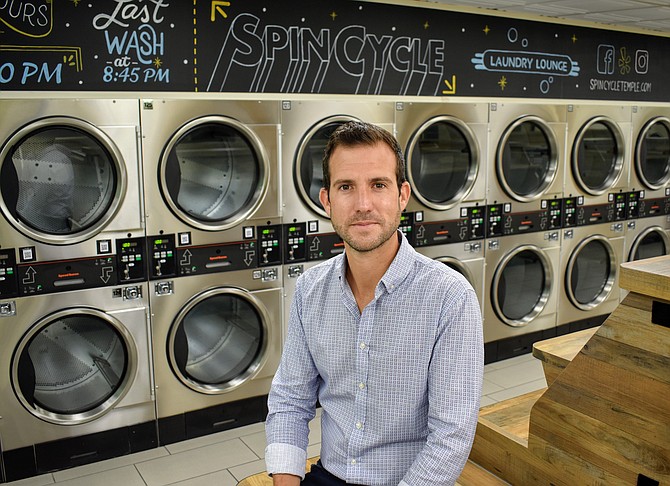 Two days after Wade Hickok purchased Big Waves Laundromat in Santa Monica in March, the Los Angeles area went into lockdown mode as the number of Covid-19 cases exploded. 

So, the new owner gave his Santa Monica Boulevard laundromat a refresh to make it as clean as possible for customers to feel safe. 

Hickok replaced all the coin-operated washers and dryers with card-operated machines that have a compatible app. He said he started to sanitize relentlessly, kept doors propped open to increase air flow and spent thousands of dollars to install a fan in the bathroom. 

"I'm a former U.S. Marine, and cleanliness to me is like godliness," Hickok said. 

He added that there was a downturn in business at first, followed by a steady uptick during summer and fall. Response to the changes has been strong, he said, with customers often leaving positive reviews on Yelp and Google. 

"In August, I really started to kind of see the plan working," Hickok said. "I wasn't regretting my decision to purchase a laundromat so much." 

Industry research publisher IBISWorld estimated that revenue for the laundromat industry would drop 6.6% in 2020. But Los Angeles laundromat owners and distributors have a more optimistic view of the industry's outlook, with many investing in remodels and machine upgrades. Some are even expanding their businesses.

Brad Steinberg, co-president and co-owner of PWS Inc., a South Gate-based laundromat distribution company, said business has remained stable amid the pandemic, and revenue industrywide is only "a couple percentage points down." 

"We just see the demand for laundromats maintaining, if not increasing, both from the customer base, those who use laundromats, and also from the investor base, those who buy laundromats," Steinberg said. 

PWS, which distributes commercial laundry equipment and develops and sells laundromats, in August announced plans to develop 30 to 50 laundromat locations across the United States to sell to independent operators. In December, the company announced plans for five California-based laundromats under the name SpinCycle Laundry Lounge. 

The industry is strong because of several factors, according to Steinberg, who cites the increasing number of renters who primarily use laundromats, the availability of retail real estate in prime neighborhoods and flexible landlords who cover the cost of buildouts. 

'Recession resistant'
PWS called the industry "Covid-resistant, Amazon-resistant and recession-resistant" in a statement. And Steinberg said sales for parts from PWS's website have "skyrocketed" during the pandemic, allowing the company to close on a 20,000 square-foot warehouse in Downey specifically for machine parts. 

"Many of them have said, 'You know what, I need to step up my game a bit and create a really compelling environment,' because at the end of the day, we are in the cleaning business," Steinberg said. 

Jon Attar, owner of Laundry Room Corp., said in an email that he remodeled his store, installed flat-screen TVs and added free Wi-Fi in his Palms store. Along with wash and fold services, the Laundry Room in Palms started offering curbside pickup during the pandemic. 

Attar said he limits in-store capacity and ensures machines are sanitized in between each use. 

"Our laundromat is fully attended during the business hours, and we try to provide the best customer service to our customers," Attar said. "We provide a clean and safe environment for our customers to complete their laundry."

Ryan Hansen owns 13 laundromats in California. He has owned a chain in central California called Dirty Bird Laundry since 2009 and recently purchased three L.A. laundromats from PWS that will open early this year. 

Steady business
At the start of the pandemic, Hansen said there was a "learning curve" as he struggled to enforce mask wearing and social distancing. But since then, he said, business has been steady. 

"We're an essential service, not just deemed by the state or the government, but clean laundry is considered a necessity of life with food and shelter," Hansen said. 

He added that there is a common misconception that laundromats are often unclean, outdated and unsafe. But in recent years, he said, many laundromats have upgraded their machines, started offering amenities and increased staffing. 

At his Southern California locations, Hansen said he plans to install security cameras, televisions and offer a "full-blown soap and snack bar," while ensuring his machines take multiple forms of payment, including via an app. He recently hired about six employees for the new L.A. locations. 

"Now, you know when you walk into a laundromat, it's not unusual (for it) to be fully staffed around the clock with a service counter, modern amenities, and be clean and secure," Hansen said. "That's really where things are going." 

Big Waves had the same owner for about 30 years before Hickok took over. Hickok said he had done his laundry there and noticed it needed an upgrade. The pandemic has made customers less likely to frequent an unclean laundromat with older machines. 

"I guess the days of doing laundry in an old, dusty, unkempt laundromat are over," Hickok said. "That model's toast, and Covid put the stake in the coffin." 
For reprint and licensing requests for this article, CLICK HERE.