Virtual CES Is Light on Reveals
Monday, January 18, 2021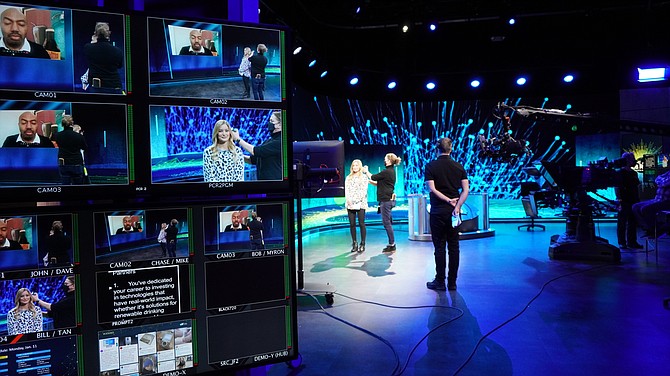 The halls of the Las Vegas Convention Center were empty last week as the annual Consumer Electronics Show carried on in a virtual format.

The trade show, which normally draws more than 100,000 in-person participants, was entirely online this year, with major attendees like Sony Corp., Intel Corp. and General Motors Co. making product announcements and delivering keynote addresses via livestream.

Meanwhile, smaller companies that would normally set up physical booths for the event had to settle for displaying their products through a virtual portal in which online attendees could view video clips of new devices and send messages to company representatives.

The virtual event produced many company announcements and product reveals, but the number of exhibitors at the trade show was less than half of what it was in 2020. 

Several Los Angeles companies that have used prior CES events to drum up excitement about new devices and technologies did not attend this year.

Streaming companies Hulu and Pluto TV, which both attended last year, were not exhibitors in 2021, and their parent companies, Walt Disney Co. and ViacomCBS Inc., respectively, also skipped out. Netflix Inc., which has a major office presence in Hollywood, hasn't attended since 2018.

Attendees at last year's CES got details about brand-new Hollywood-based streaming service Quibi, which promised to capture an audience of viewers on the go with unique short-form series consisting of brief episodes under 15 minutes long. The streaming platform failed to attract subscribers, however, and did not last long enough to return to CES 2021.

Television data tracker Nielsen Holdings did provide rarely seen statistics on the popularity of major streaming platforms, showing that Netflix, Disney Plus and Hulu accounted for nearly half of all content streamed in 2020.

Santa Monica-based security system developer Ring drew attention to several new products at CES 2020 but was not listed as an exhibitor this year. The Amazon.com Inc.-owned business announced a new end-to-end security feature on Jan. 13 — the second day of the trade show — but sidestepped the virtual convention.

Hulu, meanwhile, revealed a new subscription plan for students in an announcement that coincided with the three-day event.

Electronics and entertainment industry heavyweight Sony announced a new division called Sony Immersive Music Studios, which will reportedly be based in Los Angeles and headed by former Sony Music Senior Vice President Brad Spahr. The new unit will focus on virtual concerts and digital events, which have surged in popularity during the pandemic.

Computer accessories manufacturer Belkin International Inc. received an Innovation Award at the trade show for a wireless charging pad called the TrueFreedom Pro.  The Playa Vista-based company, a subsidiary of Foxconn Technology Group, was also not listed as an official exhibitor at CES but announced several new products during the week — including wireless earbuds and a wireless charging stand. Belkin's internet connectivity brand, Linksys, announced a new motion sensor device and a full-home Wi-Fi router.

While most of L.A.'s largest tech companies weren't present as exhibitors, representatives from innovative businesses like Paypal Holdings Inc.-owned Honey Science Corp., Riot Games Inc., Hyperloop Technologies Inc., Snap Inc. and Mattel Inc. spoke on panels about important industry trends.

With larger companies sitting out or participating only peripherally in the event, several smaller local businesses stepped up with product announcements and virtual demonstrations.

South Los Angeles-based General Sound Co. showed off a new party speaker, and headphone manufacturer V-Moda, a subsidiary of Roland Corp., unveiled a new logo and a Bluetooth-enabled noise canceling headphones.

According to the Consumer Technology Association, which has overseen CES since the first show in 1967, the virtual convention was the largest digital tech industry event.

CTA Chief Executive Gary Shapiro said the virtual trade show proved the ability of technology companies to adapt to unforeseen events and continue to innovate despite the challenges presented by the pandemic.

"The all-digital CES 2021 engaged the global tech community to experience innovation, make connections and conduct business," Shapiro said in a statement. "CES showed how the pandemic accelerated the arc of innovation and illustrated the resilience and innovative spirit of our industry."
For reprint and licensing requests for this article, CLICK HERE.