Virgin Orbit Conducts First Successful Launch
Originally published January 18, 2021 at 6:33 p.m., updated January 22, 2021 at 9:27 a.m.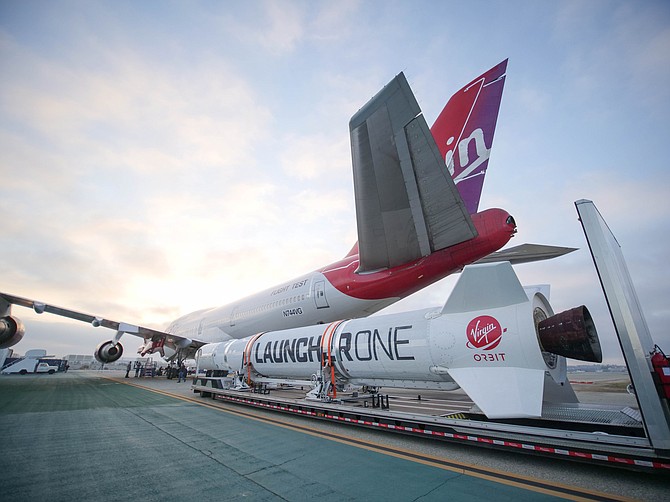 Long Beach-based Virgin Orbit staged its first successful launch of a rocket into earth's orbit on Jan. 17.
The company's LauncherOne vehicle carried 10 mini-satellites on behalf of NASA as part of the launch. It was Virgin Orbit's second attempt to reach orbit following a failed effort in May 2020.
"This magnificent flight is the culmination of many years of hard work and will also unleash a whole new generation of innovators on the path to orbit," Virgin Orbit founder Richard Branson said in a statement.
LauncherOne took off from the Mojave Air & Space Port just before 11 a.m. aboard Virgin Orbit's Cosmic Girl aircraft, a modified Boeing 747 that carried the rocket under one wing as part of the company's unique launch system.
The 70-foot-long rocket was released from the plane over the Pacific Ocean at around 11:40 a.m., and Virgin Orbit deployed LauncherOne's satellites about two hours later.
"Today's sequence of events for #LaunchDemo2 went exactly to plan, from the safe execution of our ground ops all the way through successful full duration burns on both engines," Virgin Orbit said in a tweet after the launch. "To say we're thrilled would be a massive understatement."
Virgin Orbit was created by Virgin Galactic in March 2017 with the goal of offering low-cost launch services for small satellites. Virgin Orbit created VOX Space in 2017 to focus on government contracts with the United States and other countries.
As it launches small satellites into space, Virgin Orbit faces competition from Elon Musk's Hawthorne-based Space Exploration Technologies Corp. and Peter Beck's Long Beach-based Rocket Lab USA Inc.
"Right now, we're mainly focused on uplifting small satellite makers & operators, who even today lack the same opportunities available to their larger peers," Virgin Orbit said in a tweet.
After the company's first demonstration failed in 2020 when a rocket released from a modified jumbo jet could not enter low-Earth orbit, Virgin Orbit sought to raise $200 million in a funding round that could increase its valuation to about $1 billion, according to the Wall Street Journal.
At a WSJ Tech Live conference in October, Branson said Virgin Orbit had "spent about a billion dollars on four attempted launches to go into orbit."
For reprint and licensing requests for this article, CLICK HERE.