Covid Softened Downtown Office Market in 2020
Monday, January 18, 2021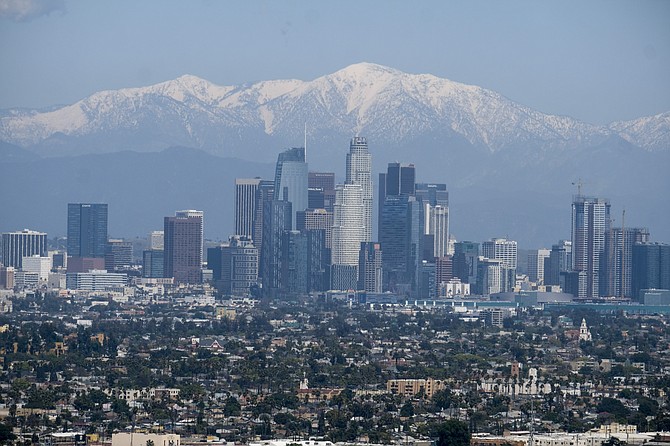 The past year was a difficult one for office space in L.A., particularly in previously booming downtown. 

The area was hard hit by the pandemic, according to market experts, because many commuters rely on downtown's public transit network and because most buildings there get crowded and require extensive use of elevators.

Those factors all present challenges at a time when people are seeking to socially distance.

As a result, downtown saw little new leasing activity in 2020. Negative 483,898 square feet were absorbed in the market last year, meaning more spaces were vacated than occupied, according to data from Jones Lang LaSalle Inc.

The area's fourth-quarter vacancy rate reached 18.3%, down from 16% in the same period in 2019. Asking rents hovered at $3.85 a square foot, a dip of 1 cent year over year but steady quarter to quarter.

"We've seen occupancy levels higher in the suburban markets. We've seen leasing velocity stronger in the more suburban markets," said Kevin Shannon, co-head of capital markets at Newmark Group. "In terms of the L.A. submarkets, downtown is going to take a little bit longer to come back."

Suburban markets with low-rise buildings close to where employees live will see interest before areas like downtown, he added.

Bert Dezzutti, executive vice president of the Western region at Brookfield Properties, said landlords like Brookfield with solid tenants in place have been able to weather the storm.

We "tend to attract premier, stable, credit-worthy businesses that have long-term leases and long-term planning in place that can withstand the short-term pressures associated with what we have gone through relative to the pandemic," Dezzutti said.

One of the largest new office leases signed downtown in the fourth quarter was the Lucas Museum of Narrative Art's 24,000-square-foot lease at 700 S. Flower St. 

JPMorgan Chase & Co. renewed a lease for roughly 30,000 square feet at 300 S. Grand Ave., Wells Fargo & Co. signed a lease expansion at 707 Wilshire Blvd. for nearly 66,000 square feet and Hueston Hennigan signed a renewal for nearly 27,000 square feet at 523 W. 66th St.

"From April through July, everybody just put the clutch in and said, 'We can't even focus on it.' I think most of the interest is coming from people that have to focus because of an expiration or because of something in their business that forces them to deal with their lease. There has been some renewed optimism in the activity," JLL's Tony Morales said.

Newmark's Will Adams added that the variety of tenants downtown will help the area.

"Downtown's faring okay and faring a little better than some of the other areas of the city because we have so many services businesses down here, and our industry type is fairly diverse compared with areas like the Westside," he said.

Renewed leases
Most leases to be signed last year were renewals, experts say.

"As everyone knows, the office market in general — and DTLA is no exception — has been in a holding pattern. I think it will remain in a holding pattern until the economy fully restarts," said Nick Griffin, executive director of the Downtown Center Business Improvement District. 

Dezzutti said that since Covid hit, "activity is really focused on renewing expiring tenancies."

CBRE Group Inc.'s Ryan Phillips said he has handled a number of lease renewals during the Covid-19 pandemic but has not seen as many new leases being signed.

Many of the renewals are for more traditional office space leased to tenants such as government agencies. 

"Those are moving forward on a day-to-day basis pretty steadily. It hasn't affected them as much," he said.

As for creative office space, while Phillips said he has led a lot of tours, activity is down significantly. 

Tenants want options
Morales said tenants are asking for flexibility right now.

"The people that are willing to commit are negotiating a little bit on rent, but most of them are focusing on flexibility," he said. "This flexibility could come from shorter-term leases or having the option to expand and contract in the space."

Dezzutti also cited flexibility as a key factor for landlords. "The word that is paramount is ultimate flexibility," he said. "There is no cookie- cutter approach to the lease up. It is driven by the individual needs of the tenants."

Many landlords are offering concessions as part of that flexibility. That could include free rent and increased tenant improvement allowances. Offering concessions allows landlords to keep the rents high on paper while still encouraging people to sign leases.

"Landlords want the cash flow," Phillips said. 

Experts agree that some landlords offer concessions because lowering rents affects the underwriting and the price of the building if the owner decides to sell.
"I don't think there's been a great downward pressure on rents; it's been minor, but I don't think rents are an indication of the softness of the market. It's the other noneconomic terms that people are getting," Morales said.

Another element affecting rental rates is sublease space. When a large amount of sublease space comes onto the market, it can put downward pressure on rents as the space can be offered fully built out and at a discount.

Of the 4 million square feet of post-Covid sublease space available, 52% of that is on the Westside, while only 11% is in downtown, Adams said.

"In that perspective, we've weathered the storm OK," he said.

Morales added that most sublease offerings downtown are short-term leases, which puts less pressure on rents.

'Incredibly strong' outlook
How will downtown fare going forward? 

"There's definitely a long-term and a short-term answer that are different," said Clare De Briere, who oversees Skanska's commercial development division in L.A. "Short term, there's a fear that people may have going back to office buildings. I think there will be very few new office towers built anytime in the near future."

In the long term, De Briere believes people will think about space differently, which may lead to some interesting opportunities. 

Skanska's current projects have large amounts of outdoor space and give tenants more control of the environment, De Briere said, both of which will be at the top of many tenants' wish lists moving forward.

Morales added that low-slung suburban offices with stairs instead of elevators would also be in high demand moving forward.

"Downtown might have to try to fend off an exodus by a reduction in footprint or by a hub-and-spoke program," Morales said, explaining that a company might have one office downtown and several smaller offices in outlying areas.

The big question moving forward is going to be how much space tenants need.
"We're optimistic that activity is going to increase, but we anticipate it to be with measurably less square footage," Morales said.

Phillips expects companies to start signing new leases soon.

"It has to happen," he said. "We can't be two years off with people just staying static."

CBRE's Phillip Sample said normal lease rollover is in effect plus rolled over demand from last year, which he expects will make the end of 2021 very active.
And Griffin anticipates that development will continue downtown, especially for mixed-use projects.

Experts also agree that the large amount of housing being built downtown will trigger a demand for office leases, with people wanting to live near where they work.

"I think the outlook for downtown is incredibly strong," Adams said. "It's the transportation hub; now we have a vibrant housing community, and the center of the city as employment starts to rise downtown will return to favor in 2022 and grow from there where it left off before the pandemic."

For De Briere, that long-term outlook makes her team interested in more projects in downtown, especially in areas like the Arts District. 

Dezzutti said that while 2021 will be focused on leasing, Brookfield is keen on more developments in the area.

"This is not a time where we're not acquiring. This is a very opportunistic time with some distress in the market," Dezzutti said. "Downtown is a market we hope to grow in."

Still, he said he believes it will be a few years before the area is back to pre-Covid occupancies.

"Our expectations are we're optimistic, we're looking forward to what 2021 brings and the changes to the office environment, but we are well aware that it is going to take a lot of work to get downtown L.A. to what we want it to be in a post-pandemic future," he said.
On Sales Side, Downtown Saw Few Notable Deals last year
The downtown market saw a handful of sizeable office sales in 2020. 

New York-based Silverstein Properties Inc. purchased the iconic U.S. Bank Tower from Singapore-based OUE Ltd. for $430 million — far below the $700 million it was expected to fetch before the Covid-19 pandemic.

And Rockwood Capital and Lincoln Property Co.'s West Coast arm LPC West sold a 22-story building at 915 Wilshire Blvd. to German real estate investment company Deka Immobilien for $196 million.

"On the sales front, when Covid kicked in, the debt market stopped financing deals. It was hard for people to get loans and finance a project," CBRE Group Inc.'s Phillip Sample said. 

Still, he said buildings that were fully leased remained desirable. Properties with any associated risks were hard sells.

"You can count on your hand the number of larger deals done downtown this year," Sample said.
For reprint and licensing requests for this article, CLICK HERE.