Startup Mothership Helps Businesses Navigate Shipping Logistics
Monday, January 11, 2021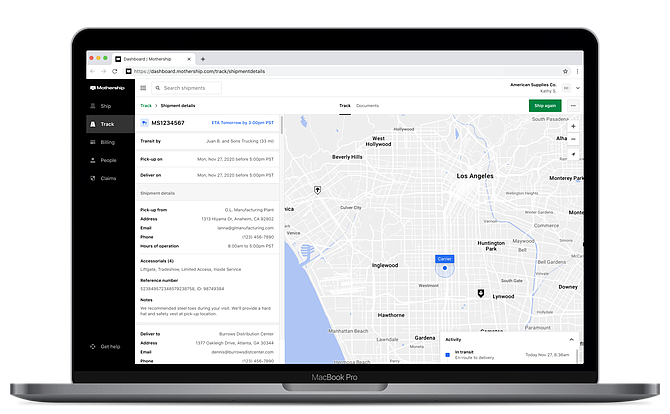 It's no secret that ecommerce surged in 2020 as Americans adapted to doing more working, eating and shopping from home.

According to the Census Bureau, ecommerce sales soared nearly 45% in the year's second quarter, compared to the same period in 2019.

As online orders skyrocketed, brick-and-mortar businesses primarily accustomed to selling products in stores were forced to adjust, and West Adams-based company Mothership Technologies Inc. was on hand to move that process along.

The company is the developer of a freight logistics platform that streamlines the shipping process for businesses by tracking orders and automatically assigning deliveries to available drivers.

"Our technology is focused on automation to capacity allocation," said Sales Director Dustin Teves. 

Using the platform, companies can track exactly where orders are at a given time without having to arrange pickups with drivers or negotiate prices on a case-by-case basis.

"They don't have to go out and procure transportation costs, they don't have to procure transportation partners, they don't have to test the market to see who has what available," Teves said. "All of that is done through our platform, which enables them to focus on what they do."

Teves says Mothership has gained a host of new clients in the last year as companies weathered logistical challenges related to health restrictions, port backups and sudden spikes in demand for certain products (think hand sanitizer and toilet paper).

"We've actually brought in larger retailers essentially needing to pivot their business model," Teves said. "In the retail space in general, it's just more home delivery, and we can deliver a large appliance or a TV or any piece of furniture directly to someone's doorstep at a fraction of the cost of what the traditional players in the market can do it for."

According to the company, which does business in 10 major cities including Los Angeles, clients include Staples Inc., Happy Returns Inc. and Santa Monica-based electric scooter company Bird Rides Inc.

Even before the Covid-19 pandemic, Mothership had the attention of investors. The company raised $16 million in a 2019 Series A funding round which gave it a post-money valuation of $64 million, according to PitchBook Data Inc.

Mothership was founded in 2017 by Aaron Peck and Gregg Luskin, who previously worked together at rental car delivery startup Skurt Rentals Inc. (acquired by Fair Financial Corp. in 2018). Mothership was originally called Bolt, but rebranded in 2019.

In public statements, Peck has emphasized the company's ability to ramp up its operations in order to meet rising demand from shippers.

"At scale, we'll be a company worth $100 billion, and what you do with the leftover efficiency is you pass on savings to the customer and pay more to the partner carriers," he proclaimed in a 2019 statement.

Teves explains that the company is able to adjust to varying levels of demand for its services by hiring drivers by the job in a model similar to that employed by ride-hailing companies like Uber Technologies Inc. and Lyft Inc.

"Transportation is very volatile," he said. "What we do is we build networks where we have the driver base waiting and available should we have an influx of demand."

Teves says the company also works with local delivery and shipping companies in order to respond to the needs of clients — and consumers — as quickly as possible.

"Everybody wants things on demand," he said. "Our technology allows us to do a ton without manually interfering. There are always things that are going to be challenging, but our technology allows us to scale up very quickly."
For reprint and licensing requests for this article, CLICK HERE.