LA Companies Gear Up for Virtual CES
Monday, January 11, 2021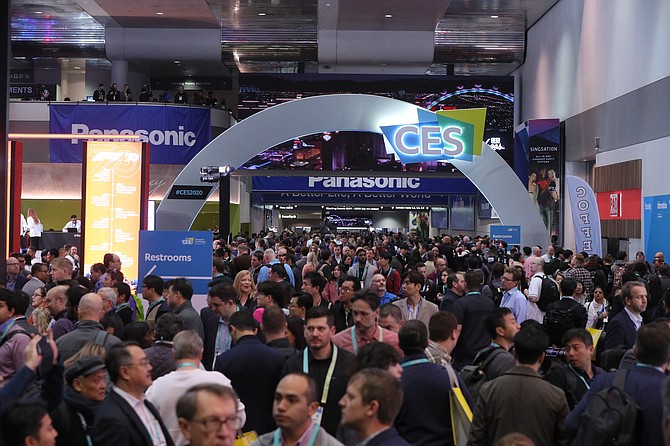 For the Consumer Technology Association, the show must go on.

The Arlington, Va.-based trade group has for more than 50 years staged the Consumer Electronics Show, an annual event attended by thousands of companies showcasing innovative new products. 

This year, the in-person event in Las Vegas was canceled due to the Covid-19 pandemic, but a three-day virtual version of the trade show is scheduled to run from Jan. 12 through Jan. 14 with a media event on Jan. 11.

Rather than strolling through the crowded Las Vegas Convention Center, visiting company booths and passing out business cards, attendees this year will be able to tune in to keynote addresses and company presentations remotely while chatting online with businesses and organizing meetings through CTA's virtual event platform.

For the Los Angeles businesses scheduled as exhibitors, that means opportunities for networking with potential clients and business partners won't be as straightforward as in years past. On the other hand, companies will save on the expense of traveling to Las Vegas and setting up a display flashy enough to capture the attention of attendees. 

Emily Groch, director of telecom insights at market research firm Comperemedia, said one advantage to the virtual format will be that attendees may be able to catch more industry panels and company announcements while checking out individual exhibitors.

"Anyone who's attended CES in the recent past knows that it can take over an hour to get from one venue to another," Groch said. "You're waiting in long lines, and you might miss a panel you wanted to see."

CTA Chief Executive Gary Shapiro said the organization will be "making history" with the virtual show, featuring more than 1,000 exhibitors presenting products in a wide variety of categories ranging from electric vehicles to artificial intelligence.

"Technology will move us forward, and CES 2021 will illustrate how innovation paves the way for a brighter tomorrow," Shapiro said in a statement.

Given the event's virtual format, show organizers have placed great emphasis this year on keynote addresses and panel discussions with business leaders and analysts to discuss trends in the broad field of consumer electronics.

These panel discussions will include key figures in Los Angeles' tech sector, representing some of the most established businesses in the area and speaking on important challenges and opportunities facing the industry in the year ahead.

Christopher Greeley, director of esports at Sawtelle-based Riot Games Inc., will discuss the formation of professional leagues based around popular video games. The game publisher last year developed a new league for its latest title, "Valorant."

Hyperloop Technologies Inc. (doing business as Virgin Hyperloop) director of passenger experience Sara Luchian, who recently became one of the first humans to ride in the company's tube-based transportation system, will speak on a panel about the future of autonomous transportation.

Celiena Adcock, head of global business marketing at shopping software developer Honey Science Corp., will discuss evolving consumer habits shaped by the pandemic. Headquartered downtown, Honey was acquired last year by PayPal Holdings Inc. in a deal worth $4 billion.

What remains to be seen is whether Los Angeles businesses will use the virtual conference as an opportunity to make major company announcements and product reveals. Revolutionary products unveiled at the show over the years include the VCR, the CD and high-definition televisions.

Groch said the virtual format could make it tough for smaller businesses to generate buzz with new product announcements.

"One of the greatest values of CES is the hands-on opportunities for press, analysts and other attendees to interact with these new products," Groch said. "It's much more difficult without that physical activity."

John Phillips, senior director of design research at the Los Angeles office of consulting firm Kelton Global, said smaller companies will have to be creative if they want to stand out from the crowd.

"There's always going to be those dark horses that come out of nowhere," he said. "But one of the fundamental challenges of this format shift is going to be that those serendipitous discoveries of smaller brands are going to be a lot more challenging."

Phillips also said it will be interesting to see what kinds of "silver linings" attendees are able to find in the virtual format.

"No matter what happens, in the future I think the show is very likely to be a physical and virtual hybrid," he said. "That's a reflection of what the pandemic has created in many walks of life."
For reprint and licensing requests for this article, CLICK HERE.