Relativity Plans Larger, Reusable Rocket
Friday, February 26, 2021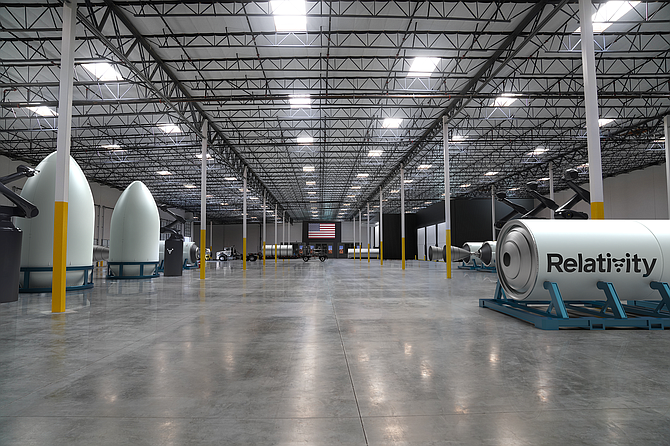 Long Beach-based rocket manufacturer Relativity Space Inc. announced Feb. 25 that it plans to begin development on a new, fully reusable launch vehicle called Terran R.
The company hasn't yet launched a rocket into space, but has generated excitement from investors and aerospace industry analysts with its commitment to manufacturing entirely 3D-printed launch vehicles using additive design methods developed in-house.
Chief Executive Tim Ellis said in November that Relativity would begin testing its first launch vehicle, called Terran 1, as soon as the end of 2021. 
Terran 1 is a relatively compact rocket designed for deployment of small satellites. Relativity announced on Twitter that Terran R would be a much bigger launch vehicle capable of carrying a payload almost 20 times larger than the maximum that Terran 1 can hold.
Relativity also aims to make the rocket fully reusable, meaning that parts can be recovered after a launch and utilized for future missions. This would set the launch vehicle apart from Terran 1, which is not designed for reuse, as well as launch vehicles designed by competing manufacturers.
Consistently reusing parts allows rocket manufacturers to lower mission costs and offer competitive prices to customers in an increasingly crowded market.
Space Exploration Technologies Corp. routinely reuses rocket components multiple times, particularly first-stage rocket boosters which detach from the upper-stage rocket on the company's Falcon 9 launch vehicles a few minutes after launch and return to Earth.
Relativity aims to go a step further, recovering the rocket's upper stage as well as the first-stage booster. Ellis told CNBC that this complex procedure will be possible through use of the company's 3D printing technology, which can be used to generate unconventional parts that would be impossible to produce through traditional manufacturing processes.
Relativity did not say when it expected Terran R to be ready for future missions. The company aims to undertake its first commercial launches on Terran 1 next year.
For reprint and licensing requests for this article, CLICK HERE.