Archer Aviation Plans Electric Air Taxis in LA by 2024
Tuesday, February 23, 2021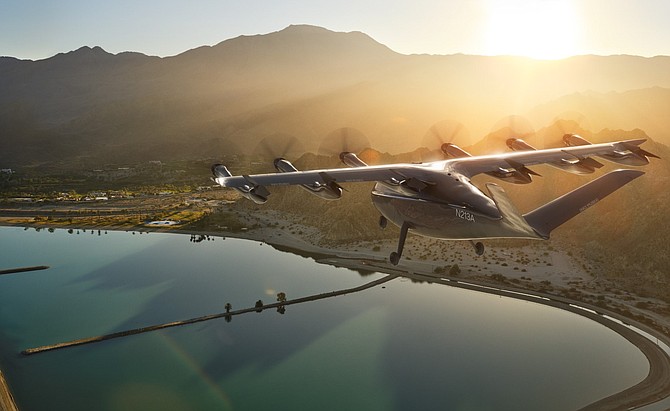 Two months after Mayor Eric Garcetti promised that Los Angeles would lead U.S. cities in the adoption of low-noise electric aircraft, Archer Aviation Inc. announced that it aims to roll out an urban air taxi network in the city by 2024.
Los Altos Hills-based Archer Aviation said Feb. 23  that it's developing an electric vertical takeoff and landing aircraft designed specifically for travel in densely populated urban areas. According to the Bay Area company, the aircraft will be able to travel distances of up to 60 miles at a time at speeds up to 150 mph.
"Our partnership with the City of Los Angeles will be one of our major milestones in bringing quick, safe, affordable everyday flight to dense urban locations," Adam Goldstein, co-founder and co-chief executive, said in a statement.
Archer announced earlier this month that it would go public via a reverse merger with a special purpose acquisition company. The deal is expected to generate roughly $1.1 billion to begin production of its electric aircraft.
The company said it would support efforts to educate Los Angeles residents about the technology behind low-noise electric aircraft and how these might integrate into the city's transportation network.
Garcetti announced an Urban Air Mobility Partnership in June, under which the city will partner with nonprofit Urban Movement Labs and private companies developing electric aircraft to "engage the city's residents around a new and dynamic transportation technology" and to identify "vertipoints" where vehicles can take off and land.
Brett Adcock, co-chief executive of Archer said the company would work with Urban Movement Labs and that Los Angeles will be the first city to partner with Archer.
Archer is not the only company developing low-noise aircraft that have sometimes been likened to flying taxis. Hyundai Motor Group, which has offices in Torrance, supports an Urban Air Mobility division that has lent financial support to the Mayor's Urban Air Mobility Partnership.
For reprint and licensing requests for this article, CLICK HERE.