TRJLA Beats Out Multiple Bidders for Chinatown Site
Monday, February 1, 2021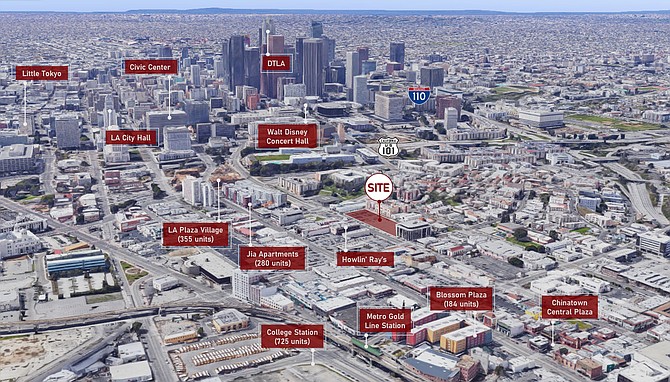 A roughly 1.9-acre development site in Chinatown has sold for an undisclosed sum.
 
Development company TRJLA purchased the land at 717-759 N. Hill St. from PAMC Ltd. and aims to build out the property but has not released details on its plans.
 
"This is a lifetime opportunity to contribute to Chinatown's revitalization and improve the Hill Street corridor," Kevin Chen, TRJLA's chief executive, said in a statement. "We are evaluating development options, which we trust will improve the quality of Chinatown's physical environment and add to Los Angeles' character as a diverse, sustainable and global destination."

The company is working with architecture firm AC Martin on the project.
Eugene Page and Martin Nguyen at the Centre Urban Real Estate Partners Inc. advised the seller. The company also managed a request for proposal process for the property, which is near a Metro Gold Line station and in the DTLA 2040 Community Plan Update area.

Page called the site "an asphalt parking lot with lots of potential."

Nguyen added that it had "favorable zoning" allowing for lots of redevelopment opportunities.
 
"There's a lot of opportunity for the buyer to enact (his) vision for Chinatown, for the community and a lot of flexibly," he said.

The site attracted extensive interest, despite the Covid-19 pandemic. According to Page, the property heard from 50 to 60 "serious potential buyers" and received offers from half a dozen.

Page said he had met Chen years ago at a charity event and described him as an "ambitious" developer who works on "quality stuff."

He said Chen was interested in the potential to create something great for the community in Chinatown but declined to speculate on what type of development could go into the area.

"He wants to do something that is going to attract people and make sense economically," Page said.

"He really emphasized doing what's right for the community," Nguyen added.
Page said the infrastructure already available in Chinatown — the train station and freeway access — would spur more development in the neighborhood.
Nguyen said there have been more sales and developments in the area lately.
The Llewellyn, for example, is scheduled to open soon. The project, near the Los Angeles State Historic Park, will have 318 residential units when completed.
Developer Atlas Capital Group has proposed a 725-unit apartment and retail complex in the area as well, which has been met with community pushback.
Nguyen said there have been land sales on the eastern side of Chinatown bordering Lincoln Heights.

The area, he said, has 2,000 residential units either planned or under construction, adding that there was "opportunity and momentum in the submarket."

Page said the Hill Street site TRJLA purchased was prime for development because it sits on a major thoroughfare.

In addition to the location, Page and Nguyen said the sale was unique in that, because of Covid, the parties involved were unable to meet.

The site came to market during the first few weeks of lockdown, which, Page said, forced the company to adapt to technology like Zoom to host meetings.

"It ended up very, very successful. The pandemic made us do more things than we ever knew we could do," he said. "When the pandemic hit, people didn't know what to make of it, is this going to be for a month or two months, and as it started to go on, people started to get a bit more aggressive."
For reprint and licensing requests for this article, CLICK HERE.