SoFi Stadium and Hollywood Park Taking Steps to Make the Complex a Local and Global Destination
The Lists 2022
Monday, December 27, 2021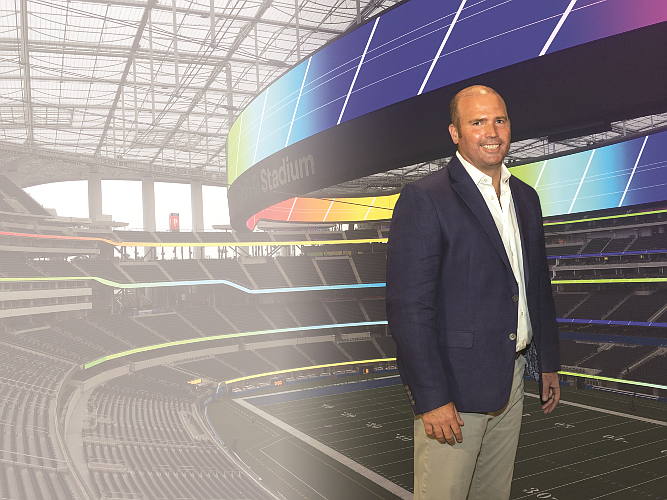 One person who has been instrumental in the development of SoFi Stadium and Hollywood Park is Jason Gannon.

Gannon, who serves as the development's managing director, has been with Los Angeles Rams owner Stan Kroenke's Kroenke Group for more than 12 years. He has held a few different roles within the organization and has a background in real estate development.
 
In his current role, Gannon oversees the nearly 300-acre Hollywood Park project, which includes SoFi Stadium; 890,000 square feet of retail space surrounded by offices; public parks; apartments; a performance venue; and a hotel.
 
The stadium opened in 2020.

"We've been in the construction period for the stadium, design and construction, for the last several years," Gannon said. "Now that it's open and we're welcoming fans, there's a lot of operational components."
 
Gannon said it's not just the stadium but the variety of uses for the area that is important.

"Stan Kroenke's vision is to create a world-class global sports destination in the heart of Los Angeles, and there are a lot of components that go into it," Gannon said.

Creating experiences for tenants at the complex, its guests and its residents when the residential components open are all a part of that.
 
Roughly 300,000 square feet of retail space and 300 residential units will come online next year.

The National Football League is the project's first office tenant. The office space, according to experts, marks a big change for the area.

"Inglewood in general was nonexistent from a commercial office standpoint," said Tony Morales, an executive managing director at Jones Lang LaSalle Inc. "Over the last 30 years, it's evolved from a robust entertainment zone when the Forum was in its heyday, and it hasn't been there in 20 years. … Over the last four, five years, SoFi has been the catalyst for the redevelopment in the area, and it has shown to gentrify and ignite redevelopment of the residential market. It's had an immediate impact."

Super Bowl-ready
The stadium is gearing up to host Super Bowl LVI in 2022. It will then host the College Football National Championship game in 2023 and the opening and closing ceremonies of the 2028 Olympic Games.

"We have a tremendously powerful group of people working every day on the Super Bowl preparation," Gannon said. "It's an event that hasn't been here for almost 30 years. The economic impact as a result of the Super Bowl is quite substantial."

Gannon added that the economic impact would be around $470 million locally, including $50 million in Inglewood alone.

"The Super Bowl going there, the NFL studio going there and broadcasting 'NFL Game Day' from there is going to be important, and the retail is going to be important," Morales said. He added that events like the Super Bowl could test the area's infrastructure but said SoFi Stadium "is one of the best sports arenas that's ever been built."

Local economic impact
One primary beneficiary of the SoFi Stadium and Hollywood Park development is the city of Inglewood.

"We focused on job creation and the local economic impact within the city of Inglewood," Gannon said of the projects within Hollywood Park.

He added that $120 million worth of contracts was awarded to Inglewood businesses, and that the amount would increase as "we continue to go through the development."

Gannon said Hollywood Park has also made a point to hire locally when possible and bring both local retail and office tenants into the development.

"We continue to work on our tenant mix," he said. "We have a really good group of local businesses. … Our focus is to continue to expand on those local businesses."

Leasing is being handled by CBRE Group Inc.

Gannon said he was looking to make Hollywood Park "a city within a city" and bring in a diverse group of tenants.

Sandy Sigal, chief executive and chairman of NewMark Merrill Cos. Inc., which owns retail real estate in Inglewood, said SoFi Stadium and Hollywood Park were bringing more attention to the area.

"The benefit of SoFi is it puts Inglewood's name on a national map," he said.

Offices coming to the area, he added, would also mean more daytime workers and visitors as well.

Looking forward, Gannon said he is excited for people to to see the stadium and continue to develop the rest of Hollywood Park.
 
"We're going to continue on Stan Kroenke's vision to build this global entertainment destination," he said.
Read more in The Lists 2022.
For reprint and licensing requests for this article, CLICK HERE.