NFL'S Katie Keenan Sets Stage for LA's First Super Bowl in Nearly 30 Years
The Lists 2022
Monday, December 27, 2021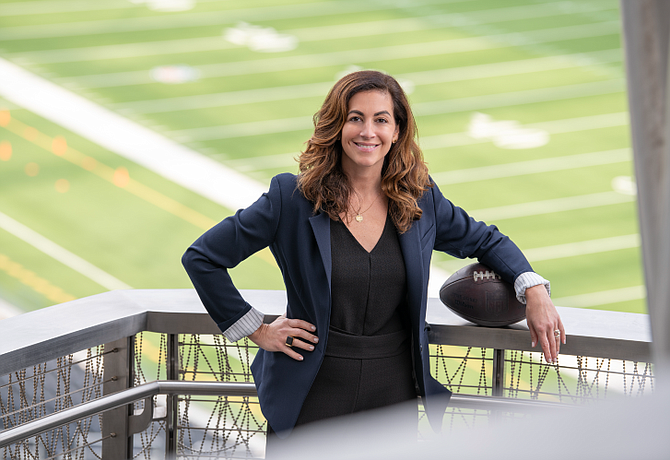 Super Bowl LVI in 2022 marks Katie Keenan's first championship football game for National Football League since moving into her new role in July as the professional sports organization's senior director of event operations. She stepped into the position after working in multiple divisions at the NFL during nine previous Super Bowls over almost 10 years, allowing her to develop a hands-on understanding of what goes into staging the organization's biggest event of the year. But this one presents several new challenges.

If it weren't challenging enough to coordinate the event at a brand-new facility, SoFi Stadium in Inglewood, Keenan must also do so during a second year in which Covid-19 protocols have become an integral aspect of operational logistics. Moreover, she's managing all of this on an accelerated timeline; most Super Bowls are planned over the course of years, but SoFi Stadium has only been open since September 2020.
 
Keenan has approached her responsibilities as a matter of scaling up, looking at how a site operates during a regular season game or a concert and adapting that to the expanded needs of the Super Bowl. For example, she indicated that for a normal game, they might have to coordinate access for eight broadcast trucks, from accreditation to technical support; for the Super Bowl, it's 50 to 100. 

New playing field
The differences between facilities can be significant, requiring her team to rewrite processes that elsewhere might follow boilerplate execution. At SoFi Stadium, the first six levels of the facility were designed beneath the ground and are accessible via one vehicle ramp, as opposed to a traditional loading dock. Consequently, the broadcast elements must be staged in one area and the halftime show pieces in another so that the ground crew can get them in and out in the time allotted.
 
Complicating matters further is the fact that Keenan's event operations team and SoFi Stadium's in-house crew are still learning the facility's idiosyncrasies.
 
"This stadium, being new and not having fans last season, has put us in a place where we're still learning a lot as the stadium continues to operate and have events," she said.
 
The facility only hosted its first major event with spectators, "Vax Live: The Concert to Reunite the World," in May, after the pandemic forced cancellations of a series of 2020 concert dates scheduled by artists like Taylor Swift and Guns N' Roses. Prior to that, even the Los Angeles Rams and Los Angeles Chargers, the two teams that call SoFi Stadium home, practiced and played their 2020-2021 seasons "behind closed doors," the league's term for games played without fans.
 
Describing the Super Bowl planning process as one that typically takes two or more years to execute, Keenan said that the absence of this shared "muscle memory" among the teams she coordinates requires everyone who's putting together the Big Game to adapt to a steep learning curve.
 
"I would bet that any stadium operator would say that the first year or two of a building opening is the most challenging," she said. "You can be as good as anyone in planning and designing — and the stadium is very well designed — but you never really know how it's going to work until it starts to come alive."

Gearing up for game time
Keenan said the NFL's Covid protocols between the 2021 and 2022 Super Bowls will be significantly different because of evolving knowledge about the virus and ways to combat infection, but they're always based on local health and safety guidelines.
Following SoFi Stadium's own vaccine verification process adopted in October, the NFL has not only implemented those practices among personnel arriving from other states but also plans to use fully mobile ticketing for the first time to communicate directly with ticket holders, ensuring they know what to expect.
 
Perhaps the biggest piece of the puzzle Keenan must put together is the network of partnerships the NFL builds with local businesses to help produce the Super Bowl, from signage and catering to portable restrooms and local transportation. The league has to finalize contracts months ahead of game time, as well as distribute and coordinate credentials, security access and logistical information depending on what products or services are being provided. Keenan indicated that the NFL credentials more than 20,000 people to support the Super Bowl, a significant number of whom come from local communities.

One advantage she and her team get to enjoy is the stadium's proximity to the league's West Coast headquarters, which opened in September in the same Inglewood-based entertainment complex, Hollywood Park, that SoFi Stadium calls home.
 
"It certainly is convenient for me to be able to pop over there, especially in a year where we're still learning," she said.
There's still a lot of ground to cover before game day in February. Keenan said this year's Super Bowl campus — including space for all support staff and services aside from the stadium's staff — takes up almost 2 million square feet of space. It's a "massive group effort," she added, to produce the six-hour event, even if many aspects of it are business as usual for her team.

"It's obviously bigger, and there's more stuff, but stadium operations at an NFL game, that's ultimately what the Super Bowl is," she said. "You layer in a concert and whole bunch of hospitality and all these other media elements, but at the end of the day, it is a football game, and we've all really worked hard and have a ton of support locally to make this a smooth operation on Super Bowl Sunday."
Read more in The Lists 2022.
For reprint and licensing requests for this article, CLICK HERE.