October Passenger Traffic at LA-Area Airports Rises 11%
Monday, December 6, 2021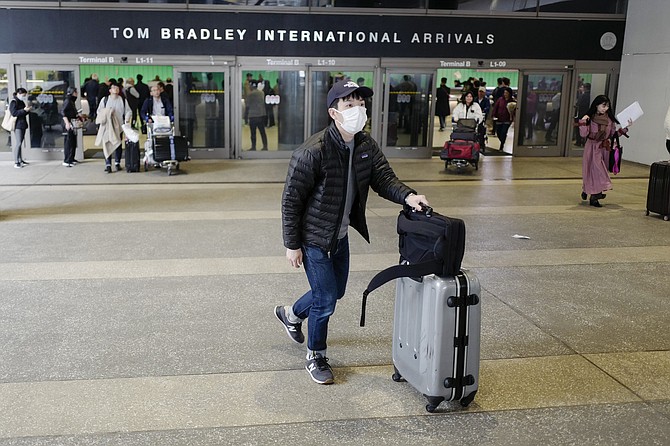 Air travel at local airports rebounded in October with passenger counts up 11% from September as the slowing of the spread of the delta Covid variant prompted people to take to the skies.

The four commercial airports serving Los Angeles County — Los Angeles International, Ontario International, Hollywood Burbank and Long Beach — had just over 6 million passengers go through their gates in October, up from 5.4 million passengers in September but still short of the July peak of 6.7 million.

The October passenger count at the four airports was up 141% from the same time last year, when people were fearful of travel during the pandemic. But the October total was still down 29.6% from pre-pandemic October 2019.

Amid these total air passenger travel statistics, one significant milestone was reached in October: For the first time, the domestic passenger count at Ontario International Airport edged past the pre-pandemic October 2019 level of 480,000 though just by a smidgen at 481,000. Overall, October passenger traffic at Ontario was nearly 495,000, down just 2% from October 2019.

"The resurgence of air travel in Southern California is most evident at Ontario International, which is experiencing the quickest pandemic recovery among airports its size and larger," Curt Hagman, an Ontario International Airport Authority commissioner and chairman of the San Bernardino County Board of Supervisors, said in the October data release. "As demand for domestic air travel grows, airlines and air passengers are showing their confidence in our ability to provide an aviation environment that is safe and secure, and a customer experience that is world-class."

At LAX, by far the largest of the four airports, October passenger traffic was 4.85 million, down 32.6% from October 2019. The domestic passenger count of 4.08 million was down roughly 20% from October 2019. The international passenger traffic of 765,000 was still way down, off 63% from two years ago.

But October passenger traffic at LAX was up 10.9% from September, a percentage significantly higher than the pre-pandemic jump of 2.7% between September and October 2019. This indicates a factor was at work in addition to the slight seasonal bump; this year, that factor was the steady increase in bookings as the summer surge of the delta variant began to loosen its grip.

Preliminary November figures don't show the month-over-month increase in passenger traffic continuing despite reports of a busy Thanksgiving holiday weekend. According to figures compiled by the Transportation Security Administration and released by Los Angeles World Airports, 2.35 million passengers went through TSA screenings on the way to board aircraft. The TSA screening figures are typically less than half of the total passenger traffic: They don't count arriving passengers or passengers who transfer to other flights without going through security.
 
The preliminary November daily average of 78,430 passengers was down 29.5% from the pre-pandemic daily average in November 2019, according to Heath Montgomery, a LAWA spokesman. That is a slight improvement from October's 32.6% drop from that same month in 2019.

Justin Erbacci, LAWA's chief executive, said passenger counts during the Thanksgiving holiday travel period were the most robust since the pandemic began.
"The Thanksgiving holiday was by far the busiest time for passenger traffic at LAX since early 2020, with four of our top 10 days taking place during the two-week travel period," Erbacci said. "While we still lag behind in our international passenger numbers, the reopening of our borders to Europe and beyond has led to a noticeable increase in transatlantic travel, which we expect will grow through the end of this year."

But Erbacci did sound a note of caution for December travel as the omicron Covid variant identified over the Thanksgiving holiday was found to have spread rapidly across the globe, and several countries — including the United States — started reimposing international travel restrictions.

"We are watching global travel trends closely given the emergence of the omicron variant and new travel restrictions," he said.

Rounding out the passenger totals at local airports, Hollywood Burbank Airport's total of 462,000 passengers was down 16% from pre-pandemic October 2019 while Long Beach Airport's count of 220,000 passengers was down 28% from the same month two years ago.

On the cargo side, 340,000 tons of cargo went through the four airports in October, up 6.32% from September, 4.76% from October 2020 and 23% from October 2019.
Some of that increase may have been due to the huge cargo backlog at the twin ports of Los Angeles and Long Beach.
 
There have been anecdotal reports of shippers turning more to aircraft for perishables or other time-sensitive cargo.
 
That air cargo boost has, in turn, led to more delays at airports transferring the cargo from aircraft to trucks.

But spokespeople for two commercial airlines said they have not seen an appreciable increase in their cargo operations at LAX. A spokesman for Atlanta-based Delta Air Lines Inc. also said there had been no significant uptick in cargo handled at LAX.
"Our cargo capacity is based on allotted room we have on scheduled flights, so there's not much room for a large influx," Maddie King, spokeswoman for Chicago-based air carrier United Airlines Inc., said in an emailed response.

Data for the number of flight operations in September and October at LAX for the two main air freight carriers — Atlanta-based United Parcel Service Inc. and Memphis, Tenn.-based FedEx Corp. — was not immediately available.
For reprint and licensing requests for this article, CLICK HERE.