Rocket Lab Stock Slips in Nasdaq Debut
Monday, August 30, 2021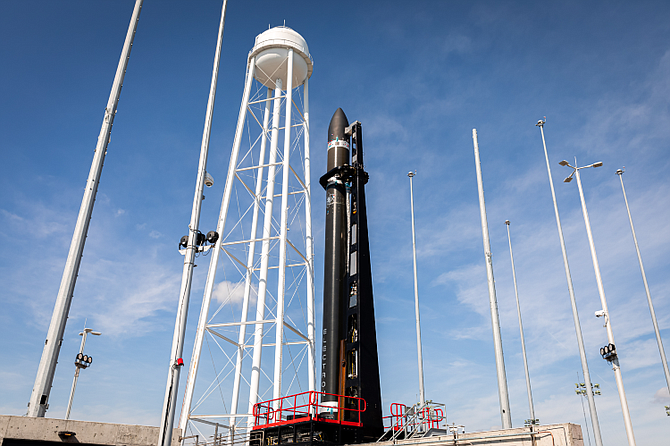 Rocket Lab USA Inc. came back to earth in its stock market debut as its share price slipped about 10% on the company's first day of trading following its merger with Vector Acquisition Corp.
 
Long Beach-based Rocket Lab, which began trading on the Nasdaq under the ticker RKLB on Aug. 25, opened at around $11.58. The stock briefly peaked at $11.60, then dropped by $1 in the first hour of trading. It bounced between a low of $9.98 and $10.70 throughout the day before closing at $10.43.
 
Trading activity in Rocket Lab was heavy during its debut, with volume of nearly 5.58 million shares.
Rocket Lab announced plans in March to go public through a merger with Vector, a special purpose acquisition company backed by technology investor Vector Capital. The deal valued the combined company at $4.1 billion.

Rocket Lab received $750 million once the merger completed on Aug. 25, including $320 million from Vector Acquisition and $467 million from a private placement in public equity, or PIPE, investment from Vector Capital, BlackRock Inc. and Neuberger Berman Group.

Rocket Lab plans to use the funds for acquisitions of smaller aerospace businesses and development of its new Neutron rocket, a reusable medium-lift rocket that the company hopes to begin flying in 2024.
"We believe there is a significant market opportunity for our business, and we intend to invest aggressively to capitalize on this opportunity," Rocket Lab said in a prospectus filed with the Securities and Exchange Commission.
 
"Because the markets for rocket launch services, mission services, satellites and satellite components are evolving, it is difficult for us to predict our future results of operations or the limits of our market opportunity," the company added.
 
The merger came at a time of internal growth for Rocket Lab. Between December 2019 and March 2021, the company increased its headcount to 592 from 526 employees.
 
But Rocket Lab also experienced pandemic-related losses in 2020 with annual revenue tumbling 27% to $35 million in 2020 from $48 million in 2019. The company's losses nearly doubled year over year, to $55 million in 2020 from $30 million in 2019.
 
"We have a history of losses, we anticipate increasing operating expenses in the future, and we may not be able to achieve and, if achieved, maintain profitability," the company said.
 
Vipin Khare, director of research at the India headquarters of Playa Vista-based William O'Neil & Co. Inc., said the company has potential to grow its popularity among investors. This is because Rocket Lab is in an "attractive" industry as many businesses depend on satellites for "high-speed communication," he said.  

"I think (Rocket Lab's) vision is pretty clear: to launch civil, defense and commercial satellites that are useful for several applications," Khare said. "We're seeing a lot of low-cost providers come up, and the pace of satellite launches has gone up as well."

Rocket Lab has become a popular option for launch services among government and commercial clients looking to send satellites into low-Earth orbit and beyond in recent weeks.
 
The company is working alongside NASA for two missions, one aiming to send a satellite into Mars' orbit and another that will send a satellite to the moon to support the agency's Artemis program. The company also recently announced plans for three launches between August and September for a mission on behalf of Seattle-based satellite imaging company BlackSky Global. Rocket Lab also recently inked several deals for its upcoming rideshare mission in the fourth quarter of 2021.

Rocket Lab has deployed more than 100 satellites since its first launch in 2018.


For reprint and licensing requests for this article, CLICK HERE.