Metro Moves Ahead With 2 Bids for Sepulveda Pass Project
Monday, August 30, 2021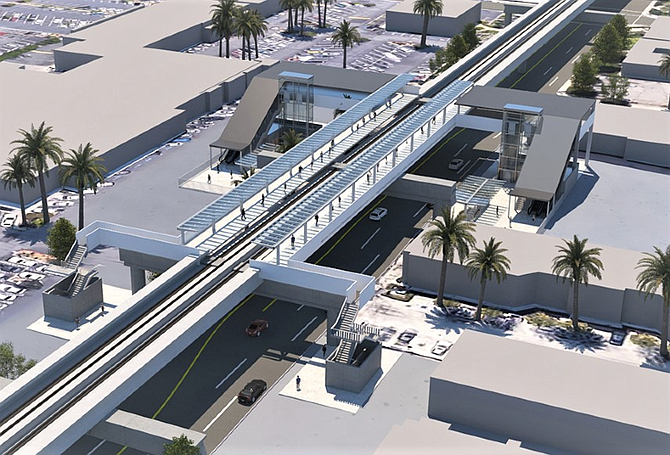 In an unprecedented move, the Los Angeles County Metropolitan Transportation Authority has issued notices to two competing contract bidding teams to proceed on design and other preliminary work for a rail transit project through the Sepulveda Pass.

The notice to proceed came after Metro's board in July authorized the signing of predevelopment agreement contracts with the two competing teams. It's part of a novel approach designed to maximize bidder/contractor involvement in the early phases of the project.

The goal is to provide an alternative to vehicular travel through the Sepulveda Pass, which — prior to the Covid-19 pandemic — saw up to 400,000 vehicles a day and was often so congested that trips through the pass and L.A.'s Westside could take an hour or more.

One of the two teams, a consortium of six companies called LA SkyRail Express, has submitted a bid for a $6.1 billion aerial monorail.
 
The other team, Sepulveda Transit Corridor Partners, led by construction and engineering giant Bechtel Corp. of Reston, Va., wants to build a $10.8 billion combination of heavy rail tunnel and aerial rail.

"With our partner teams now able to begin refining their concepts, Metro can begin preparing for the environmental phase — the first step in delivering a project that will address our notorious traffic problems in the Sepulveda Pass, 405 and neighboring communities," said Metro Board Chairwoman Hilda Solis.

LA SKYRAIL EXPRESS
BID TEAM MEMBERS: John Laing Investments (London); BYD North America (downtown, a unit of Shenzhen, China-based BYD); HDR Inc. (Omaha, Neb.); Gensler (San Francisco); Innova Structural Design Group Inc. (Van Nuys); Skanska USA Inc. (New York, a unit of Stockholm-based Skanska)
TECHNOLOGY: Automated aerial monorail with rubber wheels
STATIONS: Eight, from Van Nuys Metrolink Station to the Expo Line station at Sepulveda Boulevard with an option to extend to Airport Metro Connector station
LENGTH: About 12.5 miles
TRIP TIME: 24 minutes
COST: $6.1 billion
NOTABLE: The LA SkyRail Express proposal calls for an aerial monorail line mostly running above the 405 freeway median. The $6.1 billion cost includes an estimated $221 million in outside equity investment. Once construction is complete, the proposal gives an annual operating cost estimate of $63 million. One cost-saver is the plan for completely unattended train operations. The LA SkyRail Express bid scored highest on Metro's bid evaluation, particularly in the area of inclusion and diversity. For the first three phases of its project proposal, LA SkyRail Express submitted a total of 85 disadvantaged business enterprises as subcontractors.
"SkyRail is the advanced, high-speed, high-capacity monorail system that incorporates advances that have been made in monorail technology through urban applications in many of the world's largest cities over the past 60 years. LA SkyRail Express can help alleviate the chronic congestion Valley and Westside residents have faced for decades." — Anthony Phillips, co-head of public private partnerships and greenfield projects at infrastructure investor John Laing.
SEPULVEDA TRANSIT CORRIDOR PARTNERS
BID TEAM MEMBERS: Bechtel Corp. (Reston, Va.); Meridiam (Paris); American Triple I Partners (New York)
TECHNOLOGY: Automated heavy rail, with 62% of route tunnel and 38% aerial
STATIONS: Eight, from Van Nuys Metrolink Station to Expo Line, with an option to extend to the Airport Metro Connector Station.
LENGTH: About 13 miles
TRIP TIME: About 20 minutes
COST: $10.8 billion
NOTABLE: This Bechtel-led project bid includes an underground alignment from Ventura Boulevard on the north to the 10 freeway on the south, with much of that a tunnel through the Sepulveda Pass portion of the Santa Monica Mountains. The group chose a single-bore tunnel design to keep the cost as low as possible. The remainder of the route would be aerial rail. Despite the route being slightly longer, trains would move faster than the SkyRail Express monorail design, yielding a travel time of just under 20 minutes, about four minutes less than monorail proposal. The total $10.8 billion project cost includes $634 million in anticipated outside equity investment. Once construction is complete, annual operating expenses are expected to be about $118 million, nearly twice the SkyRail Express proposal.
"The Sepulveda Transit Corridor project truly meets the moment in terms of Los Angeles' immediate and long-term transit needs. We will work closely with Metro to consider our high-capacity transit solution concept, which could potentially take cars off the road and provide the public with more options for traveling through the Sepulveda Corridor." — Nicolas Rubio, chief executive, Meridiam North America.
For reprint and licensing requests for this article, CLICK HERE.