Phase Four Wins $1.7 Million Space Force Contract
Thursday, August 26, 2021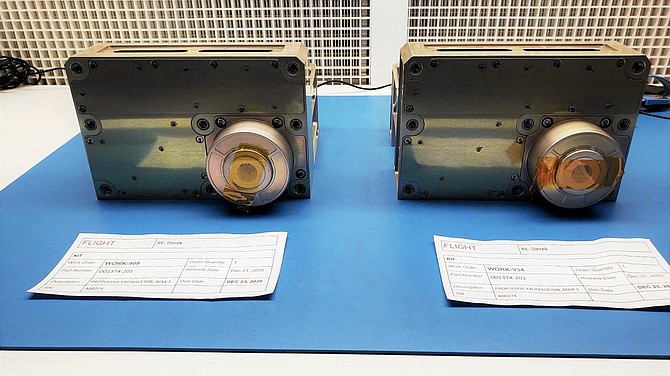 El Segundo-based aerospace manufacturer Phase Four Inc. secured a $1.7 million contract with the Space Force.
The contract gives Phase Four access to a new propellant that will allow its satellite engines to switch between high and low efficiency modes, a similar concept to how econ mode works in a car.

The contract comes from the SpaceWERX Pitch Day competition, held virtually Aug. 19. Phase Four is one of 19 aerospace businesses that secured innovation research contracts through the competition.


Under the contract, Phase Four will use Ascent, a propellant created by the Air Force Research Laboratory, to enable "multimode propulsion capability" for its Maxwell engines, the company's flagship product. According to Phase Four, the propellant will give Maxwell engines the ability to switch from high-thrust, low-efficiency chemical propulsion to high-efficiency, low-thrust electric propulsion.

"We're looking forward to being at the forefront of new in-space propulsion capabilities with development of multimode propulsion with Ascent," Jason Wallace, vice president of advanced development at Phase Four, said in a statement.

Founded in 2015, Phase Four uses plasma thruster technology to create lightweight satellite engines made with low-cost materials. The company claims its engines bring a 75% reduction in lead time, or the time between when an order is placed and when the customer receives a product, making them available in three to four months after ordering.

Maxwell engines are designed for small satellites weighing between 20 and 500 kilograms. The engines start at $200,000 a unit.

In June, the company raised $26 million in Series B funding with the goal of tripling the production of its Maxwell engines by the first half of 2022.

"Space is rapidly becoming congested and contested," Phase Four Chief Executive Beau Jarvis said in a statement.  "The U.S. Space Force and commercial satellite operators must increase the maneuverability of their spacecraft to operate safely and minimize on orbit risks."
For reprint and licensing requests for this article, CLICK HERE.