Food Truck Rental Startup Helps Chefs Get in the Game
Monday, August 23, 2021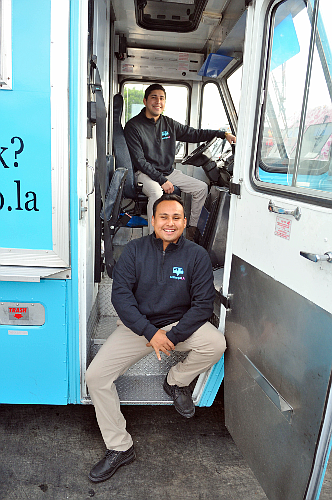 When the pandemic hit last year, Dajohn Orange, owner and head cook of downtown-based pop-up D Lo's Kitchen, was forced to put his dream of opening a brick-and-mortar restaurant on hold.  

Instead, Orange took a stab at selling his specialty seafood enchiladas out of a food truck.
Because it was far too expensive to buy a truck of his own, Orange started renting a fully outfit ted truck in August 2020 from On the Go LA, a downtown-based food truck rental company.
 
On his first outing with the truck, Orange said, he sold out of food by 6 p.m.

"With On the Go LA, they make it pretty much seamless for you," he said. "All you have to do is jump on the truck and pay your daily costs, which is amazing. It makes it that much more seamless and easier to focus on what your goals are."

On the Go LA was founded in March 2020 by childhood best friends Gabriel Gamez and Enrique Loyola. Gamez has a bachelor's degree in information science from Cornell University and previously worked in data and analytics at NBCUniversal. Loyola studied economics at Wake Forest University and has worked at Oracle NetSuite and Nowcom Corp.
 
Gamez said he came up with the business idea after witnessing the crushing impact of the pandemic on local restaurants in Los Angeles.  

"We grew up in South L.A.; we saw a lot of our community affected by the shutting down, specifically the Hispanic and Black communities that are the heart of the L.A. food culture, especially in the South L.A. area," Gamez said. "I wanted to provide some sort of solution for them to stay alive."

With six employees and a fleet of two vehicles, On the Go LA is starting out small but is already making a large impact by giving business owners like Orange a shot at making it in the highly competitive L.A. food industry.

On the Go LA is also showing promise as a business of its own. In its first year, the company brought in revenue of about $50,000. Its budget was propped up by numerous grant awards this year.
 
In January, On the Go LA received a $25,000 grant from a PledgeLA, a coalition of tech and venture capital firms. In April, the company won $40,000 in the USC Marshall Business School pitch competition.
In July, it was selected as the first-place winner of the Create category in the LA2050 Grant Challenge, a funding competition for businesses and nonprofits, winning $100,000.
 
Matt Geller, co-founder and chief executive of the Southern California Mobile Food Vendors Association, a nonprofit advocacy organization with about 170 members, said strict local and state regulations make it challenging for businesses to purchase or build their own food trucks. A new food truck in Los Angeles can cost as much as $170,000, he said.
 
For that reason, Geller said, resources like On the Go LA can be helpful for business owners trying to break into the food truck space.

"The food business is hard, and it's a little bit of luck, a lot of hard work and a sprinkle of magic to make a brand work," he said. "So, this is a nice bridge, and I'm really happy for their success."


The right model
To start, Gamez and Loyola visited more than 50 restaurants in the South L.A. area to talk to owners about what would help them through the pandemic. Their survey found that because of Covid-19, fewer customers were going to restaurants, and proprietors were looking for new ways to reach people.  
Gamez and Loyola's initial idea was to try to replicate the roaming effect of an ice cream truck for other kinds of food vendors.

The duo used $12,000 from their own savings to lease a food truck. In June 2020, they secured their first client, a local Mexican restaurant, and hit the streets of Los Angeles in the food truck for the first time.
Gamez said he quickly found out how logistically challenging it was to bring in business when the truck was constantly on the move. They quickly switched their model to become a short-term rental business for chefs, pop-ups and local restaurants.
 
Loyola, who serves as chief operating officer, said the company uses a subleasing model in which it leases its two food trucks for $4,000 a month, then rents them out to clients for $299 a day.

Gamez said the company also offers longer-term plans where clients can pay $270 a day for a seven-day period that can be scheduled within a 35-day time frame, or $250 per day for 10 days during a 45-day period.
 
Gamez and Loyola project that the maximum amount of profit they can make off each truck is about $101,000 annually.

"We decided to come in at this rate to provide that flexibility," Gamez said. "Before we existed, if you wanted to rent a truck for a day, you can go to a food truck owner at a commissary lot and ask them if they will rent out a truck, but they will typically turn around and charge you $500 to $600 for one day just because it's not their business. It's not what they do, and there's a lot of liability involved with renting out your truck on a short-term basis."
 
The trucks are stored at the Slauson Food & Beverage Wholesalers Inc. lot near Huntington Park. After a client picks up a truck, they have an eight-hour period to sell food before returning it to the lot by 10 p.m.
Each vehicle is outfitted with stainless steel appliances including a grill table, dual fryer, warming oven, two refrigerators and a sink. The trucks are also equipped with rooftop solar panels.

Clients must provide their own cooking supplies such as pots and pans, cooking ingredients, and plates and utensils for customers. They are also required to have a food handlers' card and be registered as a limited liability corporation, according to Loyola. 

Boosting businesses
Along with providing food trucks, Loyola said On the Go LA also helps clients find locations to park their trucks through its relationships with breweries like Frogtown Brewery in Elysian Valley, Trademark Brewing in Long Beach and Boomtown Brewery in the Arts District.
 
The company also promotes its clients on the On the Go LA Instagram account, and it's working on a "graduate" program that will help clients work toward buying their own food trucks.
 
Gamez said four previous clients have gone on to purchase their own food trucks after renting from On the Go LA. The clients consist mostly of pop-up restaurants like D Lo's Kitchen that are testing out their businesses for the first time.
 
Orange ended up renting a food truck from On the Go LA four to six times a month. Over time, he shared with Loyola his aspirations of one day having his own truck.
 
"I did it for about a year, and the whole time I'm doing this, Enrique is preparing me to get my own," Orange said. "When it came time for me to get my own truck, he basically introduced me to the right people to get my truck at a fair rate."
 
By late July, Orange had saved up enough profit to sign a long-term lease for a food truck for $3,000 a month.

Gamez and Loyola, the children of immigrant parents from Guatemala and Mexico, respectively, said they try to put an emphasis on supporting diverse restaurants and chefs.

"It's a no-brainer for us to create a company that helps them and puts them in the spotlight," Loyola said.
For reprint and licensing requests for this article, CLICK HERE.