Rocket Lab Plans BlackSky, NASA Missions
Monday, August 16, 2021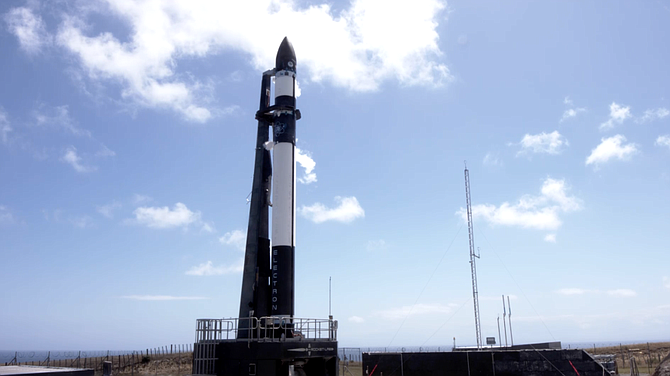 Rocket Lab USA Inc. has a busy docket for the rest of the year.
 
The Long Beach-based aerospace company in recent weeks announced four launches for two upcoming missions — including its first into lunar orbit on behalf of NASA.

Rocket Lab is bulking up its schedule after going more than two months without a lift off.
 
The company paused its launch plans earlier this summer after a failed mission in May in which a rocket's stage two engine shut down three minutes after takeoff from Launch Complex 1 on New Zealand's Māhia Peninsula. Rocket Lab then staged a successful launch on July 28 for the U.S. Space Force.
 
The company's Electron rocket will be used for the upcoming launches, which will give Rocket Lab a total of 112 deployed satellites.
 
"Dedicated launch on Electron means a bespoke service for satellite operators who want control over their schedule and orbital parameters," Peter Beck, Rocket Lab founder and chief executive, said in a statement.
 
On Aug. 10, the company announced plans for three launches in August and September on behalf of Seattle-based satellite imaging company BlackSky Global. Rocket Lab signed a multi-launch agreement with BlackSky in March.
 
The mission, titled Love At First Insight, will carry six high-resolution, multispectral satellites into low-Earth orbit for BlackSky over the course of the three launches.
 
The first launch is set to carry two satellites, taking off from Rocket Lab's New Zealand launch complex in late August. The mission will expand BlackSky's network in space and offer real-time geospatial intelligence and monitoring services.
 
"We've been partnering strongly with Rocket Lab over the past several months to gain high confidence in a launch campaign that will increase the capacity of our space network," Brian O'Toole, BlackSky chief executive, said in a statement.

On Aug. 6, Rocket Lab announced it will also deploy a satellite from New Zealand into the moon's orbit on behalf of NASA later this year. Capstone, an acronym for Cislunar Autonomous Positioning System Technology Operations and Navigation Experiment, is Rocket Lab's first mission to the moon, aiding NASA in its Artemis moon landing program. Rocket Lab won the contract for the mission, valued at $9.95 million, in February 2020.
 
The company will launch the mission's Electron rocket from its New Zealand launch complex. The mission was originally slated to take off from the company's Launch Complex 2 in Virginia in early 2021.
 
The Electron rocket will carry the company's Photon spacecraft, which will deploy the 55-pound Capstone satellite to test a "unique, elliptical lunar orbit" in a trip lasting roughly six months, the company said. The company has teamed up with NASA for previous missions using its Electron rocket to bring satellites into low-Earth orbit. 
For reprint and licensing requests for this article, CLICK HERE.