5 Black-Owned Beauty Brands to Watch in LA
Monday, August 16, 2021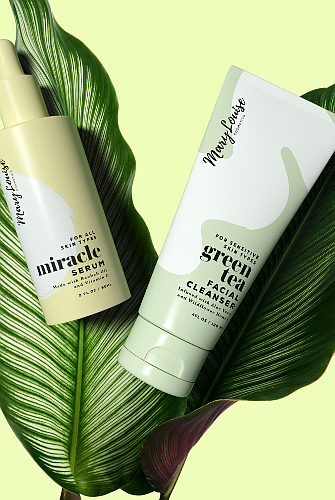 Small Black-owned skincare and makeup brands based in Los Angeles are finding big opportunities for growth.

Some of the businesses are getting a boost from major beauty retailers that have made commitments to diversity as well as increased spending by local consumers on beauty products.
 
Founders of companies like Mid-Wilshire-based Ceylon, part of Anim Labs Corp., which offers skincare products formulated for men of color, and Beverly Hills-based Mary Louise Cosmetics, which sells face masks and serums made from natural ingredients, are drawing on their personal experiences and interests to develop products for all complexions and skin types.
 
"I've never stepped foot in a business class. Everything I've learned has been just on the fly, and YouTube and Google have been my best friends over the last three and a half, four years," said Akilah Releford, founder and chief executive of Mary Louise Cosmetics, which pulled in $1 million in revenue in 2020-21. "As a bootstrap company, it has required a lot of grit."

Some founders launched their brands after growing frustrated with a lack of representation in the beauty industry. Others started their business after finding joy and purpose in developing less-harmful, homemade products.

Some started out small, selling to college classmates and neighbors, and now are on the cusp of putting their products on the shelves of major retailers, including Bloomingdale's Inc., Macy's Inc., and Sephora USA Inc.
 
Amid white Americans' racial reckoning following the murder of George Floyd, national department stores and cosmetic chain stores like Sephora, Macy's and Ulta Beauty Inc. each pledged to ensure that at least 15% of the products they offer are from Black-owned businesses. That commitment was made as part of the nationwide 15 Percent Pledge. In the United States, nearly 15% of the population is Black.
 
Target Corp. has also said it plans to expand the number of Black-owned and Black-founded businesses it works with. The retailer, which had deals with 50 such companies in April, expects to add products from 500 Black-owned businesses by the end of 2025.

Despite these industrywide changes, some founders are finding success on the strength of their products alone.

"The retailers we work with have kind of always been fans of ours," said Patrick Boateng II, Anim Labs' founder and chief executive. "And really it's about, for us, maturing to a level to where we can really work with them directly." The company's flagship brand Ceylon brought in $100,000 in revenue last fiscal year.

That uptick reflects a regional trend as local consumers are spending more on beauty products. The number of people in Los Angeles, Orange and Riverside counties who purchased beauty products online grew by 27% year over year in 2020, and according to Rakuten Advertising, a San Mateo-based market researcher, local residents spent $917 million in 2020, or 32% more than in 2019. Beauty companies based in L.A. County also took in more than $4 billion in total sales in 2020, according to Business Journal estimates.

Below is a roundup of five small, Black-owned beauty brands based in L.A. to watch.

Aeva Beauty
FOUNDED: 2018
HEADQUARTERS: Commerce
FOUNDER AND CEO: Francisca Francois
 
PRODUCTS: Cruelty-free makeup, including highlighters; eyeshadow palettes; lip glosses; lashes; an eyeliner pen; and complexion palettes for applying blush, highlighter, bronzer, and contour.
EMPLOYEES: 1
ORIGIN STORY: Francisca Francois worked as a makeup artist and at beauty counters and said she grew frustrated with the lack of diversity among beauty brands' product ranges and representatives. That frustration led Francois to work on her own beauty line, a longstanding goal of hers. She first made a highlighter that was the perfect match for her complexion; from there, she sought to create an inclusive beauty brand serving everyone, "with no one left behind."
NOTABLE: To help build community, Aeva Beauty seeks to work with and highlight beauty influencers who have smaller audiences.
QUOTE: "Being a woman of color and just knowing the lack of representation in the beauty industry, I really want us to be highlighted (in the industry) as a brand that's truly inclusive and really is creating a community that involves everyone." 

Ceylon
FOUNDED: 2018
HEADQUARTERS: Mid-Wilshire
FOUNDER: Patrick Boateng II

PRODUCTS: A gentle facial wash, a facial toner and a dual-action moisturizer that also exfoliates. The moisturizer is formulated with lactic and glycolic acids, which work well for pigmented skin and those with higher levels of melanin.
EMPLOYEES: 4 (1 full-time, 3 part-time)
ORIGIN STORY: Boateng got the idea for Ceylon after working as a U.S. diplomat in China. In his stressful job overseas, he began struggling with acne. He said he tried hundreds of brands, but it was difficult to avoid bleaching agents in acne products.
NOTABLE: Ceylon's products are set to launch in Bloomingdale's this fall and will expand into JCPenney with Thirteen Lune, which currently sells Ceylon's products online, Boateng said.
QUOTE: "The customer base is incredible; our community is insane. They are the best guys out there. … We have conversations all the time. They reach out on social media, they reach out directly, we talk on the phone, we meet in person to really feel like they are a part of this process."

Junie Bees Butta
FOUNDED: 2019
HEADQUARTERS: Mid-City
FOUNDER: Jennifer Archie

Products: All-natural and organic body butters formulated with essential oils.
ORIGIN STORY: Archie, who worked as a microbiologist for about three and a half years, began making body butters after noticing that over-the-counter treatments and prescriptions only temporarily treated her daughter's rashes. Over time, Archie perfected the formula and began to offer the butters to friends and family. When offers started rolling in to buy the butters, Archie created a logo, website and label for the jars. She continues to make the butters and labels the jars herself.
NOTABLE: In Junie Bees Butta's first year, Archie received upwards of three orders a week. That number increased to about 100 during the pandemic and around the holiday season. Archie's looking to hire her first employee this year.
QUOTE: "I love, mostly, hearing from my customers about how good it makes them feel, or how my customer service makes them feel, or how my brand is very personable. … That's what keeps me going, is the customers, and just providing a product that people love and enjoy and makes them feel good."
Mary Louise Cosmetics
FOUNDED: 2017
HEADQUARTERS: Beverly Hills
FOUNDER AND CEO: Akilah Releford

PRODUCTS: Two serums, two masks and a facial cleanser.
EMPLOYEES: 2
ORIGIN STORY: Growing up with dry skin and eczema, Releford would make natural remedies along with using prescribed medications and topical creams. In high school, Releford created masks for her and her sister using oatmeal, honey and egg whites. As a student at Howard University, she continued making face masks and began creating other skincare products. After sharing her "Mississippi mud masks" with the women on her dorm room floor, Releford began selling them online. Mary Louise Cosmetics grew from there, with Releford making skin care products in her dorm room instead of doing her chemistry homework.
NOTABLE: The company is participating in its first fundraising round, which it's aiming to close at the end of summer. Mary Louise Cosmetics is also launching online with Macy's this month, Releford said.  
QUOTE: "The role I want Mary Louise to play is to give or continue to give our users and new users the autonomy and freedom to play and experiment with skin care on their own terms, with no rules, and kind of take charge of their own beauty experience."
Topicals
FOUNDED: 2020
HEADQUARTERS: Santa Monica
CO-FOUNDER AND CEO: Olamide Olowe
 
PRODUCTS: A body mist and serum for treating dark spots and discoloration, as well as a body mist and hydrating overnight mask for dry, sensitive and eczema-prone skin. The brand's products are vegan and cruelty- and dye-free. Topicals says it doesn't use ingredients harmful to melanin.
EMPLOYEES: 11
ORIGIN STORY: Growing up, Olowe felt excluded from the beauty industry, as the chronic skin conditions she experienced weren't often showcased in skincare aisles. It didn't help that, according to recent data, only about 3% of U.S. dermatologists are Black, which made it difficult for her to obtain a diagnosis and treatment options. Topicals aims to transform how people feel about skin by offering effective products for chronic skin conditions and by engaging in mental health advocacy. The brand is a "holistic universe" for people with chronic skin conditions, Olowe said.
NOTABLE: Currently sold online, Topicals is launching in Sephora stores soon, Olowe said. The brand also raised $2.6 million in funding last year. Investors include Bozoma Saint John, Netflix Inc.'s chief marketing officer, as well as Issa Rae and Yvonne Orji from the HBO series "Insecure."

QUOTE: "Our mission is to transform the way people feel about skin, and for me, that really means making people who've always felt like outsiders in the beauty industry because of their skin condition or skin tone feel very included."
For reprint and licensing requests for this article, CLICK HERE.