Black-Owned Bookstore Malik Books Expands Despite Pandemic Challenges
Monday, August 2, 2021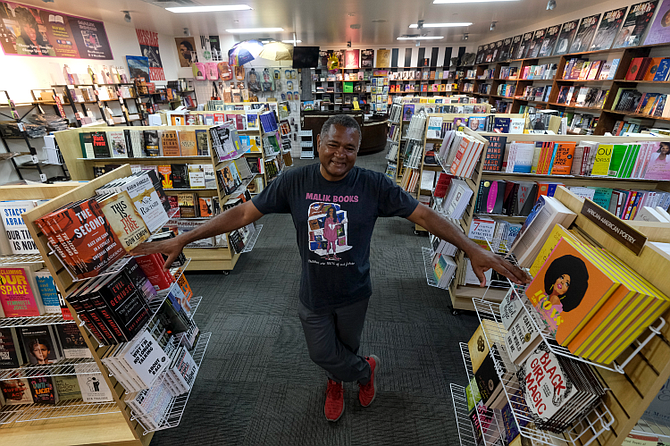 In March of last year, when public health officials mandated the indefinite closure of Los Angeles County's indoor shopping malls, Malik Books in the Baldwin Hills Crenshaw Plaza was forced to close its doors.

The store ended up shuttering for six months, driving sales down 50% year over year in that period. But owner Malik Muhammad managed to keep the business — an independent African American bookstore specializing in books that showcase cultural diversity — afloat.

Muhammad, 57, encouraged his customers to use the online ordering features already on his store's website, where he expanded the selection to 4,000 titles. And he put out requests for donations using GoFundMe Inc.'s platform on social media and the store's website. The tactic brought in more than $24,000.
 
"Most businesses in underserved communities only have about three full months' worth of reserves hanging around to begin with. It could be very stressful and overwhelming," Muhammad said. "We were able to pull through as a result of the love and generosity of people all over this country and locally, and our customers who just came to our aid. And that's how we survived, and that's why we are able to conduct business to this day."

For bookstores, Los Angeles County was one of the hardest hit areas in the state, according to Calvin Crosby, executive director of the nonprofit trade organization California Independent Booksellers Alliance.
 
Because of L.A.'s extraordinarily high rate of Covid-19 cases, shop owners had to weather the most openings and closings of any other area in the state, he said.
"Any business in a mall was crippled," Crosby said. "They were heavily impacted in a way that stand-alone or even strip mall stores were not."
 
Stores like Malik Books faced a better chance of survival, Crosby said, if they quickly adapted to an ecommerce model.
 
West Adams-based Reparations Club was among those bookstores that leaned into online sales to keep its business alive. And GoFundMe turned out to be a lifeline not just for Malik Books but for Brentwood-based bookstore Diesel, which has taken in $166,526 in donations, and Hollywood-based Larry Edmunds Bookshop, which has collected $50,078 through the platform.
 
But Muhammed's efforts didn't stop there — and they ultimately paid off.
"It took a long time to get to this point where people see a Black bookstore as a viable business and a respectful business. … It's been a sacrifice and a grind," he said.
The pandemic, Muhammed added, "gave me the opportunity to make a turn, so I see the good even in a bad situation."

Deep roots
Born in Washington, D.C., Muhammad moved to California in 1982 to attend USC. After graduating, he began working as a real estate mortgage consultant in Los Angeles.  

"I had a college degree from USC, but I didn't have a knowledge of self," he said. "I didn't know the history of Black people around this world. I didn't have appreciation for our culture and our ancestors."

Muhammad said it was during this time that he began reading books that helped him connect with his African American heritage. In 1990, he self-financed opening Malik Books at the corner of Crenshaw and Martin Luther King Jr. boulevards to provide others with the same materials and empowerment he sought.
 
Four years later, the business moved its location across the street to the Baldwin Hills Crenshaw Plaza.
 
"We like to think that Malik Books is a unique experience because of our selection of books that focus on cultural diversity," Muhammad said. "We give voice to the voiceless. The selections that we have has made people cry. People become very emotional and dance and sing and pray. We've had all that take place at Malik Books as a result of our selection."

Pasadena resident Khalif Boyd, 34, who is Black and Vietnamese, is a regular customer. He said shopping at Malik Books is a way for him to reconnect with his roots. On his first trip to the store, Boyd said, Muhammad recommended "Message to the Blackman in America."

"I was like this lost soul with these deep African roots trying to find home, and (Muhammad) was the lighthouse that made me reconnect with my ancestors," Boyd said.
 
He has returned to the bookshop several times to purchase new materials and talk with Muhammad about what he learned from the readings recommended to him.
Malik Books also has an extensive children's book section, and its "Nipsey Hussle Transformation Table," which features every book from the rapper and activist's reading list, draws in customers from all over Southern California, according to Muhammad.

During Malik Books' pandemic-driven closure, Muhammad said, he had sleepless nights worrying about supporting his family and keeping his business, which means so much to the community, alive. 

Branching out
But for as much stress as it caused, the pandemic ended up bringing about an unexpected expansion as Muhammed hustled to find new customers near and far.
With help from his wife and their two youngest daughters, ages 15 and 13, he started offering home deliveries within a 10-mile radius of his Baldwin Hills location.

"My kids all grew up in the bookstore," Muhammad said. "My wife, April Muhammad, and our children, they were a vital part during the pandemic, we did field trips where we went out and we delivered books directly to homes."

He put a new emphasis on the company's social media presence, posting more frequently and sharing videos of talks with authors, and he started appearing regularly on "On the Air with Ryan Seacrest" in July 2020 for a recurring book review segment.
 
In November, he opened a second location in Westfield Culver City thanks in part to the GoFundMe donations, which got a boost when he and April appeared via Zoom on the "Ellen DeGeneres Show" in January.

The new space, which is around 1,400 square feet, is three times bigger than the Baldwin Hills location.
 
Muhammad said he signed a short-term lease for just over a year and hired two new part-time employees. He described the new location as a "leap of faith" to draw in more customers after noticing lower foot traffic at the Baldwin Hills location once it reopened in October. When the Westfield Culver City mall reached out to him because it didn't have a bookstore yet, the potential benefit of a mall's greater foot traffic was attractive, and Muhammad jumped at the opportunity.

Crosby, with the trade association, said he saw more bookstores, many of which are operating under a hybrid model and may not have brick-and-mortar locations yet, open in 2020 than any other year "in recent memory."

The American Booksellers Association reported that 78 bookstores registered with the organization have closed since March 2020, while 67 new bookstores have opened.

The same community that pitched in to keep Malik Books up and running has also benefited from the business.  

Muhammad has used the store as an avenue for book drives for underserved communities in Los Angeles and has awarded 20 scholarships in the past five years to the Crusader Praise Scott Scholarship Fund, which gives students entering college funds to help them through their first year.

Muhammad said even during the worst of the pandemic, he never wavered in his mission.
 
"We use books to try to create a positive community where we love ourselves and work together to build a better tomorrow," he said.
For reprint and licensing requests for this article, CLICK HERE.