Restaurants, Developers Line Up for Drive-Thrus
Monday, April 26, 2021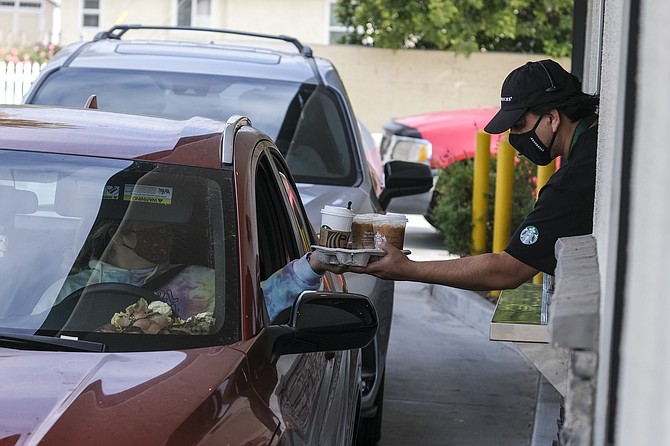 When it comes to drive-thru service, Sweetgreen Inc. has a green light.

The Culver City-based salad chain, one of many restaurant companies looking to meet pandemic-era demand for drive-thrus, expects to open its first drive-thru outpost later this year.

Sweetgreen joins chains like Shake Shack Inc., Chipotle Mexican Grill Inc., Starbucks Corp. and Raising Cane's Chicken Fingers, which have all announced plans to increase their drive-thru presence nationwide.
 
Once largely the province of fast-food brands, drive-thrus have been embraced by quick-service restaurants over the past year as consumers sought out socially distanced, contact-free food options.

For local developers and property management companies who build and lease locations to these chains, the scramble is on to create stand-alone drive-thru restaurants or to increase drive-thru capabilities at their existing properties.

"Demand was already accelerating for drive-thrus even pre-Covid because a lot of these tenants — whether it's Starbucks or Chipotle or Habit Burger Grill — their drive-thru restaurants were already doing significantly higher volumes than their non-drive-thru restaurants," said Terrison Quinn, managing principal at SRS Real Estate Partners.

"Covid has really just been an accelerant to that trend, and a big accelerant. When Covid hit, it became all the more apparent to them that this is how we have to expand moving forward," he added.

Brian McDonald, a first vice president at CBRE Group Inc., said business at restaurants before the pandemic was generally 70% dine-in and 30% drive-thru. Now, that has reversed, and restaurant chains are eager to take advantage of the trend.
Tabassum Zalotrawala, chief development officer at Chipotle, said in an email that 70% of the company's new locations in 2021 would have a Chipotlane, the company's version of a drive-thru. In locations where a drive-thru is impossible, the company will instead have walk-up windows.

Todd Graves, founder and chief executive at Louisiana-based Raising Cane's, said drive-thrus gave the company a sales boost.

"Throughout the pandemic, our drive-thrus allowed us to not only maintain our business but actually increase our sales as it was a safe way to continue to serve our customers," he said in an email. "We continue to grow our drive-thru restaurants as well as our inline locations that are dine-in only."
 
In June, Starbucks shared plans to expand drive-thrus and mobile-only pickups and curbside pickups.

Chris Maling, a principal with Avison Young Inc., said the coffee chain was "way ahead of the game with their drive-thru only stores."

"It's a home run," he added. "Starbucks says we don't want to do cafes anymore; people are just hanging out, using our free Wi-Fi and not ordering anything. It is not a profitable business model."

Rising sales

Orders at drive-thru locations have been increasing. Peter Spragg, a senior managing director at Newmark Group Inc., said drive-thrus saw a 25% to 35% increase in sales during the pandemic. "The one category that continued to have momentum was drive-thrus," he said.

In October alone, drive-thru sales increased 24%, according to NPD Group Inc.

"Drive-thrus were always part of the business plan with quick-serve restaurant concepts. They kind of went away from that because they were saying we could do a smaller footprint at college campuses and food courts and not have to have a drive-thru," Maling said.
 
"Fast forward to the Covid pandemic, and rules were made that completely upended the restaurant industry. As a result of that, concepts that had drive-thrus absolutely were Covid compliant and thrived. The sales that they were ringing up were phenomenal. All these companies started to say to themselves, 'Why do we need stores that have sit-down dining or outdoor dining when we're making a boatload of money though our drive-thrus?'"

Barbara Armendariz, president and founder of SharpLine Commercial Partners, said fast-food restaurants going after drive-thru only locations was not "going to be a short-lived trend. I think that's going to be ongoing. You can process significantly more people through those lines. The reduced footprint also decreases expenses."

Drive-thru-only locations have a much smaller storefront than a dine-in restaurant. They also have lower expenses, with fewer paper products needed, no refills and less table cleaning.

Quinn of SRS Real Estate Partners said drive-thrus are "pandemic proof," and that some restaurants are now only interested in locations where they can have a drive-thru. He added that he saw more drive-thru deals in the past 12 months than in the previous three years.

David Greensfelder of Greensfelder Commercial Real Estate said drive-thrus were out-performing all other retail categories when it comes to leasing and sales.
 
"From the retailer's perspective, it makes all the sense in the world. Retailers really need to continue to show unit growth and sales growth to Wall Street in order to have favorable ratings for growth, for stock growth, for credit ratings, to be able to attract capital," Greensfelder said.

Waiting on approvals

But adding a drive-thru lane is not always easy. It often means multiple entrances and exits to a property, enough room for a line of cars and city approvals, which developers and experts agree can be tricky to get.

Shauna Mattis, an executive vice president at Jones Lang LaSalle Inc., said that prior to the pandemic, moratoriums on drive-thrus made them difficult to build, and existing ones "got some pretty good lease rates." These moratoriums exist for a multitude of reasons, including people not wanting drive-thru-related traffic in their neighborhoods, environmental concerns associated with idling cars and complaints that fast-food drive-thrus contribute to the obesity epidemic.

But Covid-19, she said, put pressure on cities to approve drive-thrus. She expects to see more moving forward in addition to things like curbside pickup options and temperature-controlled lockers where people can pick up their food using a code.

"These lockers and curbside pickup allow for a lot more turnover. People aren't sitting on their property for as long," she said.

Most drive-thrus are not conversions of other buildings but ground-up developments.
Jim Kruse, chief executive at El Segundo-based DPI Retail said his company is interested in having more drive-thrus on its properties and is even seeking approval for one now.
 
"There's no shortage of desire," he said.

DPI has eight drive-thru properties in its portfolio and is looking to double that in the next five years.

Experts say the lease and development structures for many drive-thrus makes them desirable to investors.

Locations are often leased on a triple net basis. In that case, the tenant can be responsible for everything from utilities to roof repair to taxes. The tenant is able to use the location without having to buy it, and a landlord is able to collect rent without having to do much work.

Other drive-thru properties are done as a ground lease, in which different entities own land and the improvements on the land. Again, the owner gets steady monthly income without doing any work and, when the ground lease ends, gets the improvements on the land.

Ground leases

Kruse said most DPI-owned drive-thru properties operate under a ground lease.
Quinn said some brands might want to buy the property or do a build to suit traditional lease, or a reverse build to suit where the tenant does the work, and the landlord reimburses them for construction costs.

Most landlords, though, he said want ground leases for drive-thrus.

Armendariz added that tenants may get better rates with a ground lease than other lease options. She estimated that 65% to 70% of drive-thrus operate under a ground lease.

Greensfelder added that regardless of the lease type, most drive-thrus are being built for the tenant that will occupy it initially.

"Because of the increase in demand and activity and the capital involved with the construction of those drive-thrus, tenants are now looking to landlords to take on that capital cost and then are paying more for the amortization of that additional cost that the ownership is taking," Spragg said.

If a tenant does vacate, the property usually sees interest.

"You regularly find old drive-thrus that are then retenanted by other tenants that are looking for secondhand space with a drive-thru. It definitely makes a building more leasable," Greensfelder said.

Experts see demand for drive-thru properties continuing.

"We are now seeing cities be more receptive to drive-thru lanes, where in years and decades before, they perhaps were not that receptive," McDonald said. "They are understanding the shift that the consumer has gone through in favoring that safer, touchless and more convenient option to pick up their food."

For reprint and licensing requests for this article, CLICK HERE.