Film Production Is Starting to Rebound in LA
Monday, April 26, 2021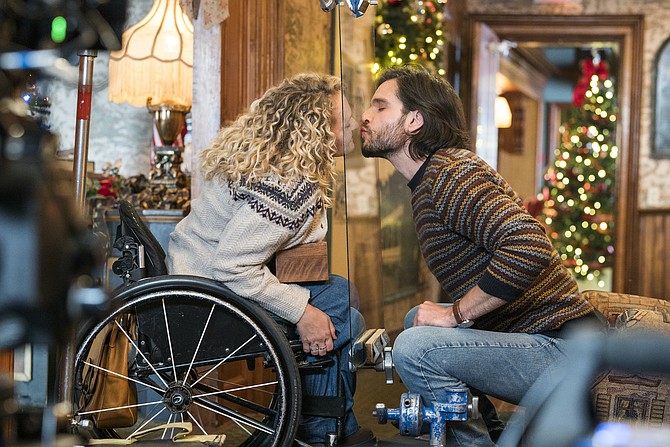 After the pandemic lockdown hit in March 2020, MarVista Entertainment shut down for more than four months.
 
But as Jennifer Westin, senior vice president and head of production for the studio put it, "Christmas stops for no one."
 
In September, as the holiday season approached, MarVista restarted production in the United States. It went on to produce 25 films for the year and had returned to its pre-pandemic rate of production by the end of 2020.
 
MarVista had many films in post-production phases prior to the pandemic. Westin said that made the studio one of the lucky ones.

Film and television production hit record lows in 2020, according to FilmLA, the partner film office for Los Angeles city and county.
 
But production has started to pick up as Covid-19 cases fall and the vaccination rate climbs in Los Angeles County. FilmLA said applications to shoot TV shows, films and commercials increased in February after declining between October and January, when Covid-19 cases peaked locally.  

In February, FilmLA received 777 film permit applications, an increase of 43.1% month over month.
 
In another sign of progress, FilmLA President Paul Audley said the number of film permit applications was down 40% in February compared to the same month in 2020. That's a substantial improvement from January's 80% year-over-year drop.

Returning production to pre-pandemic levels will be key to L.A.'s broader economic recovery.
 
The county's entertainment and digital media industry employed more than 271,000 people in 2019, according to a report from Otis College of Art and Design. The sector lost 90,000 jobs during 2020.

Today, productions involving outd
oor audiences can have a capacity of 33%, or 67% if all are vaccinated or tested. Productions involving indoor audiences still have a capacity limit of 50 hired, masked and tested audience members.

Even with limits loosened on the numbers of people allowed to be involved in a production, state mandated rules for testing, mask wearing and social distancing on set remain in place.
 
Polymerase chain reaction, or PCR, testing is required prior to employment for all productions. And all cast, talent, performers and crew members must produce negative PCR test results weekly, at minimum, for productions lasting more than a week.

Shira Shafir, an associate professor of epidemiology and community health sciences at the UCLA Fielding School of Public Health, said the entertainment industry's strict protocols are necessary because of the close nature of production sets.
 
"It's challenging on a film or television set where you've got actors who have to go to hair and makeup, and you have the grips and all the different people who are sort of mixing and in the same physical space," Shafir said.

She estimates that protocols will loosen for the industry even further by mid-summer as vaccination rates increase.

Despite the precarious nature of production sets, the state's protocols have thus far worked in preventing Covid-19 outbreaks, said Duncan Crabtree-Ireland, chief operating officer and general counsel for the Screen Actors Guild - American Federation of Television and Radio Artists.
 
Of the thousands of Covid-19 tests production employees need to take to return to work, the test positivity rate has been "consistently much lower" than that of the general public, he said. SAG-AFTRA didn't give specific numbers.

While vaccine eligibility has been expanded, Los Angeles still has a long way to go. As of April 16, around 6.3 million who live in L.A. County have received their first dose of the vaccine, according to the L.A. County Department of Public Health.

Audley said he doesn't expect to see permit requests for film shooting return to pre-pandemic rates until the end of August or start of September at the earliest.
 
"Until vaccinations really take hold in our region, I don't believe we're going to see a whole lot more (than 60% of normal)," he said, comparing the number of film permits the city sees in a normal year.

And Crabtree-Ireland said that despite the "substantial resumption" of production, on-set safety protocols will not be reduced for "a number of months."
 
"We're really encouraging people to get vaccinated as quickly as they can," Crabtree-Ireland said. "It's essential that there not be outbreaks, that we not have people getting sick on set as a result of Covid. The protocols that we put in place have been very successful in preventing widespread outbreaks."

Along with the state's requirements, Mar-Vista has adopted additional safety protocols.
 
The studio hired a Covid-19 health and safety team and conducted tests three times a week for actors and anyone within 6 feet of an actor.
 
One obstacle MarVista faced was how to safely shoot kissing scenes, Westin said. For one film, the studio had two actors kiss through a piece of plexiglass. For another, it cast two actors who were dating in real life.

"Not everyone on set can wear PPE," Westin said. "You need actors to take off their PPE in front of the camera. It created really interesting obstacles I think that our industry faced that a lot of others didn't necessarily have to wrestle with." 
For reprint and licensing requests for this article, CLICK HERE.