Retailer Pure CBD Brings Beneficial Products to the Mainstream
Monday, April 19, 2021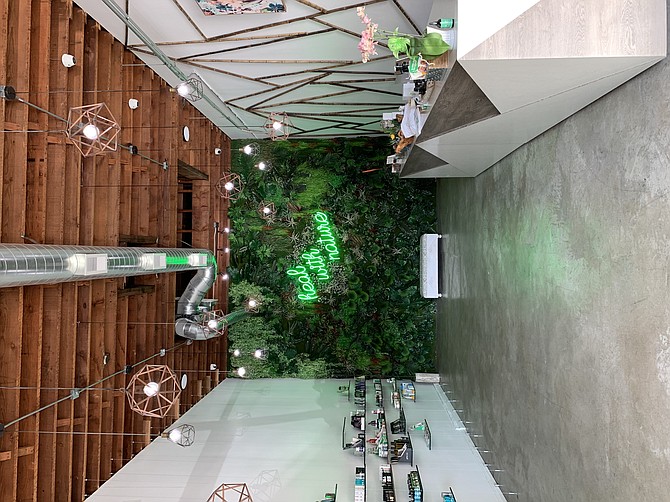 Arianna Zadourian discovered the benefits of non-psychoactive cannabidiol products in 2017 when her father was diagnosed with cancer.

CBD, as it's better known, was helpful in managing her father's pain, but the products were difficult to find.
 
This inspired Zadourian, who previously worked for a French fragrance company, to launch Pure CBD, a brick-and-mortar shop and ecommerce site based in West Hollywood.

"My idea was to kind of bring cannabinoids in general, not just THC, into a main space," Zadourian said.
 
Founded in 2018, Pure CBD sells a wide range of curated CBD offerings, including edibles, oils, smokeables and pet products. Zadourian opened a second location in Los Feliz in 2019.

The CBD industry has skyrocketed in popularity. In 2020, the cannabidiol market was valued at $2.8 billion, and it is projected to expand as much as 21% between 2021 and 2028, according to San Francisco-based market research firm Grand View Research Inc.
 
Michelle Mabugat, a corporate and transactional attorney at Greenberg Glusker Fields Claman & Machtinger who practices in the cannabis industry, said the CBD industry started to boom roughly five years ago.

"That's when we saw both cannabis and hemp producers targeting CBD-rich strains to try to fulfill that market demand," Mabugat said. "Now, you see CBD in our Whole Foods, our Trader Joe's, our CVS. It's everywhere."
 
CBD is an alternative medicine often used to treat pain, anxiety and substance abuse disorders. Studies have found that it also lowers blood pressure and can help alleviate symptoms of epilepsy.
 
Many of Zadourian's clients are in their 30s and 40s and use CBD products to relax, she said. In recent months, she has seen an uptick of customers who had started smoking cigarettes and marijuana amid the pandemic and are looking to quit by using CBD products.
 
"There's all these things that have happened during this pandemic, and people want to relax and not have that anxiety and edge, but they don't want to be high anymore," Zadourian said. "CBD is a good way to relax your cravings."

Zadourian prides herself on selling high-quality products. As many new CBD brands launched in recent years, she has spent a lot of time weeding out brands that don't manufacture their products ethically, she said. She looks for brands that regularly test their products, have fair pricing and are well established in the industry.
 
"We try to keep a variety of products … that will benefit everybody, not just one type of person," Zadourian said.  

When Zadourian launched Pure CBD, she ran into several obstacles. It was a struggle getting her landlord to understand that she would not be selling THC products, she said. Advertising is also a challenge, as she can't post some of her products on Instagram and Facebook due to the platforms' guidelines.
 
"Everyone's on Instagram. Everyone's on Facebook," Zadourian said. "Unfortunately, you cannot just simply advertise on there. That's a big roadblock in the industry right now."
 
Zadourian also worries about getting her customers access to CBD vapor products. In December, Congress amended the Prevent All Cigarette Trafficking Act, or PACT Act, to apply to all vaping products, which prohibits the Postal Service from delivering those products directly to consumers.

"(Congress) came up with this law banning all vape products and even things that don't include tobacco, but then there's not a clear way that they're explaining how to prepare for this change," she said. "When they come up with these laws, they don't think of every single aspect different types of businesses face."
 
Another challenge that CBD businesses run into, Mabugat said, is the lack of regulation of CBD products by the Food and Drug Administration.
 
"Most CBD products that you see on market today are, frankly, in the eyes of the FDA, illegal," Mabugat said. "CBD, it's here to stay, so much so that the FDA has been feeling an enormous amount of pressure to finally come out of the woodwork and carve out a regulatory pathway for CBD products." 
Keep reading the 
2021 Business of Cannabis Special Report
.
For reprint and licensing requests for this article, CLICK HERE.